DLG certification for Vredestein Traxion+ and TraxionXXL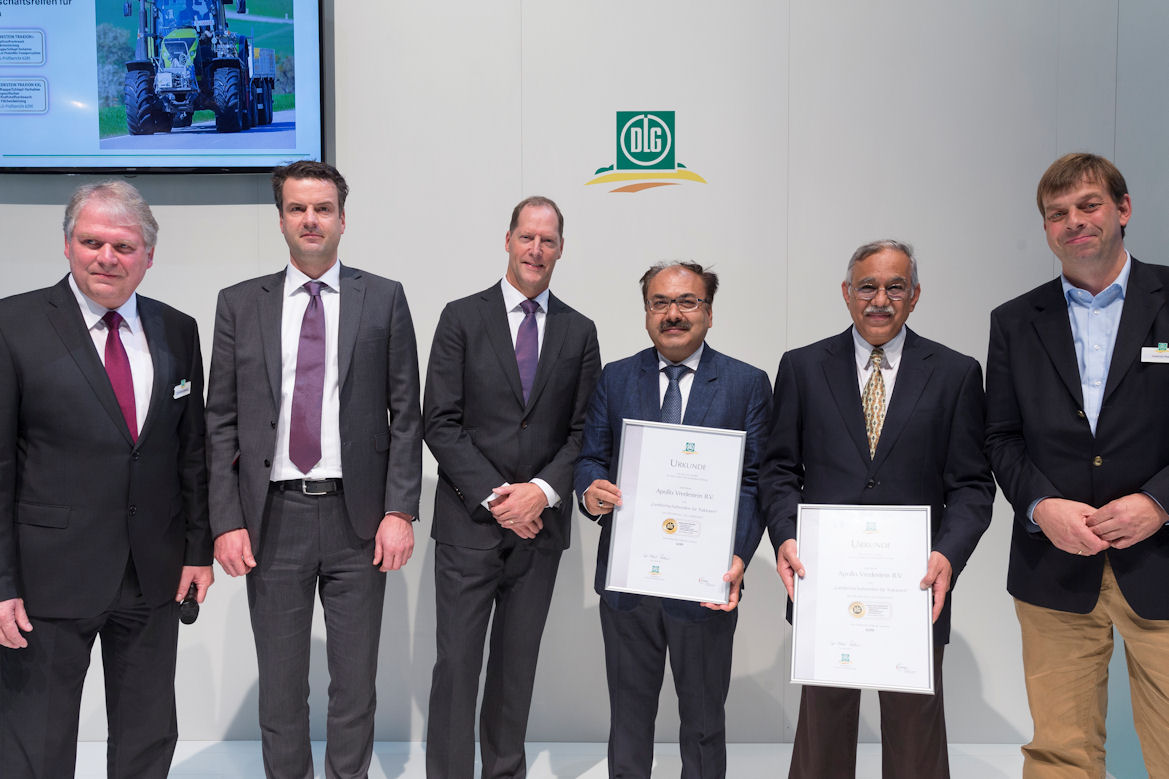 The Vredestein Traxion+ and Vredestein TraxionXXL tyres gained major recognition during the recent Agritechnica agricultural trade show. Following extensive evaluation by German testing and research institute DLG (Deutsche Landwirtschafts-Gesellschaft, or German Agricultural Society) in the spring and summer of 2015, it was announced at Agritechnica that both tyres have been designated 'DLG certified' products.
Using a Claas Axion 850 as test vehicle, the Vredestein Traxion+ was put through its paces in sizes 650/65 R42 and 540/65 R30 and compared with two competitors from the European premium segment. Test criteria included fuel consumption in the field and on the road, productivity, comfort and traction. Apollo Vredestein reports that the Vredestein tyres achieved the best overall results and also the best results in nearly all test segments.
The Vredestein TraxionXXL was tested in the unique size 710/75 R38 and compared to the reference size 710/70 R38. The test criteria focused on performance in the field (fuel consumption, productivity and traction). Test results showed that the Vredestein TraxionXXL 710/5 R38, paired with a 28-inch front tyre, provided "significantly better performance," with 7.5 per cent higher efficiency.
"The excellent test results of the Vredestein Traxion+ and Vredestein TraxionXXL place the two tyres among the higher echelons of premium brands," states Apollo Vredestein.
The tyre maker refers to the size 710/75 R38 Vredestein TraxionXXL fitment as 'unique' as its diameter of two metres places it exactly in between the lower 710/70 R 38 and higher 710/70 R 42. Although it can be fitted on 38-inch rims, the tyre's larger diameter provides more traction, while the greater air content translates to around 600 kilogrammes more load capacity at 30 mph or 50 km/h compared with the 710/70 R 38 tyre. The size 710/75 R38 TraxionXXL, whose sidewall height is 75 per cent of the tyre's width, was specifically developed for powerful tractors upwards of 175 hp and introduced into the market in late 2013.