Project TREE: A blockchain-driven, more sustainable rubber supply chain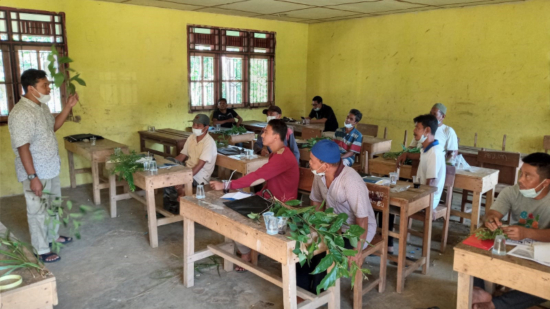 Japan's Itochu Corporation announced today the commercial launch of Project TREE (Transparent Rubber Ecosystem for Earth) , an initiative that uses a blockchain-based traceability system to ensure the sustainability and traceability of natural rubber. Partners participating in the Project include Itochu subsidiaries and tyre manufacturers, and the UK will be the first market to benefit.
Project TREE utilises the value chain of two Itochu subsidiaries, Indonesian natural rubber processing subsidiary, PT. Aneka Bumi Pratama (ABP), and Letchworth-headquartered European Tyre Enterprise Limited (ETEL), operator of Kwik Fit and Stapleton's Tyre Services. The first step of the project sees Itochu begin distribution in the UK market in December in cooperation with Pirelli UK.
From this week, customers at Kwik Fit will have the option to purchase a selection of Pirelli UK tyres which are helping fund the innovative programme in Sumatra. Tyres from Hankook which support the Project TREE scheme will also be available at Kwik Fit in the coming weeks.
"We're delighted to be supporting Project TREE," states Mark Slade, managing director of Kwik Fit. "it's a programme which could provide the model for ensuring the sustainability of rubber production in the long term. It is important that consumers are aware of their contribution to sustainability, and by highlighting this in our centres and online, we can help raise awareness of the whole production process and the impact drivers can make with their choices."
All stakeholders must participate
Tyre production accounts for about 70 per cent of global natural rubber consumption, with approximately 85 per cent of global production relying upon smallholders in Southeast Asia, mainly in Thailand and Indonesia. Demand for natural rubber is expected to continue growing. "Therefore, it is essential that we increasingly pay attention to issues such as deforestation, poverty and the violation of human rights in our business activities," states Itochu, adding that these are efforts that all stakeholders in the supply chain must participate in, including smallholders, tyre manufacturers, and distributors.
Itochu is actively involved in the natural rubber business through ABP, one of the largest Indonesian natural rubber processing companies, as well as through its ownership of tyre retailer and wholesaler ETEL. With Project TREE, Itochu aims to leverage the global value chain that it can muster as a general trading company. The Project uses a blockchain-based traceability system developed by Itochu Techno-Solutions Corporation (CTC). Itochu points out that this is the first time that blockchain has been used to establish traceability in the natural rubber industry.
How Project TREE works
Blockchain technology is used to identify the volume of raw latex produced by an individual farmer and the location source of this rubber. This can then be tracked all the way through the supply and processing chain to the point it is delivered to the tyre manufacturer.
The app produced by CTC is integrated with the HeveaPro Data Center (HPDC) factory data management system from commodities trading platform HeveaConnect. "By coupling Project TREE traceability data with the physical rubber in our factory management system to create data-backed rubber, Itochu allows greater visibility on the origins of the natural rubber their customers purchase via the HeveaConnect platform," explains Gerald Tan, chief executive officer of HeveaConnect.
Tan believes that offering smallholders a means of improving their livelihoods will incentivise them to provide more data about their production process, thereby increasing transparency in the natural rubber supply chain. "This is also very timely in light of the increased demand for sustainable natural rubber driven by regulatory requirements throughout the world."
ABP links the smartphone app to its natural rubber procurement system and draws upon blockchain technology to record information such as the date and the location of transactions. Such information is displayed on a map that also shows protected forests that are off limits to rubber tappers. The raw materials in question are then stored separately from other materials and processed within the ABP factory. ABP sells them to tyre manufacturers as natural rubber with blockchain-secured traceability information.
The tyre manufacturer pays a premium for the sustainable rubber, which helps reward and convey other benefits to the farmers participating in the scheme. The tyre manufacturer is awarded a number of credits depending on the quantity of rubber bought under the Project TREE scheme and applies these credits to the equivalent quantity of tyres it produces. Motorists can then select these tyres, in this case via Kwik Fit.
A portion of the price of the tyre contributes to the cost of Project TREE, with the single largest item being the incentives paid to the smallholders, over and above the market price for rubber. Itochu will give a portion of the proceeds from sales of Project TREE tyres in the UK to participating upstream supply chain stakeholders. Smallholders who don't have a smartphone or bank account can be provided with farm tools, fertilisers, and/or training to increase productivity and awareness of good agricultural practices. In addition, Itochu will sequentially execute improvement plans based on the results of supply chain risk assessments it has carried out with the support of Proforest Southeast Asia and SNV Indonesia.
Europe first
A key Project TREE aim is to involve all natural rubber stakeholders, including processing companies, tyre manufacturers and wholesalers/retailers, vehicle manufacturers and consumers beyond the Itochu Group's value chain. Itochu says that tyres manufactured in partnership with Project TREE will be distributed in international markets in stages, beginning in Europe, a region where people "tend to have greater environmental awareness."
Itochu anticipates that Project TREE will contribute to its CSR policy goals as well as to the goals of the other participating members of the Global Platform for Sustainable Natural Rubber (GPSNR), of which it is a founding member.
"Enhancing traceability and transparency is crucial in our goal of a fair, equitable and sustainable natural rubber supply chain," comments Stefano Savi, director of GPSNR. "Project TREE's work in developing a holistic traceability system is a commendable effort towards this larger goal. This, along with efforts by other GPSNR members, has the potential to positively and systemically transform the supply chain."
Important step towards more transparency
In a statement, Pirelli UK confirms its support of the "innovative block chain and traceability approach" to the supply of natural rubber. "This is indeed an important step forward towards more transparency in the natural rubber supply chain and, at the same time, a key instrument to allow the implementation of sustainability actions in the areas of rubber origin. For several years, Pirelli has adopted a policy for the sustainable management of natural rubber and is engaged in activities, within different perimeters, to support natural rubber sustainability initiatives, as in the case of the project joined by Pirelli UK."
Hankook Tire & Technology emphasises that all stakeholders in the natural rubber supply chain, including tyre makers and end users, need to "fulfil their responsibilities" in light of growing demand for this raw material. "Hankook Tire, with sustainability being one of the business priorities, will definitely take the lead in fostering sustainability in procurement of raw materials to create the better world to live in."