Hankook promoting sustainability with hydrogen-powered Hyundai truck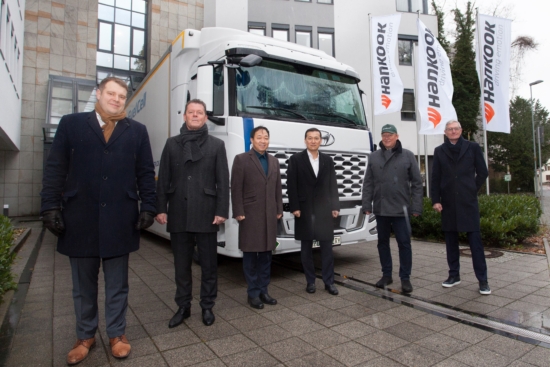 Hankook has collaborated with Hyundai and other partners on a new sustainability roadshow. A Hyundai XCIENT Fuel Cell fitted with Hankook SmartFlex AH31 and DH31 tyres is travelling around Germany until 8 December to promote ecologically optimised supply chains. Hankook's partners in the event include H2 Green Power & Logistics GmbH, which is building an ecosystem for green hydrogen in the commercial vehicle sector, including company filling stations; and H2 MOBILITY Germany, the world's largest hydrogen filling station operator, which operates 87 of the 91 public H2 stations in Germany alone.
"Hankook has been a reliable tyre partner in the fleet sector for a long time. I am therefore delighted that the tyres for the Hyundai XCIENT truck have allowed us to make an important contribution towards establishing hydrogen-powered commercial vehicles and ultimately towards climate-neutral logistics," says Manfred Zoni, truck sales director at Hankook Tyres Germany.
"Without using hydrogen (H2) in industry and transport, which can be stored and transported, the energy transition is currently considered unattainable. H2 Green Power & Logistics GmbH, based in Münster and with a branch in Magdeburg, shows that medium-sized companies can also play a role in this enterprise. The business model includes a complete ecosystem for green hydrogen in commercial vehicle mobility and later also for large stationary customers," says Dr Ludger Hellenthal, managing partner of H2 Green Power & Logistics GmbH.
Hankook's sustainability targets
Hankook set out its sustainability targets in its recent ESG report. Headline goals include 100 per cent sustainable raw materials by 2050 and reduce greenhouse gas emissions by 50 per cent compared to 2018. The company is also involved in various initiatives for corporate sustainability practices, such as the UNGC (United Nations Global Compact) and supports environmentally friendly guidelines such as those concerning the production of sustainable natural rubber.
Hankook's truck tyre retreading technology, SmartLife Solutions, is a pillar of its sustainability strategy too. The "increased life" concept is achieved via commercial vehicle tyres designed with a rugged carcass that can be retreaded several times. This fleet service offers environmental and economic benefits.
Hankook's all-round SmartFlex AH31 (steer axle tyre) and SmartFlex DH31 (drive axle tyre) demonstrate both high driving safety and increased load-bearing capacity. Both feature the M+S symbol and the snowflake (3PMSF) symbol, enabling winter road traction. The drive axle tyre's six-rib tread pattern promotes even wear, increasing the life of the tyre. Hankook-patented self-cleaning sipes in the centre of each block prevent damage to the block edges, delivering traction throughout the tyre's life.