Award win gives Enso US market platform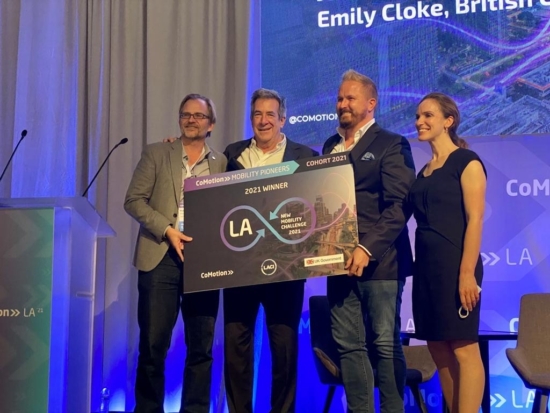 London-based company Enso Tyres has won the LA New Mobility Challenge 2021, an event co-hosted by CoMotion LA and Los Angeles Cleantech Incubator (LACI) and supported by the UK Government. The judging panel awarded Enso for tyres that increase electric vehicle range while reducing both air pollution and micro-plastic tyre particulate matter pollution.
Its win fast-tracks Enso for consideration into LACI's portfolio of sustainable mobility companies in the USA and thus contributes to the tyre firm's future activity in Los Angeles and Southern California. from LACI and CoMotionLA also awarded Enso US$10,000 in prize money.
"Winning the CoMotion LA Award is fantastic as it places Enso into the heart of America's EV revolution that has strong origins in California," states Gunnlaugur Erlendsson, chief executive officer and founder of Enso Tyres. "We are already doing so much in London, having implemented London FreightLab in partnership with the Mayor of London, with our innovation partners DPD UK and Royal Mail. And now with our special partnership with LACI, Enso will now have a platform in California to break into the US EV market, where the opportunities towards the US, and indeed globally, are considerable."
Meg Arnold, senior vice-president of market transformation at LACI, which is helping to accelerate the commercialisation of clean technologies in Los Angeles and southern California, adds: "Congratulations to Enso for tackling the challenge of carbon-intensive tyres and tyre pollution head-on. LACI looks forward to supporting Enso's future activities in LA and southern California."
A real win for British innovation
In addition, as part of this award the UK Government's Department of Transport will support Enso's sector engagement in the UK as well as facilitate the company's future R&D work.
Trudy Harrison MP, Under Secretary of State at the UK Department of Transport, was present at CoMotion LA to sign a Memorandum of Understanding with Los Angeles Mayor Eric Garcetti, to promote ways for the UK and Los Angeles to share best practices to reduce emissions from transport. Harrison welcomes Enso's award.
"Seeing Enso be internationally recognised by CoMotionLA for its innovation in the development of electric vehicles is a real win for British innovation," says Harrison. "This once again underlines the brilliant work taking place in the UK tech and transport sectors as we drive down emissions and clean up the air we breathe on both sides of the Atlantic."
As Transport Minister, Trudy Harrison is responsible for the decarbonisation of transport (including the Office for Zero Emission Vehicles) and the future of transport (including the Centre for Connected and Autonomous Vehicles).