Royal Mail trialling Enso Tyres on electric vans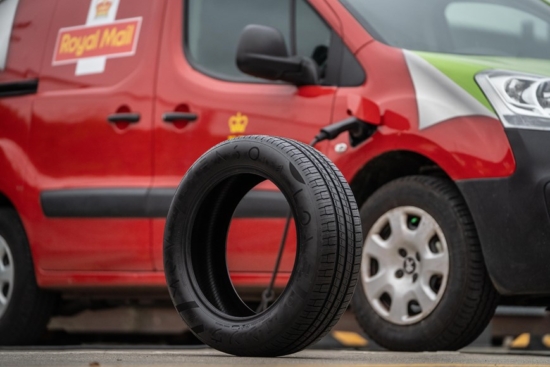 Royal Mail is embarking on six- to nine-month trial of Enso Tyres' electric van-orientated tyres. The trial, a partnership between Royal Mail, Transport for London (TfL) and Enso, aims to make "Electric Vehicles (EVs) even cleaner to further improve air quality", according to the stakeholders. According, to Tyres & Accessories's 2021 survey of public tyre fleets, Royal Mail is the second-largest fleet in the UK.
While EV's don't put out tailpipe emissions, the Royal Mail points out that their tyres may emit more particulate matter and road wear compared to diesel and petrol vehicles, due to their increased weight and torque. And that's why the postal service is interested in Enso's tyre offer, which is said to have been designed to reduce particulate emissions. According to Royal Mail, the special tyres are expected to produce fewer microparticle emissions compared to standard tyres and could also improve efficiency by extending electric vehicle range.
Royal Mail may be one of the biggest fleets in the country, but the trial is limited to 15 electric vans at the West London Delivery Office, near Wembley, will be fitted with the specialist tyres. During the trial, the tyres will be monitored and weighed every six weeks to measure their wear rate, estimate particulate matter emitted, and range achieved in comparison to standard tyres. If the trial is successful, its results may inform future purchasing decisions across Royal Mail's fleet.
So why did Royal Mail choose Enso over other longer-established brands? Enso was shortlisted alongside five other businesses as part of the TfL London FreightLab innovation challenge. This trial may help Royal Mail explore additional ways to reduce its operational footprint. Specifically, Enso claims its tyres can increase EV range by up to 11 per cent, compared to standard tyres – something that was illustrated when an Enso-shod Renault Zoe broke a world hypermiling record, outperforming an identical vehicle fitted with OEM tyres.
James Baker, Chief Engineer and Fleet Director at Royal Mail said: "As a Company, we are committed to making changes to our operations that reduce our environmental impact. The trial and potential wide scale introduction of more efficient and environmentally friendly tyres enables us to help achieve this, while allowing us to continue to deliver letters and parcels safely, efficiently and responsibly."
Gunnlaugur Erlendsson, founder and CEO at Enso said: "Enso's innovative EV tyres are designed to be EV-range-extending and PM-pollution-reducing, and through TfL's FreightLab trial with Royal Mail, we aim to demonstrate their contribution towards reducing air pollution in London."
"Enso's mission is to disrupt the £200 billion global tyre industry and deliver the most efficient, durable and sustainable tyres for EVs.  By developing better EV tyres, we can reduce pollution and carbon emissions in line with the UK, and indeed global commitments, to reach Net-Zero."
Rikesh Shah, TfL's Head of Commercial Innovation, added: 'We're really excited that our London FreightLab Innovation Challenge has helped to produce this partnership between Royal Mail and ENSO, which is helping us to explore how to make tyres more sustainable, durable and efficient."
"London FreightLab is a completely new way of looking at freight for TfL and it is fantastic to see innovative products such as EV-tyres in action on the capital's streets, helping to extend the life of tyres on electric vehicles, which are a vital part of reducing air pollution in London."
As our earlier reporting showed, Enso Tyres are made in North Africa at the Iris Tyres production plant (see "Enso start-up aims to reduce carbon and micro plastics emissions", Tyres & Accessories, June 2021).