Renault ZOE sets new hypermiling record on Enso tyres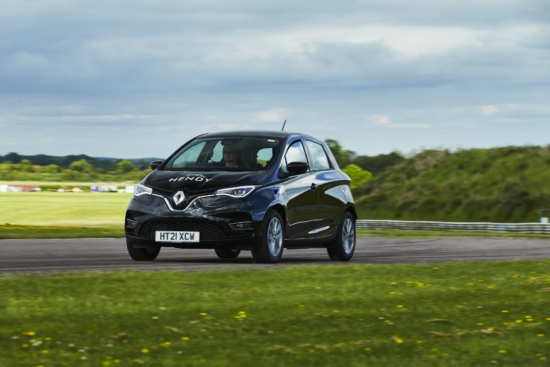 Swapping its OE tyres for Enso-branded rubber meant a Mission Motorsport-backed Renault Zoe was able to drive 475.4 miles (764.9 km) on a single charge recently. According to the team, the Enso tyre fitment lead to almost 12 per cent more mileage than a separate Zoe with OE tyres fitted as standard. The successful hypermiling record attempt took place at the Thruxton circuit in Hampshire, UK on 10 June 2021.
The Mission Motorsport team used two Renault ZOEs with WLTP range of 245 miles (394 km), something that helps demonstrate the particular impact of the tyres. The result smashes the previous hypermiling record for this model of 351.0 miles (565 km), which was set in France in 2018. According to Mission Motorsport, one reason the UK team was able to beat the French record by 124.4 miles was by driving around at just 19 mph (31 km/h) day and night.
Back to the tyres, the ZOE fitted with normal OE tyres achieved a distance of 424.7 miles (683.3 km). However, the ZOE with Enso tyres lasted 475.4 miles (764.9 km) before it ran out of juice.
Sadly, neither Mission Motorsport nor Enso have said exactly which OE tyre was used on the standard set-up vehicle in the test. However, we do know that the vehicles used were a pair of identical Renault ZOEs supplied by the Hendy Group in "complete showroom specification, with no special tuning". Likewise, we do know that, in the earlier part of the ZOE's life, all models equipped with 15 and 16-inch rims came fitted with Michelin Energy E-V tyre as standard.
Few tyre details have been published by the brand about which tyres Enso-equipped vehicle used. Rather, that fitment has simply been described as "Enso's EV tyres". The only details provided are that they are "durable and sustainable tyres for EVs" that have "achieved 'A' energy-efficiency ratings by TÜV SÜD in Germany."
Protyre technicians were on-hand to assist with fitting and alignment so both Renault ZOEs could get the most miles from each charge. The previous hypermiling record of 351 miles was set in France in 2018, with a Renault ZOE driving around the Paris Peripherique.
Gunnlaugur Erlendsson, Enso CEO commented: "ENSO's mission is to deliver the most efficient, durable and sustainable tyres for EVs. ENSO is driven by delivering innovation in the tyre industry and is already working with leading EV carmakers and fleets. This new world record proves that our ultra-energy efficient EV tyres have a huge role to play in extending electric driving range and addressing range anxiety. By delivering ultra-low energy consumption per mile, our EV tyres not only save cost and electricity, but allow us to dramatically extend EV-range, moving the tyre industry truly into the electric age,".
Registered as Enso Tyres Ltd in March 2016, Enso is a tyre start-up that aims to disrupt the market by combining sustainable, energy-efficient, high-mileage anti-particulate tyres with a direct-to-customer, tyres-as-a-service business model. See separate article for further details relating the company's background and recent funding wins.