Goodyear tyres for Audi e-tron GT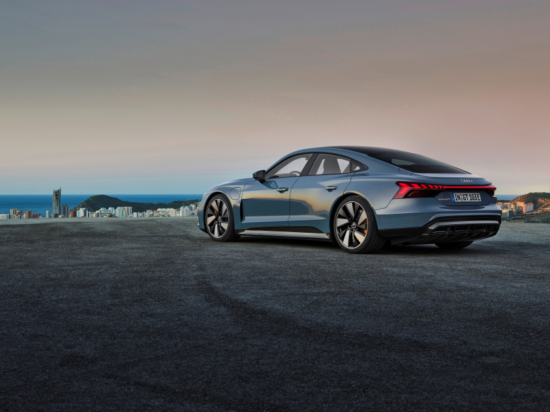 Audi is once again turning to Goodyear to equip one of its flagship electric vehicles. Audi e-tron SUVs have been fitted with Goodyear tyres as original equipment since 2019, and now Audi is equipping its new generation gran turismo, the Audi e-tron GT, with 21-inch Goodyear Eagle F1 Asymmetric 5 tyres.
"The Goodyear Eagle F1 Asymmetric 5 was launched in 2019 and features Goodyear's latest technologies," comments Hans Vrijsen, managing director of Consumer Original Equipment EMEA at Goodyear. "It is ideally suited to the demands of a performance-driven and sustainable vehicle such as the Audi e-tron GT."
Audi describes the launch of the e-tron GT as "more the arrival of a new era" than just the introduction of two new sports models. With an electric motor each at the front and rear axle, the sportiest version RS e-tron GT with 475 kW (646 PS) propels from 0 – 100km/h in 3.3 seconds. Coupled with electric all-wheel drive quattro it delivers all available torque instantaneously to the four wheels.
"The Audi e-tron GT's instant power and performance call for a tyre like the Goodyear Eagle F1 Asymmetric 5 to offer drivers the most of their driving experience," Vrijsen continues.
Improving performance without compromising comfort
Conceived as the "ultimate all-round summer tyre," Goodyear has utilised innovative technologies to unlock significant improvements in wet braking and dry handling in the Eagle F1 Asymmetric 5 without compromising ride comfort or road noise.
Goodyear's efforts to optimise performance focused on reducing flex in the tread pattern as lateral forces are transmitted. "The resultant crisp, precise turn-in, higher grip levels and efficient, clean acceleration facilitate an improvement in dry handling. Feedback through the steering is also enhanced, providing a more communicative and confidence-inspiring driving experience," reports the tyre maker.
Both versions of the Audi e-tron GT will come equipped with Goodyear Eagle F1 Asymmetric 5 tyres in sizes 265/35 R21 for the front axle and 305/30 R21 at the rear.
"Goodyear is proud to be furthering our relationship with Audi, one of the leading manufacturers in the field of electromobility, while taking another step to lead the tyre development that meets the manifold requirements of electric vehicles," concludes Vrijsen.