Goodyear prepares for 24 Hours of Le Mans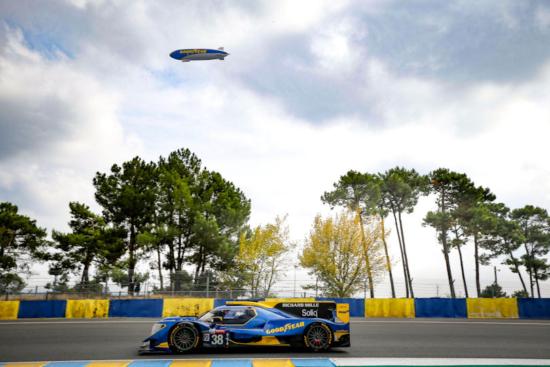 This weekend's 89th edition of the 24 Hours of Le Mans is not only the most prestigious endurance race on the planet, but a crucial event for Goodyear. After becoming the exclusive tyre supplier to the LMP2 class racing on the European and global stage, Goodyear is preparing for a large-scale operation to support 26 cars.
In supporting every team in LMP2, the largest class on the grid, Goodyear will supply a range of tyres and work directly with teams throughout the race week and race itself to help them extract the maximum performance possible out of the tyres. Goodyear returned to the 24 Hours of Le Mans last year and finished with two cars on the podium in open competition. Since then, Goodyear has become exclusive tyre supplier to LMP2 in the FIA World Endurance Championship (WEC) and European Le Mans Series (ELMS), including the 24 Hours of Le Mans. With a total of 26 cars racing on Goodyear tyres this weekend, that's more than a Grand Prix, but racing for over 12 times the time.
Goodyear's presence at Le Mans extends beyond the track. Look up, and fans will be able to spot the Goodyear Blimp flying over the track throughout the race. The Blimp returns to Le Mans for a second consecutive year, completing a European summer tour that has also included visits to the UK, Germany, Italy, Poland, Slovenia and Denmark. It will provide aerial television coverage during the race as well as passenger flights to select VIPs and guests.
A truly important race
"Le Mans is the highlight of the endurance racing calendar and a truly important race for Goodyear," states Ben Crawley, director of motorsport, Goodyear EMEA. "Last year, we were delighted with having two cars on the podium despite being outnumbered three to one in the LMP2 field. That showed the consistency of our tyres and the hard work put in by the entire Goodyear team. This year, the challenge is different as we work alongside every LMP2 team. Le Mans is always an incredible event, and the return of fans to the circuit is something we're very excited about, especially with the added spectacle of the Goodyear Blimp flying over the race."
On-track action at Le Mans begins this afternoon with the first free practice and qualifying sessions. Free practice, qualifying and hyperpole continue on Thursday, in preparation for the race start at 16:00 (local time) on Saturday.