Podium finishes mark Goodyear's return to Le Mans 24H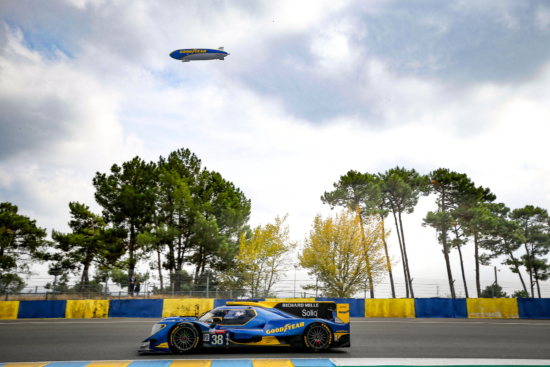 Goodyear's return to the 24 Hours of Le Mans was marked by two podium finishes and a flyover by the Goodyear Blimp during the race. British squad JOTA finished second in the LMP2 class, while French outfit Panis Racing crossed the line in third. LMP2 is the only category at Le Mans with open tyre competition and Goodyear supplied five of the 24 cars entered. The manufacturer says its two podium finishers are testament to the performance and durability of its tyres.
Ben Crawley, director Motorsport EMEA, Goodyear: "We're absolutely delighted with a double podium on our return to this incredible race. JOTA and Panis Racing both did a stellar job, and we're proud to work so closely with them to maximise performance. We must applaud the ACO's efforts to organise such a successful event after a difficult period. It's great to be back."
Mike McGregor, endurance programme manager, Goodyear, added: "Congratulations to JOTA and Panis for a well-earned podium finish. Both teams were fighting strong all race long, as was Algarve Pro Racing. It's a shame for Jackie Chan DC Racing and G-Drive Racing by Algarve, especially as the Jackie Chan DC car led the race early on, but these difficulties are what make the wins so much sweeter. The development work we've done directly with the teams has certainly paid off, as did the third 'B spec' compound that we designed specifically for Le Mans, which proved very popular and durable throughout the race."
Goodyear Blimp's return
Goodyear describes the return of its Blimp to Europe as a highlight of the year. Operating from a base 5km away from the track, the Goodyear Blimp flew overhead for much of the race. From above the circuit, the Goodyear Blimp provided passenger flights for VIP guests and media, as well as providing unique aerial footage of the event and race for worldwide TV broadcasts.
Crawley adds: "Our focus this weekend wasn't just on the track, but in the skies above it, too. The first appearance of the Goodyear Blimp at a European race event since the 1980s was a huge occasion for us all and it was a huge success. A huge thank you to the ACO for helping making it happen."