Goodyear Blimp returning to European motorsport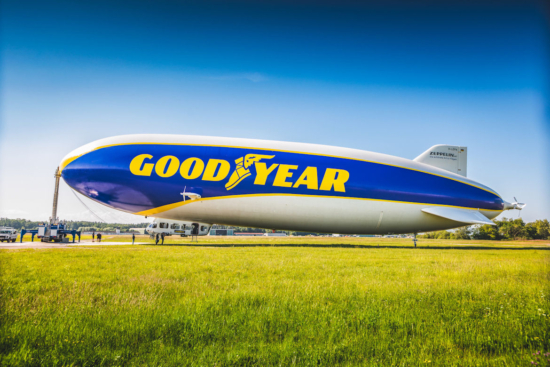 Some 35 years after its last race appearance on our side of the Atlantic, this summer the Goodyear Blimp will once again be seen at some of Europe's most prestigious motorsport events. It will celebrate Goodyear's return to European and international motorsport by accompanying the tyre brand's return to the 24 Hours of Le Mans before setting flight to the Nürburgring where it will accompany the WTCR touring car races as part of the Nürburgring 24 Hours race weekend.
"A true icon that has captured the imaginations of fans and consumers across the world for almost a century, the Goodyear Blimp is instantly recognisable. Its return to Europe is long-awaited and is the perfect way to celebrate our return to European and international motorsport," comments Mike Rytokoski, chief marketing officer, Europe at Goodyear.
Flying overhead at Le Mans, the Goodyear Blimp will provide live television aerial coverage of on-track action, offer passenger flights for guests, and serve as a brand ambassador for Goodyear. It will perform similar duties at the Nürburgring, again providing live television aerial coverage of the WTCR – FIA World Touring Car Cup as part of the 24-hour race weekend. WTCR represents the top level of global touring car racing, in which Goodyear is exclusive tyre supplier.
Goodyear Zeppelin
The Goodyear Blimp operating in Europe is a Goodyear-branded Zeppelin NT semi-rigid airship. This model is the largest semi-rigid airship in the world today, measuring 75 metres long, up to 19.5 metres wide, and 17.4 metres tall. It is the same model as the three Blimps operated by Goodyear in the USA. These are often seen flying at major sporting events, such as NASCAR, for which Goodyear is exclusive tyre supplier, as well as NBA games, American college football games and PGA golf events.
It's been a while since a Goodyear Blimp has participated in motorsport engagements anywhere in Europe. Between 1972 and 1986, a Goodyear Blimp named Europa appeared at a number of key events, including the 24 Hours of Le Mans, German Grand Prix and French Open. It was also seen in the skies above key cultural events, including two British royal weddings.
Celebrating Goodyear's European racing return
The last 12 months have been a busy time for the Goodyear Racing team. Its maiden FIA World Endurance Championship (WEC) campaign kicked off at Silverstone last September and will culminate at Bahrain in November, after Le Mans.
Goodyear is represented by two full-season teams in the LMP2 class, Jota Sport and Jackie Chan DC Racing, both of which have scored a number of podiums with Goodyear Eagle F1 SuperSport race tyres, including the win for Jota Sport at the 4 Hours of Shanghai last November. In the European Le Mans Series (ELMS), several LMP2 teams are racing on Goodyear tyres, along with every car in the LMGTE class. As of 2021, Goodyear will be the exclusive tyre supplier to the LMP2 category in both WEC and ELMS.
"Endurance racing is highly valuable for Goodyear in developing leading tyre technologies," Rytokoski continues. "Our recently-launched Eagle F1 SuperSport range is closely related to the tyres racing at Le Mans and the Nürburgring and Goodyear's new EfficientGrip Performance 2 tyre channels the spirit of endurance racing by providing motorists with an estimated 50 per cent higher mileage than its predecessor and 20 per cent higher mileage than its closest tested competitor."
In the world of touring cars, Goodyear has this year been appointed exclusive tyre supplier to both the WTCR – FIA World Touring Car Cup, the top level of international touring car racing, and the British Touring Car Championship (BTCC). The BTCC season got underway in early August, while the WTCR campaign makes its delayed start in September.
Furthermore, Goodyear is also the official tyre supplier to Pure ETCR, the electric touring car series that will get underway later this year with a series of demo events. The championship features the world's most powerful touring cars, and Goodyear has developed a unique treaded version of its Eagle F1 SuperSport race tyre to help maximise performance.
These European and global race programmes complement Goodyear's well-established relationships with NASCAR and NHRA in North America. Goodyear's relationship with NASCAR dates back to the 1950s, and it has been the exclusive tyre supplier to NASCAR's top three national race series since 1997.