Connections to rubber farmers important, says GRI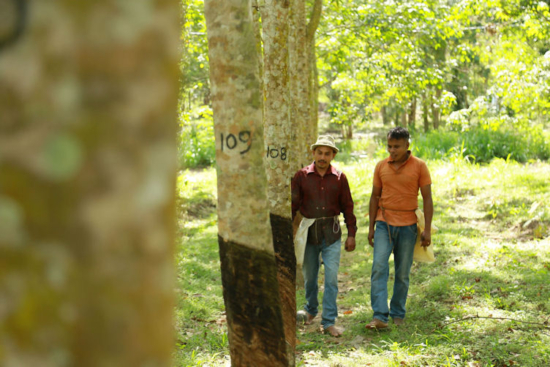 Locally harvested natural rubber is the key raw material that Sri Lankan tyre maker GRI Tires utilises. It thus views natural rubber farmers as important stakeholders in the 'GRI ecosystem'. This is an ecosystem that "focuses on sustainability and aims to inspire the farming communities by recognising their work as well as providing knowledge and skills for their development and optimising the yields from their natural rubber farms."
GRI works with approximately 1,800 natural rubber farmers from Sri Lanka's Monaragala, Rathnapura, Kalutara, and Kegalle districts. The company has established rubber collection centres in numerous locations within these regions to provide the farmers an easy means of trading their collected rubber on a weekly basis.
In addition, GRI has various programmes in place to support these farmers; the programmes' three core focus areas are enhancing productivity, social empowerment, and industry sustainability. The goal is to find solutions that improve the lives of farming families while supplying important technical tools, products, and services.
Examples of these solutions include training to enhance productivity and yield, leadership training as well as access to markets. "We also provide rubber tapping tools and farmer supplies. We train them on new technologies and distribute reading materials to enhance their knowledge," explains Niluka Karunaratne, GRI Tires' procurement manager.
An overall perspective
Rubber farmers aren't the only supported group; GRI Tires says it "takes on an overall perspective" and focuses thereby on the social development of families and the entire community. The tyre maker provides schoolchildren with educational materials and schools with sports equipment. GRI hopes to extend this engagement in future with other initiatives such as building libraries and IT facilities for these schools. "Through such endeavours, it is not only the rubber farmer that benefits but the entire community," states GRI.
"We have also introduced industry best practices to the rubber farmers, focusing on sustainability through GRI's Green X Circle initiative where we nurture a global farmer ecosystem connecting natural rubber farmers, and crop farmers who use GRI agricultural tyres to sustain their livelihoods and produce food. We focus not only on the present but also on future generations," says Dr Mahesha Ranasoma, chief executive officer of GRI Tires.
GRI collected its harvest directly from Sri Lanka's natural rubber farmers even during the COVID-19 pandemic and resultant travel restrictions. The farmers were thus able to continue with their livelihood during these challenging times. GRI notes that it was "the first tyre manufacturer to implement such a system."
"We ensure that we pay our natural rubber farmers a fair and competitive price so that they can take care of their families. We encourage and support them to develop their rubber plantations, and we enable social upliftment," adds Ranasoma.
Commitment to sustainability
GRI Tires stresses that the natural rubber it uses to produce specialty tyres is sustainable rubber, and the company stresses a "commitment to sustainability and environmental protection" throughout its operations locally and globally. GRI was founded in 2002 and produces solid material handling tyres, radial agriculture tyres, and construction tyres. It has operations in nine countries around the world and a business presence in more than 50. Since 2018, GRI has expanded its specialty tyre plants in Sri Lanka and operations in key countries.