GRI plant expansion "progressing well" despite lockdown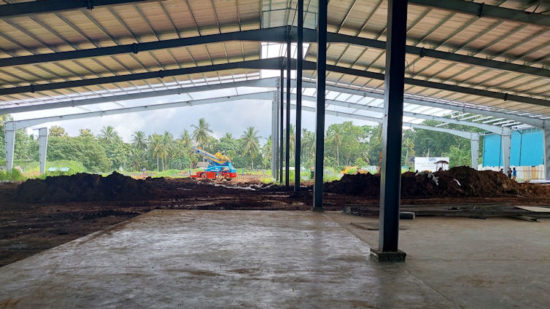 GRI Tires reports that the second phase expansion of its new production facility, which began in January 2021, is progressing well despite the challenges posed by the current lockdown in Sri Lanka. It is building the new and advanced specialty tyre manufacturing plant next to the current facility with a total investment of US$100 million.
The aim is to enhance annual production capacity to 750,000 tyres and achieve a total capacity of 100 tonnes a day. With the ongoing expansion, the installed machine capacity has increased from 25 tonnes of tyres per day in January to a current daily capacity of 35 tonnes. The immediate plan is to reach a production capacity of 1,000 tons of tyres per month by July. GRI says it has methodically commissioned all the required machinery for this phase of plant expansion.
"The building expansion work is ongoing for the entire land. We will be doubling the extent of the production facility. The total area will be 220,000 square feet (20,440 square metres), which is the size of over four football fields. We hope to complete construction by October this year and by December we will have an installed capacity of 50 tonnes per day. GRI will further install capacity to reach 100 tonnes per day in 2022," explains Ananda Caldera, executive director of GRI.
Minimising environmental impact
The Sri Lankan off-highway tyre specialist emphasises that "protecting the environment is always at the forefront for GRI" and the company is thus focusing on reducing its carbon footprint as well as environmental impact. Therefore, the new facility will expand GRI's solar panel initiative and generate 2.5 Megawatts of solar power. "We will focus on optimising energy efficiency, water conservation, and waste management. The building is designed in a way that during the day the facility will be illuminated by natural light. Greening of the production facility will be done by planting over 75 trees on the premises," shares Dr Mahesha Ranasoma, chief executive officer of GRI.
Despite the travel restrictions imposed with the advent of the third wave of the COVID-19 pandemic in Sri Lanka, construction work on the production facility continues on schedule, and GRI confirms that progress has been satisfactory.
Two decades of tyre production
GRI positions itself as a producer of high-grade specialty tyres; it makes these in Sri Lanka using sustainable, pure natural rubber. Founded in 2002, the company produces material handling solid tyres as well as radial agricultural and construction tyres. It has sales operations in nine countries and a business presence in more than 50. GRI opened its new plant for the manufacture of radial agricultural tyres in 2018, and in 2020 commenced construction of a large mixing facility for tyre compounds. The tyre maker stresses a "commitment to sustainability and environmental protection" through all its strategies and processes.