Responsible corporates need to give back: GRI aids Sri Lanka during pandemic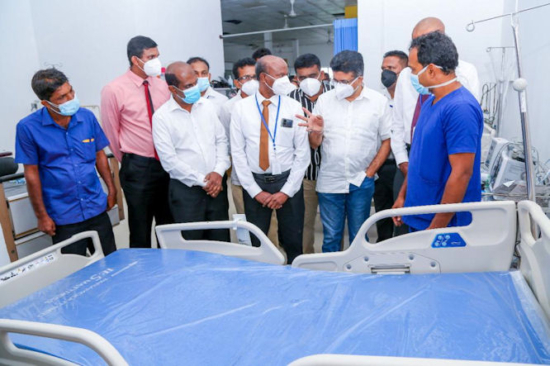 Sri Lankan tyre maker GRI Tires strives to be a responsible company that always recognises the importance of giving back to the country and its people, especially in times of need. Managing director Prabhash Subasinghe states that it "is ingrained in our DNA as an organisation to give back to society."
This was witnessed during the recent and ongoing COVID-19 pandemic. When the virus began to spread last year, GRI stepped up its CSR initiatives through the GRI Care programme, supporting communities both where it is directly involved and where it isn't. Similarly, with the surge of the pandemic's third wave this year, the tyre maker said it "understood that the entire medical system was stressed and that government hospitals required support."
As soon as Sri Lanka's government made its requirements known, Mr Subasinghe "took the initiative to inquire on the most urgent needs," and GRI promptly donated two high-function ICU beds to the hospital in the city of Gampaha. GIR notes that although it is one of the largest and best-equipped hospitals in the country, the Gampaha Hospital had "never received such medical equipment previously."
The tyre maker was heartened by the news that the ICU beds were instrumental in saving a 40-year-old man's life just a couple of days later. "I am happy that we have been able to make a difference and save lives," said Subasinghe.
Similarly, GRI donated ICU beds to Kosgama Hospital in Avissawella at the request of Sri Lanka's Ministry of Health. Kosgama Hospital has very limited resources and this medical equipment sorely needed. The company also provided support in the form of medical equipment to Negombo Hospital. Non-medical aid includes the food rations GRI distributed to more than 350 families in Colombo on two occasions.
"Each person contributes in the way they can, the numbers are always relative," shares Subasinghe. "We find many individuals assisting as well. But responsible corporates need to step up and give back to the country. That is also a reason we do business, to give back to society."
Do the right thing at the right time
In addition to this direct assistance, Prabhash Subasinghe sees GRI as helping Sri Lanka by building up an export-focused tyre industry that brings much-needed foreign currency to the country. The company sources its natural rubber from Sri Lankan farmers, and GRI expresses a commitment to "supporting the rubber farming community during challenging times" in future.
"It is important not only for me as an individual but to all our employees to be a part of an organisational culture where caring is a part of our DNA. You need to do the right thing at the right time. For GRI, it is not only about business, we look at humanity first," explains Mr Subasinghe.
A presence in more than 50 countries
GRI produces specialty tyres in Sri Lanka using locally-grown, sustainable natural rubber. Founded in 2002, the company produces material handling solid tyres, radial agriculture tyres and construction tyres. GRI has operations in nine countries and a business presence in more than 50 countries.
In 2018, GRI opened a new manufacturing facility in Sri Lanka to produce radial agricultural tyres. It commenced construction of a large mixing facility for tyre compounds last year, and in 2021 began further expansion of its advanced specialty tyre plant. GRI emphasises that it "ensures its commitment to sustainability and environmental protection" through all its strategies and processes.