Coreseal: Falken introduces self-sealing all-season tyres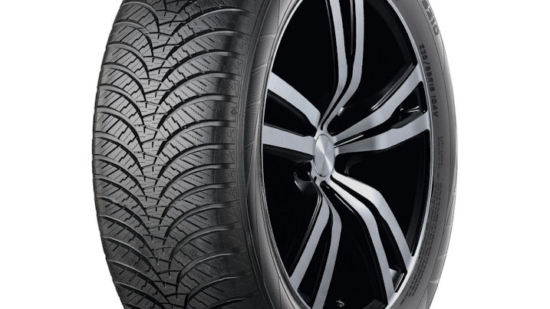 The first Falken tyre to feature Sumitomo Rubber Industries' proprietary Coreseal puncture sealant technology goes on sale in Europe this month. Coreseal will initially be available on two sizes of the all-season Falken Euroall Season AS210 pattern.
Coreseal prevents air pressure loss by automatically sealing any punctures up to a diameter of five millimetres in the tread surface; Falken Tyre Europe views this as a convenience, cost and safety advantage for drivers. The technology features a layer of highly adhesive, yet viscous sealant on the tyre's inner lining. If the tyre is punctured, the sealant automatically flows into the hole and thus prevents further loss of air pressure.
"Coreseal is a simple solution to a disruptive problem," says Andreas Giese, senior manager corporate planning/product planning at Falken Tyre Europe. "Now you no longer have to change a tyre or wait for roadside assistance, you can simply continue your journey. Coreseal is a significant step in making tyres smarter and more efficient."
Falken recommends the use of a tyre pressure monitoring system with its Coreseal tyres and suggests any puncture should be checked by a tyre professional.
Germany is the first European market to receive the Coreseal products, with a size 235/55R18 104V XL version of the Falken Euroall Season AS210 arriving in July, followed by 225/50R17 98V XL.
FEXM & Gyroblade
Sumitomo Rubber Industries announced the development of Coreseal back in October 2015. The technology complements Falken's 'FEXM' run-flat products. The tyre maker is now working to further develop its Gyroblade airless tyre technology, which it also first previewed in 2015.