First Stop, Webfleet Solutions partner for World's Fastest Shed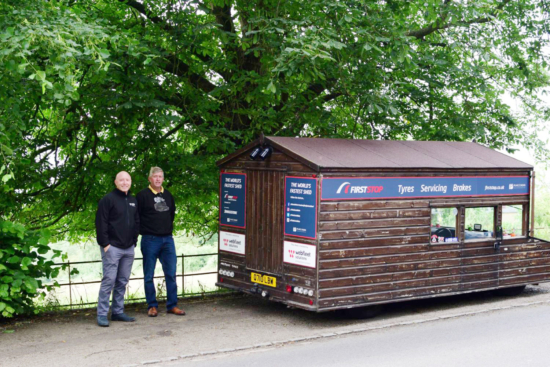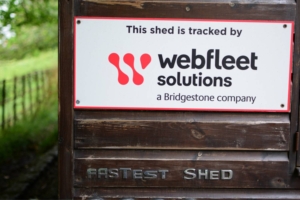 Bridgestone's tyre retail network First Stop and telematics provider Webfleet Solutions will jointly support the World's Fastest Shed. First Stop is sponsoring Guinness World Record holder Kevin Nicks and his road-legal outbuilding. Webfleet Solutions has installed its Webfleet fleet management software on the unusual vehicle.
The motorised shed, which has been featured on the BBC, ITV news, The One Show, and Have I Got News For You, is kitted out with a 455-horsepower 4.2 V8 Audi RS4 Stage 2 engine, hydraulic suspension.  The motorised shed record was set at 106mph, though the vehicle has a top speed of 114.6mph, recorded by the UK Timing Association. The shed is fitted with Bridgestone commercial tyres, while Nicks can now get valuable diagnostic information and powerful insights into driver performance and speed, thanks to the Webfleet telematics data.
Kevin Nicks said: "The pandemic put a stop to many of our trips so I am looking forward to getting back on the road, visiting events and competing in races around the country, as well as completing my tour of the First Stop centres.
"I am really interested in alternative technologies, and how these are driving the development of EVs and autonomous vehicles, and I see telematics being a big part of that.  It is quite fascinating to see some of the things it can do, from alerting me to faults to scoring my driving style.  The system offers so much information and I can see how valuable it could be to a company, even one with two or three vehicles, and the opportunities it creates to make running a business a lot easier."
Nicks, of Chipping Norton, Oxfordshire, has amassed a huge social media following, with videos of his speedy shed in action reaching 1.2 million views on TikTok. The inventor, who built his first engine aged ten, is a regular at drag race events across the country, with 2021 appearances including Melbourne Raceway, Elvington Airfield and Santa Pod Raceway.
Nicks also returned to Pendine Sands, in Wales, where he and his motorised shed set a Guinness World Record for a second time in 2019.  He went on to beat his own record again in 2020, reaching speeds of 106 mph at Elvington Airfield. The races are an opportunity for Nicks to beat his personal best and have been known to attract up to 30,000 spectators. He has racked up more than 50,000 miles in his wooden creation, including the 874-mile drive from Land's End to John o' Groats.
Nicks added: "I need to be able to drive 200 miles to an event, get out on the raceway, reach speeds of 100 miles an hour, and then drive home – and do it all again the next weekend, without having to keep mending it.  You have to be confident that the engine is in good shape."
Webfleet's automatic diagnostic alert system allows for proactive maintenance, whilst the OptiDrive 360 functionality can be used to measure driver scores for safety and efficiency.
Joe Coombs, partnership manager at Webfleet Solutions, said: "We are delighted to have partnered up with Kevin and the World's Fastest Shed.  The data provided by telematics will help give Kevin full visibility of his vehicle, offering him diagnostic oversight and giving him the tools to understand and improve his performance on the racetrack and the road."