Get fit with Manchester City & Nexen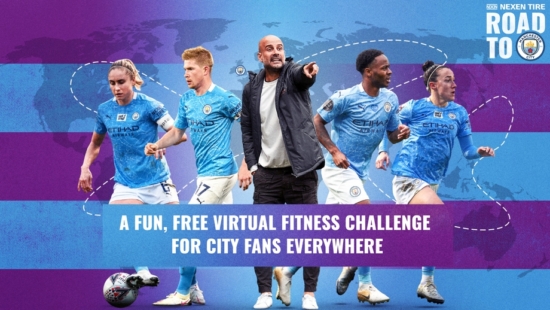 Manchester City F.C. and Nexen Tire have announced a new virtual fitness challenge, Nexen Road to Man City. This free virtual race officially begins on 22 April 2021 and encourages participants of any age or fitness level to exercise and adopt a healthier lifestyle by getting outside and being active over a 45-day period.
Participants can walk, jog or run to accumulate their steps using the Stepathlon platform and log them via their smartphones or other compatible devices, as they virtually race around the globe and compete with fans all over the world for the chance to win hundreds of prizes and money-can't-buy experiences.
Registrations for the challenge open on Thursday 25 February and will be accepted until the day before the official start. The challenge finishes on 5 June. The Road to Man City app is now available in both android and iOS formats.
Connecting with fans never been more important
Through the initiative, Nexen Tire aims to bring fans closer to the Club, with weekly challenges and contests taking place during the race and registration phase on the @NexenRoadToManCity social channels to get fans motivated and moving.
"Connecting with fans across the globe has never been more important and throughout the last year, the Club has continued to provide new and immersive ways for them to engage, wherever they are based in the world," comments Peter Laundy, Manchester City FC's vice-president of partnerships, marketing and creative. "The Nexen Road to Man City is an exciting new activity for fans and sports enthusiasts alike to be able to stay close to all the action whilst improving their health and fitness and we hope fans worldwide will get involved."
"Nexen Tire is thrilled to be part of this truly global initiative to keep fans fit, healthy, and active," said Travis Kang, Global chief executive officer of Nexen Tire. "This event, planned with Man City, is in line with our new 'We Got You' brand slogan, that is, to become a more helpful and convenient brand for consumers, anytime, anywhere.
"I look forward to everyone participating in this virtual event which also passes through Seoul, home of Nexen Tire, and hope it will be a source of fun for all," adds Kang.
The Nexen Road to Man City is the second virtual race event that the Club has delivered, but the first on a global scale. The tyre maker reports that the previous event for fans in India was a success, with thousands of people taking part. The virtual race event will be powered by Stepathlon – The Race Management Platform.