Cambrian Tyres: Multi-brand portfolio a strength during pandemic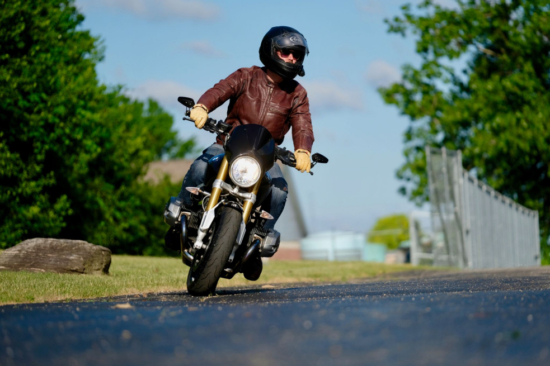 Two-wheel vehicles came into their own in a year when travelling on public transport was often discouraged and delivery services boomed. As the Motorcycle Industry Association recently reported, unit sales of scooters shot up 10.6 per cent in 2020 and overall sales of two-wheel vehicles declined just 2.6 per cent year-on-year despite two lockdowns. Demand for aftermarket parts was also healthy within the sector, reflecting both a preference for affordable personal transport as well as the popularity of socially-distanced pastimes such as bike restoration projects. But there's been a fly in the ointment.
This fly is a shortage of container space, and it was still souring the ointment when we spoke with Cambrian Tyres in January. Marketing manager Richard Hemingway told us that products that could be flying off the shelves were instead sitting dockside halfway around the world. This is a problem faced by many, and Hemingway assured us that Cambrian has coped well with the issue so far.
"During the first lockdowns we were in a stronger position than some of the manufacturers. Having 13 tyre brands on the shelves means we usually have an alternative to sell if a particular product isn't available. Therefore we were spared the slump that some manufacturers experienced, but I think supply issues will persist in the early part of 2021."
Cambrian Tyres keenly awaits further deliveries of Kenda tyres. The wholesaler has exclusively distributed the brand since 2019 and the range has been selling well. Around 100 new Kenda products are scheduled to arrive in the UK in 2021.
This year began with Cambrian awaiting seven containers full of Kenda tyres. After several weeks of delays due to the much publicised shipping shortages in the Far East, two of the containers were loaded onto a ship during the first week of January and began the long voyage to Britain.
Kenda joins sport touring market
New product heading our way includes the Kenda KM1 radial, a tyre that marks Kenda's entry into the highly competitive sport touring market. The USA-developed and tested range is due to arrive early in February, initially in three key sizes: 120/70 ZR17 M/C (58W) TL for the front wheel and 180/55 ZR17 M/C (73W) TL and 190/50 ZR17 M/C (73W) TL for the rear.
"It is a fantastic addition to the Kenda line-up at a time when the prices of other entry levels products have markedly increased. In terms of the product we carry, it is going to be by far and away the best-priced pair in key sizes for sport touring machines," says Hemingway.
In addition to the KM1, Cambrian supplies an ever-broader portfolio of Kenda products in the UK:
The Kozmik K6022 has a dual compound, something not frequently encountered on a scooter tyre. The concise range of 10- and 12-inch sizes provides options for a wide range of machines, the latter covering bikes like the Benelli TNT and Honda MSX125. "It is priced very keenly considering the technology that's gone into it," notes Hemingway.
The Kenda K701 is a winter-focused tyre for lightweight motorcycles and scooters, capable of coping with temperatures down to -30°C. Richard Hemingway says "this sits nicely alongside our current Anlas Winter Grip range, which is a great all-season option in the UK climate."
The K333 is a classic, 10-inch whitewall tyre in for scooters such as the Lambretta or the Vespa.
Owners of classic bikes may be interested in the Kenda ribbed front tyres covered by the K201 to K205 lines. The marketing manager points out that this range includes sizes that the "major manufacturers don't cover any more" and is complemented by a matching range of rear tyres. "Classic bike tyres were flying out the door during lockdown, as many people were clearly using that time to work on a project that's perhaps been sitting in the garage. We had a lot of dealers scrambling for these products as well as our Kenda classic trail tyres, as these bikes have also become very popular restoration projects."
Although the Kenda Kanine KR20 will never be a high-volume seller, Hemingway considers this tyre typical of the "tasty niches that Kenda has a knack of finding and which subsequently elevate the brand's profile." The KR20 is the first and only aftermarket tyre developed specifically for the Can Am Spyder three-wheeler. "Most owners fit car tyres, but car tyres are too heavy and hinder performance rather than enhance it," comments Hemingway. The KR20 is based upon a high performance drift tyre and developed to make it significantly lighter than common aftermarket fitments.
Expansions to the Kenda competition portfolio include a 16-inch version of the Sand Mad for Big Wheel 85 bikes. Cambrian Tyres anticipates good sales with this tyre as most manufacturers don't produce a 16-inch sand tyre for junior motocross. "It's certainly an addition to the range that will get people talking about the brand. The adult version already has a winning pedigree from Weston Beach Race in 2019." In addition, the single Kenda Washougal III SKU available at the start of 2021 will become part of a range of six. "This is a do-everything motocross front tyre that covers soft ground through to hard terrain."
Bridgestone, Continental & Anlas
Although slightly delayed, the Bridgestone Battlax Sport Touring T32 should be with us by the end of January, at least in key sizes. Cambrian Tyres will also continue to add to the 2020-introduced Battlax BT46 range. "It is being phased in over three years. We'll add nine new sizes in 2021, with a number of BT45 sizes dropping out" says Hemingway.
Cambrian Tyres intended to introduce six new Continental products in 2020. Five from the six arrived, a good result considering the slowing effect the pandemic had upon manufacturers' R&D and testing programmes. The sixth Continental line did reach our shores in a single size before the end of the year, but the remainder of the promised ContiStreet range will be available in 2021.
No changes are planned for the Anlas range this year but Richard Hemingway confirms that the brand, and its Winter Grip ranges in particular, are selling very well. "ith the rise in home delivery services during the pandemic, the Anlas Winter Grip 2 with it's proven all-weather performance is exactly the sort of tyre that scooter fleet operators are after."
Strong sales, delayed deliveries
Motorcycling is strictly a spring and summer pastime for many, and usually Cambrian Tyres begins to experience a spike in sales in March. Lockdown delayed this spike in 2020, but "as soon as England began to open up you wouldn't have known we were in the middle of a pandemic." This rush for orders continued beyond the typical busy period and through until the end of October. "Many riders tax their bikes for six months and this meant that many taxed them at the start of May and were riding into October, giving us an extra month at the end of the season," Hemingway explains. "Normally sales start to tail off from late September, but last year they didn't. MoT delays also moved sales further down the line."
We were back in lockdown again at the time we spoke with Cambrian, and this meant a return to restricted trading for many of Cambrian Tyres' customers. Dealership showrooms closed, but bikes and parts are nonetheless available by click & collect arrangements and online shipments: "Hats off to dealers who've adapted as best they can to keep on trading in difficult circumstances."
Cambrian Tyres anticipates good sales in 2021 but expects the challenges of recent months will linger for a while yet. "I'm sure things will pick up just as they did after the previous lockdown. People can't wait to get their bikes out and have a ride, have some time to themselves. Fingers crossed that the pressure on supply chains eases in the near future."
Hemingway stresses again that the wholesaler can almost always deliver a suitable tyre even when a requested product isn't available. "That's the beauty of supplying multiple brands. We'll do everything possible to keep make sure bikers remain on the roads, even if that means that sometimes riders have to accept the fact they may not always able to get their preferred brand or pattern, but we can almost always find an alternative that covers their needs. We'll make sure they stay mobile."