Cambrian Tyres: Anlas brand launch, extensions to Conti, Bridgestone offer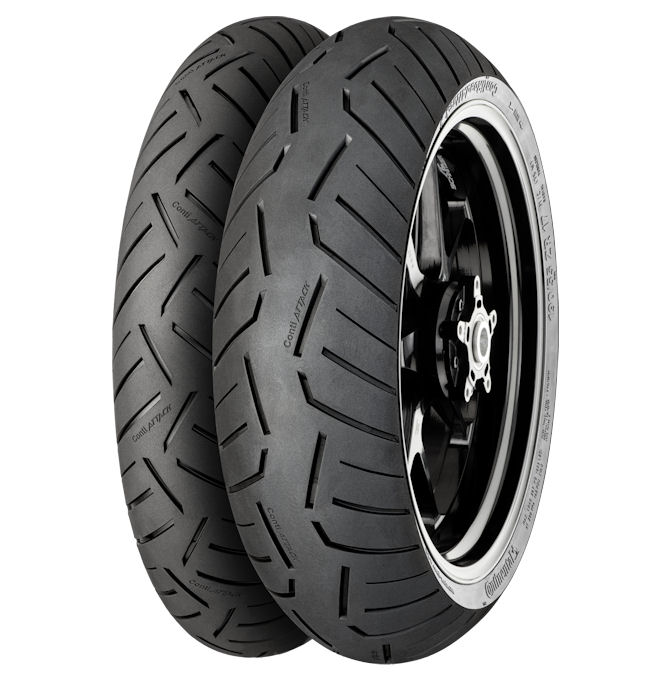 Success as a tyre wholesaler depends upon range, availability, and also a measure of exclusivity, and this applies as much in the two-wheel segment as it does for car tyres. Britain's largest independent two-wheel tyre distributor deals in more than a dozen brands, from household names to those little known outside riding circles, and is sole UK distributor for several ranges. Earlier this year, Tyres & Accessories recently spoke with Richard Hemingway Cambrian Tyres to find out what's new within the wholesaler's established exclusive stable and from a brand that's relatively new to Cambrian customers, but nevertheless should prove very interesting.
As exclusive UK distributor for Continental motorcycle tyres, Cambrian Tyres offers a broad portfolio that now includes a brand new premium sport touring tyre, the Continental RoadAttack 3. The public gained a first glimpse of Continental's latest, top of the line sport touring tyre at the EICMA motorcycle show in Italy last November, and in March dealers and bike journalists will finally experience the much-anticipated new addition at an official launch event in Mallorca. Cambrian has posted a video made during the launch by its 'friend Stateside', Wes Hawkins at Riders Domain.
Riders' patience were only tested for the shortest of whiles following the official launch, and Cambrian Tyres worked to ensure "sufficient stocks" of the sport touring tyre were in the UK by the time motorcycles begin emerging from their winter hibernation for the new riding season. A total of 23 RoadAttack 3 sizes are produced, with eight of these currently available in the UK.
The ContiRoadAttack 3 features Continental's 'Rain Grip' compound and a tread pattern designed to shift more water from around the contact patch at all angles of lean. Another named innovation is Easy Handling Technology, which is said to provide much more linear and neutral handling properties in a range of conditions to improve line holding. Other core Continental technologies include Traction Skin, which almost eliminates the need for scrubbing in, MultiGrip single compound grip grading and a patented Zero Degree Belt.
"We anticipate a lot of interest in the RoadAttack 3," commented Cambrian Tyres' marketing and IT manager prior to the range's launch. "It is one of only two premium sport touring tyres scheduled for release this year, and its arrival gives riders three tiers of Continental product to choose from in this segment." With the introduction of the RoadAttack 3, the ContiRoadAttack 2 EVO becomes the brand's mid-range offer and a number of ContiRoadAttack 2 sizes (GT tyres for heavyweight touring bikes will be phased out of this range) remain as a third-tier line.
The RoadAttack 3 enjoyed its first tyre test win in the 12/2017 issue of Motorrad magazine. The German publication awarded the Continental tyre 231 points out of a possible maximum of 250 in its test of six size 120/70 ZR17 (front) and 180/55 ZR17 (rear) touring tyres, commenting that the new generation rubber showed improvements in the wet over the ContiRoadAttack 2.
Further new Conti ranges
A second new release from Continental comes to market as the successor to the Milestone range. The name Milestone has been retired and the all-new product for riders of big custom bikes, cruisers and choppers is called the ContiTour. Certain sizes will be available from the second quarter of this year, and while the range isn't quite as comprehensive as the Milestone line, it covers all key sizes.
Despite its departure from the Continental portfolio, the Milestone lives on in an upgraded form as the whitewall ContiLegend. Yet this new addition isn't just a rebadged Milestone – Richard Hemingway reports that the ContiLegend features an improved compound over the Milestone and as a result is a "better product than the outgoing tyre."
A fourth new product is the ContiCity, a tyre for lightweight, urban bikes. "It is designed for inner city riders looking for a tough and durable product with a classic appearance," says Hemingway. "With a rise in the sales of smaller capacity machines and commuter bikes, these tyres are ideally placed to take advantage of a burgeoning market within the UK."
Introducing Anlas
One exciting new addition to the Cambrian range in 2017 is the introduction of their exclusive new Anlas brand.
The Turkish based manufacturer are 2-wheel specialists and produce a range of high quality products for adventure machines, classic, commuters and scooters. A key product in the Anlas range is the Winter Grip 2, which is already proving a big hit in Europe. It is a durable mud & snow rated scooter tyre which offers excellent wet grip, which is ideal in the UK at any time of year.
"The Anlas tyre is durable, even when the weather warms up and this is a key selling point for us. Feedback from customers tells us that riders can fit the Winter Grip 2 all year round and get a lot more miles out of it than from its main rivals." Richard Hemingway observes that the new range is proving very popular already, and Cambrian has already sold out in some sizes. Emergency stocks were ordered ahead of a new container load of the tyres."
Riders of larger bikes also have a reason to get acquainted with Anlas, adds Hemingway: "We're excited to announce that Anlas has produced a new tyre called the Winter Grip Plus. This is a world first – a winter tyre for big bikes." The marketing and IT manager shares that the Winter Grip Plus comes in popular sport touring and adventure bike sizes and is suitable for machines such as the BMW 1200 GS. "We've tested the tyre on our own BMW GS, in a range of weather conditions across the UK and have been very pleased with the results."
The M+S marked tyre features a zero degree steel belt construction for high speed stability and is heavily siped for strong grip in a range of conditions. "We believe the Anlas Winter Grip Plus will be quite promising when it comes to market, and we're expecting a buzz around it as this is something nobody else produces," states Hemingway. The new tyre arrived in February as Cambrian Tyres wanted to have stocks available even before the end of the previous winter season; it is available in three front and four rear wheel sizes.
The Anlas brand is new to UK consumers, and Cambrian Tyres extensively evaluated the Anlas tyre ranges prior to offering them for sale. "We tested certain products with a couple of key customers and on our own machines. We were cautious about lending our name, especially in a market as small as the UK motorcycle wholesale market, to a brand that was still largely an unknown quantity to us. We didn't want to sell a product unless we'd be happy to fit it to one of our own bikes."
Cambrian Tyres is the sole UK importer of the Anlas two-wheel range and has been granted permission to set up a UK website and engage in social media activities. Hemingway states that a big push will be made to this end when the full line-up arrives in the course of this year.
Full Bridgestone MX range now available
Cambrian Tyres is one of the main distributors of the Bridgestone two-wheel brand in the UK, and sole trade distributor for Bridgestone motocross products. The tyre maker has returned to the motocross market after a number of years' absence and is working hard to regain territory it conceded to strong rivals. "Breaking back into a market is difficult, but the Bridgestone motocross products are excellent and we're pleased with how far we've come with them so far," comments Richard Hemingway. He adds that Cambrian's job became a lot easier once the Battlecross X10 sand tyre completed the Bridgestone motocross line-up. "People tend to want to stick with one brand, and having a full range of the very latest products makes it easier to capture a rider's interest."
Interest in Bridgestone motocross products is growing and the tyre maker is working to further lift rider awareness. Bridgestone is title sponsor of what used to be known as the British Schoolboy Motocross Association series, and through its involvement in the BSMA Bridgestone National Series has made connections with a number of promising young riders. This year it is sponsoring nine riders, with Nadiya Jones, Ray Rowson and, returning to the fold, Jack Timms joining Morgan Evans, Rob Yates, James Hanscomb, Harry Linton, Josh Waterman and Charlie Chater. All will compete on Bridgestone Battlecross tyres.
One stop shop
In addition to these exclusive brands and products, Cambrian Tyres offers tyres from all major names in the two-wheel business. "We've always wanted to be seen as a one stop shop," Hemingway concludes. "Cambrian isn't just about Continental and Bridgestone. We work closely with all the major manufacturers to ensure that we know everything there is to know about their ranges, and we continue to offer unrivalled product availability to our customers, backed up with impartial, expert advice from their experienced sales team.     stephen.goodchild@77.237.250.82