UK launch for ContiTrailAttack 3 & ContiScoot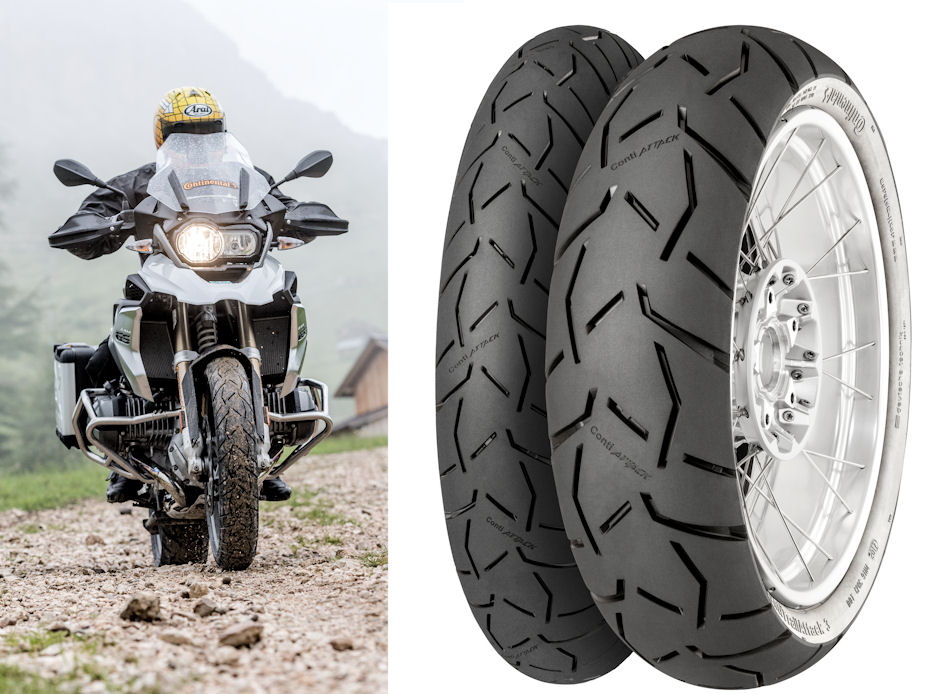 The ContiTrailAttack 3 has arrived in the UK motorcycle market, and Cambrian Tyres is confident this new addition will build upon the solid reputation of its predecessor. The Continental tyre is predominantly aimed at road going adventure motorcycles.
According to Cambrian, the ContiTrailAttack 3's redesigned tread pattern works in conjunction with the very latest RainGrip compound to deliver outstanding levels of wet weather performance for all-weather riding. The range's UK distributor adds that another benefit provided by Continental's latest compound is extremely fast warm up times, even in the coldest weather conditions, with the tyre up to temperature within the first 1,500 metres of riding.
The ContiTrailAttack 3 also profits from a range of core Continental technologies that also feature in other products across the range. These include the unique Traction Skin coating, which greatly reduces the initial scrubbing in period for a new tyre, and thus increasing rider safety from the very first mile.
A Zero Degree Steel Belt has been employed in the tyre construction to limit growth at high speeds, with the effect of increasing stability, even under hard braking. Continental's MultiGrip Technology also creates a dual-compound style tyre from a single piece of rubber, which gets progressively softer as the bike is leant over, for more progressive handling.
ContiScoot
For riders with smaller wheels, Continental has also developed the brand new ContiScoot. Available in sizes for 12- to 16-inch rims, it takes the test winning, all-weather performance of the ContiRoadAttack 3, and brings it to an entirely new audience.
Continental's designers have retained the ContiRoadAttack 3's unique tread pattern, which offers optimal water channelling away from the contact patch for fantastic wet grip at all angles of lean. This proven pattern also delivers uniform wear characteristics and a more consistent performance throughout the life of the tyre, to give the best performance from the first mile to the very last.
Further information on the full range can be found on the conti-bike.co.uk website.