Cambrian Tyres ready for 2014 Continental releases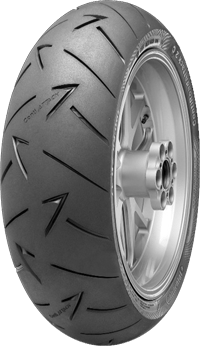 The ContiRoadAttack 2 Gran Turismo touring sport tyre has been approved as an original equipment fitment for the BMW R1200 RT, Continental reports. This latest version of the ContiRoadAttack 2 bears the initials 'GT' on the tyre's sidewall and has been optimised for use on heavy weight touring and naked bikes, with a wear-resistant compound and a reinforced casing design that includes a second casing layer for enhanced stability and easier handling.
Continental's motorcycle range is distributed by Cambrian Tyres in the UK, and the ContiRoadAttack 2 Gran Turismo is just one of a number of products the company says it will bring to market this year. Cambrian says it has new additions lined up that complement the current range and meet changing customer demands.
The ContiRoadAttack 2 Evo was launched at the EICMA show in Milan last November and Cambrian says it is a perfect tyre for the expanding sport touring market. The upgraded tread compound features even higher levels of silica and is said to deliver significant improvements in wet grip whilst offering extended mileage. Catering to scooter riders, the ContiMove365 delivers increased performance all-year round, even in the rain and snow. With a total of 11 sizes available, scooter owners no longer need to swap their tyres over or consign their scooter to the garage when winter arrives. Growth in the custom and cruiser markets have also seen a number of additional sizes added to the popular ContiMilestone range, with both black and white sidewall versions available.
In 2013, Cambrian saw a greater number of riders choosing to ride on Continental Tyres, and after a marketing revamp late in the year the Continental motorcycle brand is now better supported than ever in the UK; the Conti distributor says 2014 will continue to see this going from strength to strength.
"For many years the brand has had a growing reputation and fan base amongst riders and dealers alike, testament to the quality of our products across all ranges," commented Graham Matcham, Continental brand manager at Cambrian Tyres. "As well as connecting with traders just like you, we have been working hard to connect with end users too; both face to face and online in order to further enhance this reputation for quality, innovation and performance."
Each year, Matcham covers thousands of miles to attend events throughout the UK, offering his advice and technical expertise to riders as well as introducing them to Continental's products. Back in the office, his efforts with Cambrian's new Continental social media efforts have allowed the company to connect with a large audience across all segments, from classic bike restorers to scooter lovers. "We have also been using targeted online advertising, which has allowed us to connect riders with a product that matches their needs," Matcham added. "Our online dealer locator then allows customers to find their nearest Continental dealer. We have a range of point of sale material available to help traders showcase the best that the brand has to offer, and we are working to introduce a range of online materials and banners which dealers can add to their website with just a few clicks."