Continental introducing 4 new motorcycle tyres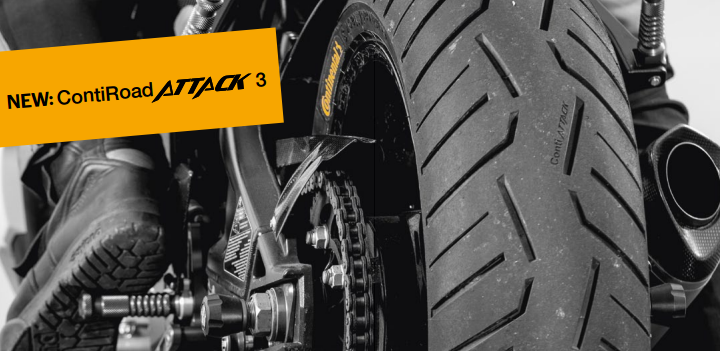 A quartet of new Continental motorcycle tyres were presented at the EICMA show in Italy earlier this month, and the range's UK distributor states that most products within these ranges should be available by the end of Q1 2017.
The first of the four is a new sport touring tyre, the ContiRoadAttack 3. Its tread pattern is based on that of the ContiSportAttack 3, and Cambrian Tyres describes the new tyre as an all-rounder that "boasts big improvements in wet grip, which take it to the top of the sport touring market."
The ContiRoadAttack 3 features Continental's 'Rain Grip' compound, and it's tread pattern is designed to shift more water from around the contact patch at all angles of lean for safer, more secure riding in all weather conditions. Another named innovation is Easy Handling Technology, which is said to provide much more linear and neutral handling properties in a range of conditions to improve line holding. Other core Continental technologies include Traction Skin, which almost eliminates the need for scrubbing in, along with MultiGrip and a patented Zero Degree Belt.
The second new tyre is the ContiTour, Continental's brand new tyre for riders of big custom bikes, cruisers and choppers. Again, the tread pattern is said to offer efficient drainage properties for excellent grip on wet roads.
On the rear tyre, a central band with no tread boosts mileage returns and limits tread movement for increased stability under acceleration, while Cambrian Tyres says the new compound formula used in the ContiTour delivers "excellent mileage and consistent performance throughout the life of the tyre."
Those wishing for a whitewall tyre for their custom or cruiser may be interested in the ContiLegend. This tyre is based on the Milestone, and it features the latest tyre technologies beneath its vintage tread pattern and whitewall design. Cambrian Tyres reports that an improved version of Continental's MileagePlus delivers more miles and increased consistency throughout the life of the tyre, while the multi-groove tread pattern has been optimised to deliver excellent water drainage properties for improved performance in wet conditions. It adds that a specially-engineered casing "delivers supreme comfort and superb handling," even on the heaviest of machines.
The fourth new product is the ContiCity, a tyre aimed at riders of classic and lightweight motorcycles. Cambrian Tyres describes ContiCity as "a durable tyre offering cutting-edge performance, without losing that traditional appearance." The tyre is expected to appeal to inner-city riders and all-round commuters who want reliability, performance and style in a single package.