Continental: 6 new motorcycle tyres in 2020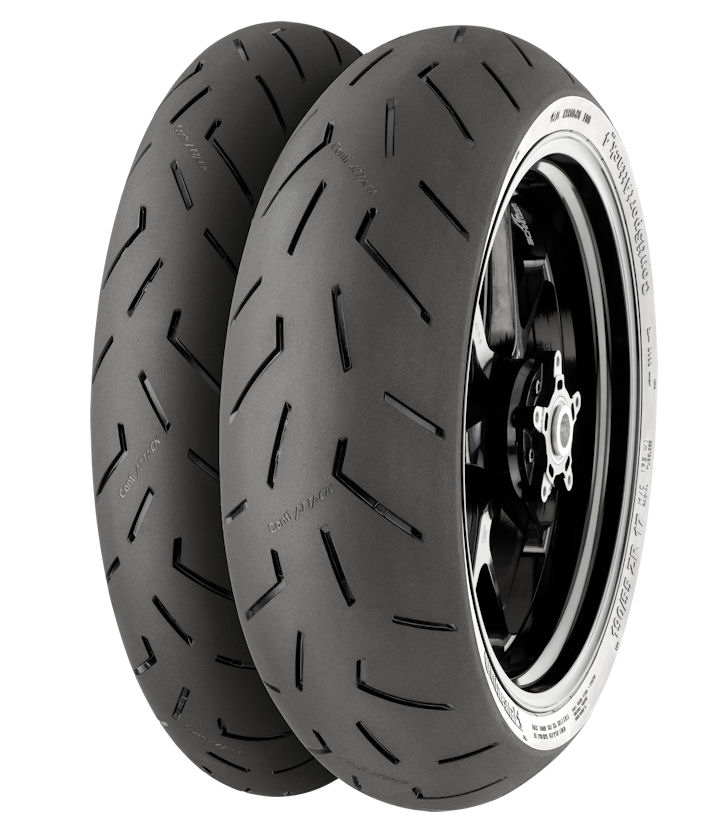 New sport, road and all-terrain tyres from Continental will await riders awakening from their winter hibernation. The ranks of the brand's motorcycle tyre portfolio are set to swell in 2020 with six fresh products.
ContiSportAttack 4
Continental says the successor to the ContiSportAttack 3 offers a "significantly greater contact surface" at extreme lean angles that the prior-generation tyre. Road grip, precision and handling have also been optimised and, thanks to Continental's BlackChili compound," set "new standards in excellence."
ContiRaceAttack 2 Street & ContiRaceAttack 2 soft/medium
Riders looking for a more hardcore product may be interested in the road-legal ContiRaceAttack 2 Street hypersport tyre. Continental describes this replacement for the ContiRaceAttack Comp.End as a "racing tyre that can also handle all-round duties." Even further along the performance spectrum, Continental is introducing a successor to the ContiRaceAttack Comp. Called the ContiRaceAttack 2, the new tyre is available in 'soft' and 'medium' versions and is suitable for racetrack use at lower pressures and with tyre warmers.
Continental says both new tyres also excel in outstanding track stability and road grip attributes thanks to the use of BlackChili compound.
TKC 70 Rocks
The fourth new product in Continental's 2020 motorcycle tyre arsenal is the TKC 70 Rocks – a rear tyre that features no solid centre tread band and a chunky pattern over the entire tread. The tyre maker describes the TKC 70 Rocks as a "cross between the TKC 70 and TKC 80" that can be used on a wider variety of terrains than the TKC 70 and gives superior on-road performance than the TKC 80. The TKC 70 Rocks can be combined with the TKC 70 front tyre.
ContiRoad
A shakeup of Continental's sport touring tyre offer sees the ContiRoad joining the range, positioned between the ContiRoadAttack 3 and its predecessor, the ContiRoadAttack 2. The 'EVO' will leave the sport touring line-up during 2020, however, the ContiMotion will remain.
ContiStreet
The ContiStreet was developed with small displacement motorcycles in mind. This entirely new cross-ply tyre replaces the ContiGO! (City), and Continental expects it'll "set new standards for commuter tyres." ContiStreet was designed using technologies and experiences gained from the ContiRoadAttack 3 and, like the tyre it draws its inspiration from, is said to "stand out from the crowd" when it comes to dependability, road grip and lifespan.
Asian production & 'Korbach expertise'
Continental is increasing production capacity in Asia to accommodate increasing global demand for its motorcycle tyres. The motorcycle tyre plant now under construction in Thailand is expected to begin production in 2021. Capacity in Thailand will support that of Continental's main motorcycle tyre plant in Korbach, Germany.
Tyres made in Asia will bear the 'Engineered in Germany' label; Martin Burdorf, head of sales and marketing at Continental Motorcycle Tires, says this marking denotes "a combination of Korbach expertise and Asian precision, which ensures that we're able to meet the challenge of producing high additional volume." Radial tyres produced at the Korbach site are labelled 'Handmade in Germany'.