A 'very good compromise' – Continental's Extreme E tyre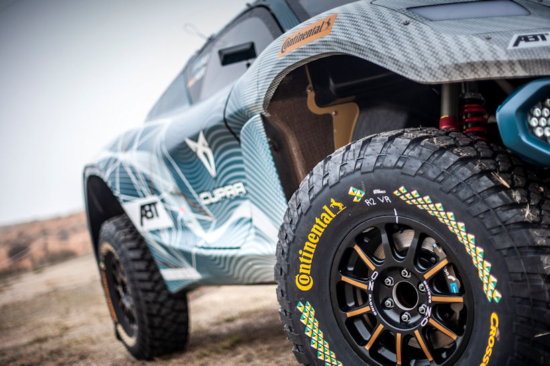 In little over a month's time, the new Extreme E race series will commence with the opening round in Al Ula, Saudi Arabia, and Continental is ready with its CrossContact Extreme E. The exclusive tyre supplier shares some details of the rubber that will be worn by each of the competing Spark ODYSSEY 21 electric SUVs.
It says this competition tyre "goes beyond any passenger tyre that Continental has manufactured in the past." Bragging rights begin with the physical dimensions – the numbers and letters 37 X 12.5 R 17 on the sidewall mean that the tyre is 37 inches in diameter, 12.5 inches wide, and mountable on a 17-inch rim.
"The tread pattern has been optimised to enable the tyre to provide top performance on all kinds of terrain," shares Anuj Jain, tyre development engineer with Continental. "With this tyre, we arrived at a very good compromise – a product that takes into account the various surfaces and local and climate-related requirements, the necessary reliability under race conditions, and the key topic of sustainability. It's an exceptionally capable, one-size-fits-all solution."
Among other things, finding this one-size-fits-all solution required developing an application-specific tread compound, while the pattern features the "ideal combination" of traction ribs and pockets to provide maximum grip over any terrain. "Additionally, this tyre has an all-new off-shoulder design that forms a robust link between the tread and sidewall," says Jain. "And to complete the picture, we also reinforced the casing." Speaking of pictures, the colourful sidewall imagery was added to the tyre after it was cured.
Not for sale
Development of the CrossContact Extreme E began with the Continental CrossContact tyre series. "For the development of the Extreme E tyre, we first analysed the maximum performance and resilience of a number of our proven high-performance products before deciding to use SUV tyres from the Continental CrossContact range as a point of reference as we took the process forward. The challenge from a technical angle was then to adapt the tread pattern, sidewall and construction to the challenging demands of the very different Extreme E locations," says Jain.
Given that there are "no suitable challenges for the exceptional performance delivered by the CrossContact Extreme E tyre in everyday motoring," Continental is ruling out any possibility of dealers selling these extreme sports products.