Continental welcomes Lewis Hamilton to Extreme E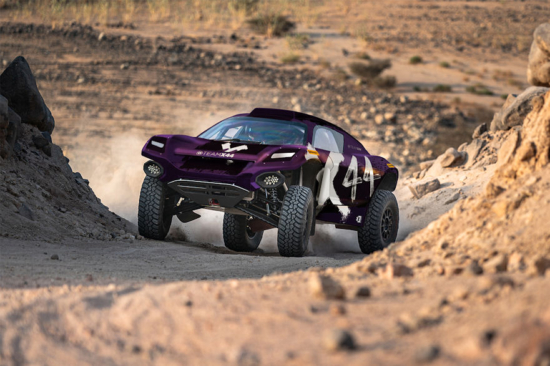 Six-Time Formula One World Champion Lewis Hamilton is creating his very own race team, which will make its competitive debut in the Extreme E electric off-road racing series early next year. Hamilton has named the team X44 – a nod to his F1 car number – and although he won't drive in the new championship or be involved with X44 on a day-to-day basis, the British driver will draw upon his experience to help guide the creation of a dedicated and competitive team. Extreme E tyre supplier Continental welcomes this backing from motorsport royalty.
"As Founding Partner and exclusive tyre supplier, we are of course thrilled that the organisers have been able to sign up Lewis Hamilton for this new and unique race series," states Sandra Roslan, who is in charge of the Extreme E project at Continental. "His name is sure to play a big part in drawing global attention to the Extreme E series in its very first season."
A great opportunity
Lewis Hamilton's X44 operation joins seven other teams that have already announced their involvement in Extreme E, including the famous US IndyCar teams Andretti Autosport and Chip Ganassi Racing, the Spanish QEV Technologies project, two-time Formula E champions Techeetah, and British-owned Veloce Racing, co-founded by current Formula E Champion Jean-Eric Vergne.
"Extreme E is an exciting new sustainability initiative, and this is a great opportunity to be involved from the outset as a team founder. Of course, my ambitions and commitments with Mercedes in Formula One mean that I won't be operationally involved in X44, but I'm excited to play a different role in this new series, one that brings my vision for a more sustainable and equal world to life," comments Lewis Hamilton.
"Extreme E really appealed to me because of its environmental focus. Every single one of us has the power to make a difference, and it means so much to me that I can use my love of racing, together with my love for our planet, to have a positive impact," Hamilton continues. "Not only will we visit remote locations facing the front line of the climate crisis, we will also work closely with these locations and leading climate experts to share our knowledge and leave behind a positive legacy in each location which goes far beyond the race track.
"As founder of X44, I am looking forward to building my team around important values such as sustainability and equality. None of us are perfect and we all have improvements to make, but I am excited to use our platform to highlight the most serious issues facing our planet and the solutions we can all be part of."
Continental tyres & digital monitoring
The Extreme E series has been set up by the same team who established Formula E. Continental will act as a Premium Sponsor from the start of the championship in 2021, and the company will equip all the vehicles involved in the races with tyres for the diverse and extremely demanding conditions that they will encounter. In addition, Continental's ContiConnect digital tyre monitoring platform will ensure digital connectivity, with sensors inside the tyres enabling pressures and temperatures to be constantly monitored.