Michelin and Pirelli lead in rubber sustainability – Context Group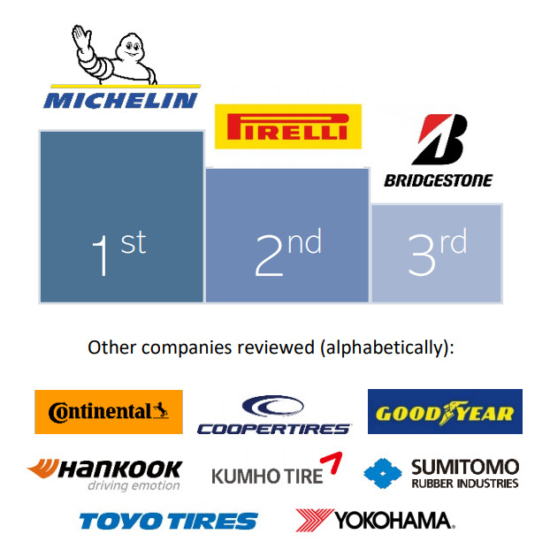 Michelin and Pirelli are leading the way on tyre and rubber sustainability, according to a recent report from Context Group. Context's ranking assessed 11 members of the Tire Industry Project (TIP), namely Bridgestone; Continental; Cooper; Goodyear; Hankook; Kumho; Michelin; Pirelli; Sumitomo Rubber; Toyo and Yokohama.
Context analysed the sustainability content on each company's website to see if it included communications covering some of the main issues associated with the life cycle impacts of tyres, including the four focus areas of the TIP: tyre and road wear particles, sustainable natural rubber, end-of-life tyres and environmental performance. The researchers assessed how well the companies tell their sustainability story by looking at their use of multimedia, news articles and social media.
Referring to tyre wear particulate, Context Group highlighted a recent research finding as one reason why tyre companies are putting greater emphasis on sustainability: "Every year 200,000 tonnes of tiny particles shed by tyres are flushed into the sea, a recent study found. This is just one of the many sustainability challenges facing the global tyre industry. Others include the ethical sourcing of natural rubber, manufacturing waste and emissions, recycling and waste management of worn tyres."
Context found that all the companies have a sustainability strategy that covers at least one of the four TIP focus areas, and most report progress towards their goals. But the level of detail varies dramatically between companies.
Most companies have a sustainable natural rubber policy to ensure the rubber in their tyres is sourced responsibly, and many have developed dedicated programmes that support this focus. The best companies have strategies and initiatives that also cover other parts of the tyre life cycle – such as end-of-life tyre recovery – with Bridgestone, Continental, Michelin and Pirelli providing good examples of this. However, although the companies assessed have a sustainability story worth telling, most are not taking full advantage of the opportunities to tell it – according to Context.
"To prosper in a highly competitive market where sustainability is increasingly the differentiator, every company needs a good sustainability story to tell. That's their strategy and performance against targets. Then they need to tell their story well," says Peter Knight, chairman of Context.
Context analyst Charlotte Smith added: "Michelin and Pirelli topped the ranking, with Bridgestone following close behind. From Michelin's attention-grabbing social media posts, to Pirelli's immersive natural rubber platform, these companies are making the most of their sustainability storytelling. They use multiple channels and make effective use of videos and infographics to explain their sustainability work. Covid has increased consumers' interest in sustainability. Companies need a good sustainability story and they must tell it well if they hope to allay consumer concerns."
Context Group is a sustainability consultancy based in London and Los Angeles. The full report can be downloaded here.