Hankook partnering in US intelligent tyre pilot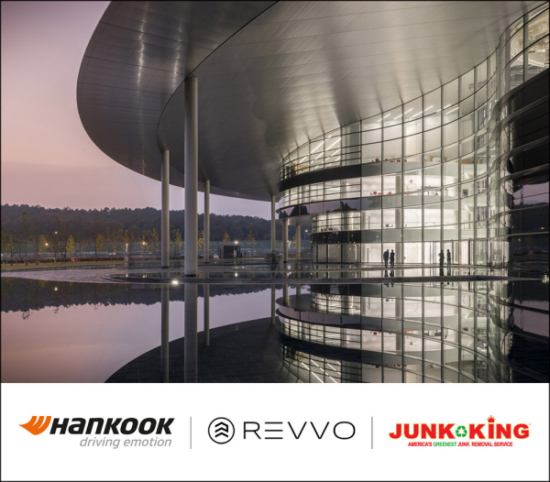 Hankook Tire's US subsidiary is working with advanced smart tyre technology and predictive data analytics company Revvo Technologies on a pilot programme that will integrate Hankook SmartFlex tyres with Revvo's product suite to provide critical tyre-specific data. Data generated, such as real-time alerts, will benefit Junk King, North America's top-rated eco-friendly junk removal and hauling company.
Junk King operates a large fleet of vehicles across the United States and Canada; 30 per cent of the Junk King vehicles currently operating in California are participating in the pilot programme.
"Ensuring our trucks stay in pristine shape is critical for our operations. It is the key to us providing the top-notch customer service we promise each and every one of our customers," said Michael Andreacchi, chief executive officer and co-founder of Junk King. "We're excited to be at the forefront of this intelligent tyre pilot programme, and having access to the tyre data for our trucks is going to help us continue to standout in the junk removal industry."
Visibility for fleet operators
While many fleets already use telematics and fleet management software, tyres are an area where fleet managers traditionally have not had any visibility. Revvo fills this gap with its tyre sensing platform. A proprietary sensor embedded inside each tyre captures data in real time. This data is processed and turned into actionable insights including predicted tread life, abnormal tyre behaviour, optimal tyre maintenance intervals and settings, and real-time alerts.
"Helping keep operators safe on the road is one of our main goals," comments Sunjay Dodani, chief executive officer of Revvo. "We are excited to partner with Hankook to give a fleet like Junk King the visibility into the usage of their tyres. Seeing it help prevent major incidents gives us confidence in our shared vision of smart, connected tyres for every vehicle on the road."
"At Hankook, we understand the need to combine great products with advancing technology to provide real-time solutions for our dealers and fleets, such as improved safety and reduction of down time to increase fleet productivity," adds Rob Williams, vice-president of truck and bus radial sales at Hankook Tire USA. "As we continue to advance our product innovation and technology, this is the next logical step to provide real-time data to fleets, which will be accomplished by working closely with our dealer network as these digital solutions continue to evolve."