Why now is the time to support tyre recovery stabilisation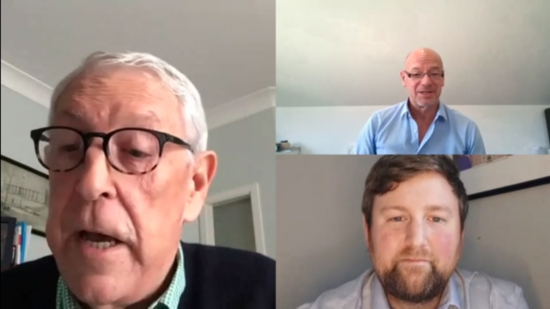 Virtual Tyre Industry Conference panel discusses issues informing ELT collection and reprocessing in 2020-21
The fourth session of the virtual Tyre Industry Conference centred on tyre recycling and the circular economy in the year of coronavirus. Joined by the Tyre Recovery Association's secretary general Peter Taylor OBE and Mark Murfitt, the managing director of the UK's largest tyre recycler, Murfitts Industries, our discussion focused on issues affecting collection and processing of end of life tyres in the UK, the impact of the pandemic, the damage caused by non-compliance, and future developments in tyre recycling.
The UK's tyre recycling sector witnessed a number of investments in 2020 from companies such as the newly formed Norwegian outfit Wastefront's intention to build a pyrolysis facility in Sunderland and the UK's Powerhouse Energy Group's Cheshire DMG syngas plant. So noticeable was this trend that Tyrepress published its first ever Digital Feature based largely on the trend – a magazine-style online feature collecting the latest news from the segment in one place. The interest in this unglamorous but vital segment would perhaps represent a surprise to some, but several developments led to this flurry of activity.
First, there is the recognition that the UK's existing way of dealing with its large annual waste tyre generation – thought to be around 50 million tyres – could not be sustained, propped up as it was by exports. These end of life tyre exports, usually to Asian markets such as India, have always been unsustainable and unsatisfactory for several reasons: it shifted the burden of reprocessing them on to weaker economies, in which dumping had become a problem too large for national governments to ignore, so regulatory moves have been made to block this practice; it artificially masked the cost of disposing of ELTs within the UK, depressing collection prices, and ultimately – with export quickly being undermined as an option – led to a situation in which a rise in site abandonment and dumping became all but inevitable; and it drained out of the UK a waste stream from which valuable commodities could be recovered, undermining moves towards a circular economy. Within the UK government's February 2020 Environment Bill were signs that these problems were to be addressed domestically too. However, the pandemic has simultaneously reduced focus on environmental causes, while compounding the problems faced by the tyre recovery sector.
All of this background has resulted in a number of firms making a move into the sector, usually with the promise of greener pyrolysis processes to generate both energy and raw materials derivable from an ELT feedstock, such as recovered Carbon Black. Tyre-makers too are increasingly supporting such efforts with initiatives designed to increase their usage of materials recovered from ELTs within their new tyre production.
This is not to say that the UK is lacking in tyre recovery options – Murfitts Industries alone repurposes more than 11 million waste tyres as various products and surfaces every year. But increasingly dire warnings from the TRA over the course of 2020 have made it clear that the sector faces potential problems raised by a small number of rogue operators whose operations are becoming economically unviable due to the aforementioned factors. Without a way to dispose of large numbers of tyres collected at prices that were too low, there is a risk of incidents occurring that can cause reputational damage to the tyre sector. Taylor's warning that large stockpiles of ELTs in these circumstances have a tendency to mysteriously catch fire was prophetic, as the site of the Bradford tyre fire in mid-November appears to have all the characteristics of a rogue tyre collection operation gone awry.
Conference discussion
Debuting on Tyrepress just over a week before the Bradford incident, the Teams-based panel discussion with Taylor and Murfitt addresses a number of these issues, as well as focusing on how the UK's tyre recovery sector has been operating under pandemic restrictions.
Addressing the historic low cost of tyre recovery over the past few years, Taylor explains how the "practice of exporting baled whole tyres to India in particular for ecologically unsound processing developed very rapidly from 2017 onwards." Buoyed by historic lows in eastbound container rates, which gave the trade "further impetus", the UK was "not alone" in being "drawn into this" Taylor clarifies, though its impact on the tyre recovery sector was "severe."
In India – which serves here as a synecdoche for a number of countries importing ELTs by virtue of its sheer size – ELTs "became the cheap fuel of choice… assisted by weak environmental enforcement." The enforcement of regulations in the UK also drove this practice; Taylor states that operators entered ELT collection under exemptions before exceeding maximum levels and driving baling and exporting. Taylor called the "unrestrained export" of ELTs a "perfect storm," which ultimately "hollowed out our domestic reprocessing capacity." This in turn helped gate prices "to collapse to historic lows."
Mark Murfitt concurs that the issue "from a UK processor's point of view," such as Murfitts, which "invests heavily in the infrastructure to create products and build markets," was "severe." Murfitts Industries' product lines, such as advanced surfaces for artificial sports fields, are exported to more than 50 countries around the world, meaning that it "competes on a global basis." Part of the economics of this, he continues, "is the gate fee." Murfitt says that in competing against "European or Australian manufacturers of a similar rubber granulate product," this can "skew the economics." The company has combated this by "producing a very high-quality product" and developing new products with, for example, coatings for more desirable properties. The reduced availability of raw materials – as a result of ELT exports – affected another side of Murfitts' business, supplying non-fossil fuels to cement kilns. Unable to guarantee supply, multinational kiln operators "moved away from tyres," Murfitt says; a situation that is difficult to turn around, since they have non-fossil fuel commitments to fulfil. Ultimately, though, the "human cost" relating to environmentally unsound practices in India should not be underestimated, Murfitt adds.
In the last year there has been greater acknowledgement that there is a need to turn things around. Reaching for new regulations without enforcement following it up would not be effective, Taylor argues. UK environmental enforcement bodies – the Environment Agency (EA) in England and Wales and the Scottish Environmental Protection Agency (SEPA) – have "upped their game," he says, adding that they have effectively acknowledged the need to do so.
Secondly, Taylor says "it is now clear that the current exemptions regime will end very soon in England and Wales, as indeed it has already ended in Scotland." This, he explains, will force those operating under exemptions to apply for permits or to operate under more onerous rules. This, he says, will level up "what has been a very unlevel playing field." Such an action should therefore stabilise the gate fee.
Murfitt links this issue to consumer expectations too – consumers "have a right" to expect best practice in a service they are, after all, paying for. This requires investment, as does innovation in reprocessing, all of which is better served by a realistic gate fee charged to the consumer. The outcome of this is that more "stable markets" will be created for the UK's ELT supply, which helps to deliver further benefits both to UK-based enterprises and to wider environmental projects. "A healthy investment climate is everything," Taylor summarises.
The panel did sound one note of caution in relation to a gate fee stabilised at a higher rate: that the opportunity for criminal enterprises to undercut legitimate operations more profitably would "require vigilance." Taylor said that tyre retailers in particular should be alert to such possibilities, and the TRA will seek to remind businesses of their legal duty of care. "It's a scourge on the environment, as well as on the public purse," Taylor summarises. And it is incumbent on everyone in the tyre distribution chain to ensure that they are doing what is necessary to ensure ELTs are handled responsibly.
The full video includes further discussion on how the coronavirus pandemic has affected the tyre recovery sector, as well as further developments that will affect the business sector in the coming years. Watch the video above, or alongside the other #TIC2020 videos here.