Nexen Tire expanding in Europe – milestones reached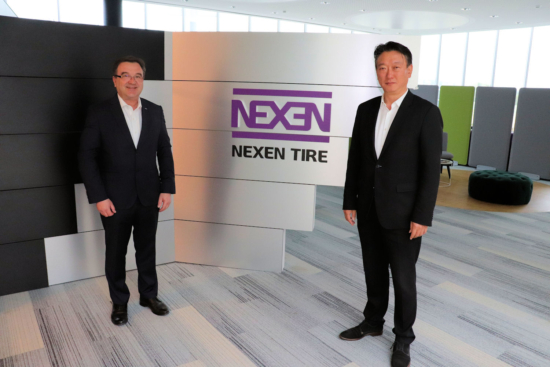 Much has changed at Nexen Tire of late, a phenomenon particularly noticeable within the South Korean tyre maker's European operation. In the past two years, the company has set up a new production facility in the Czech Republic and a European headquarters in Germany as part of its 'Global Nexen' strategy. This expansion is occurring parallel to similar growth in Korea and the USA.
Other far-reaching changes have been made in the areas of sales, logistics, IT and support for retail partners. Peter Gulow, Nexen Tire's vice president Europe Central & East, says these changes reflect the company's "new aspirations" and will propel Nexen into the global tyre making top ten. During a recent visit to Nexen's European headquarters in Kelkheim, near Frankfurt am Main, we learned more about the path the company has taken in recent years and where it is today.
Back when Nexen Tire opened its first European branch office in Eschborn (also near Frankfurt) in 2008, few could foresee the way the company would grow. Today, twelve years later, Nexen supplies original equipment tyres to Porsche and is an official partner of Manchester City F.C. and Eintracht Frankfurt. It's also built a large factory in Žatec, Czech Republic, where production is currently being ramped up following its entry into operation last summer. The tyre maker remains on schedule to reach its full first-phase production capacity of five to six million tyres per annum. Beyond this figure, the plan outlined at the factory's inauguration calls for capacity to further increase to 12 million tyres a year.
This capacity will not only meet growing demand within Europe's replacement tyre market, but also from OEM customers within the region. While the Czech facility isn't yet supplying original equipment tyres to customers in Europe, the first approval from a vehicle manufacturer is expected in the coming year. Gulow stresses that sales growth will primarily be driven by tyres "developed and produced in and for Europe."
R&D for OE business growth
R&D capacities have expanded in parallel to production in the year or so since the Žatec plant came on stream. When Nexen Tire first set up its NETC (Nexen European Technical Center) in 2011, the office was little more than a contact point between local tyre markets and the central R&D facility in South Korea. Today the R&D centre at Nexen's European headquarters in Kelkheim rivals its facility in Seoul, and Nexen Tire also operates a comprehensive R&D centre in the USA.
Theoretical development work performed in Kelkheim is supported by a team at the Žatec site, where compound mixing, tyre building and testing takes place. Locating both the theoretical and practical elements of tyre development within the same facility would arguably have been a more advantageous arrangement for Nexen, however the tyre maker decided not to relocate its R&D team to the Czech Republic so not to lose the close contact its experienced workforce in Germany maintains with important customers, particularly those within the automotive industry.
Further evidence of Nexen Tire Europe's intention to grow original equipment business can be seen in the appointment of Edwin van der Stad as vice president Europe OE in March. Van der Stad brings 30 years of experience in tyre development and the original equipment tyre business to his new role, in which he reports directly to John Bosco Kim, the tyre maker's European president. The new vice president of OE for Europe is working to build on Nexen's existing OE coups, including its tyre supply for the Porsche Cayenne in South Korea since 2016 and for the Porsche Macan since 2017.
Tier 1 properties
Nexen Tire has secured a place for itself within the quality or tier 2 segment of the tyre market, but Peter Gulow stresses that "our tyres have long offered the properties of a tier 1 manufacturer." Gulow refers not only to the "good test results" that Nexen tyres have gained in independent comparative evaluations, but also opines that they offer the "the best price-performance ratio on the market." Further improving the range's positioning and branding has nonetheless been important as it's primarily brands with the "strongest price-performance" ratio that are best placed to succeed against the tyre majors' second and third brands. Chances here are of course improved through demand-driven campaigns, motorsport engagements and football sponsorship, such as with English Premier League club Manchester City.
At the same time, Nexen Tire's management team has attached particular importance to marketing and its diversification. We've already mentioned original equipment as an increasingly relevant sales channel. Manufacturers who want to gain a foothold in Europe typically seek access to the market through cooperation with a handful of important wholesale customers. That was and remains no different for Nexen Tire, and major European customers are still accorded "outstanding importance."
Retail business gaining traction
But while business with large customers in Europe continues to primarily be 'order to function' – classic pre-order production and container deliveries – in recent times this business model has been supplemented by direct business with retailers.
Nexen Tire Europe has commissioned Zufall Logistics to provide the services that drive its retail business, and here the logistician draws upon experience gained working with other major tyre manufacturers. It offers Nexen storage space for up to a quarter-million car tyres at the 9,000 square metre tyre warehouse it opened in central Germany last year, and Nexen itself also has a block storage facility in the area. Peter Gulow shares that new logistics capacities enable Nexen to "deliver even faster" and will continue to provide benefits going forwards.
Growth within Nexen Tire Europe's retail business has been supplemented by the launch of a customer loyalty programme. The Nexen Point programme has grown since its launch more than three years ago; Ilhan Kurban, marketing specialist at Nexen Tire Europe, shares that more than 650 Nexen Point partners can now be found across Europe.
Although this customer loyalty programme is structured as a loose agreement between retailer and manufacturer, Gulow notes that it nevertheless includes agreements on necessary target volumes. The vice president for Europe Central & East explains that the benefits for partners who take higher volumes with Nexen range from simple product presentations in the showroom to extensive signage in and around their business. The tyre maker offers its partners three levels of support packages as part of its programme.
Further support for Nexen Tire Europe's retail business came last autumn with the launch of its newly-developed B2B shop. The Nexen Tire B2B portal caters to small and large customers alike and provides an extensive range of functions as well as data on all business processes.
Facilities consolidated in Kelkheim
No talk of Nexen Tire's global realignment over recent years would be complete without mentioning its new European headquarters in Kelkheim. The company invested some 20 million euros to develop the facility, which combined its existing Eschborn and Höchst operations in Germany. Located on a 11,000 square metre site, the headquarters in Kelkheim now houses approximately 90 employees, 20 more than when it opened in 2018. And Peter Gulow adds that Nexen has no intention of slackening its pace of development; "Nexen will continue to expand in Europe."