UK car production on the rise, but output still 20% down in July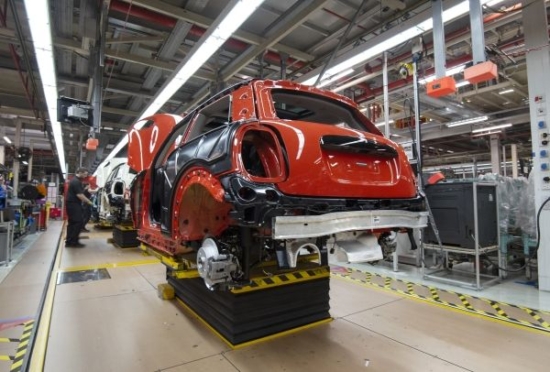 According to figures released today by the Society of Motor Manufacturers and Traders (SMMT), UK car manufacturing output fell 20.8 per cent in July, with just 85,696 units rolling off production lines during the month. Despite the continued ramp-up of production and reopening of almost all factories following the easing of lockdown measures, social distancing measures and ongoing economic uncertainty still stifled output. Today's figures follow news that BMW intends to lay off 400 of the 950 agency personnel working at its Mini factory in Oxford.
With almost all UK car showrooms able to open throughout July, production for the UK market improved compared with May and June. However, it still down a sizable 37.1 per cent year-on-year, with just 13,434 units travelling from local plants to dealerships throughout the UK. Manufacturing for export also fell, but by a slightly less substantial 16.8 per cent to total 72,262 units. Exports accounted for more than eight out of ten vehicles built in July with buyers in overseas markets, including the EU, China and the US.
In the year to date, the impact of the pandemic on key markets, including the UK, means that overall production remains down 39.7 per cent compared with 2019, representing a year-on-year loss of 307,707 cars. Overseas shipments in the first seven months are now down 38.5 per cent to 381,273 units, with production for the UK market falling 44.5 per cent to 85,780.
"As key global markets continue to re-open and UK car plants gradually get back to business, these figures are a marked improvement on the previous three months, but the outlook remains deeply uncertain," states Mike Hawes, SMMT chief executive. "With the sector now battling economic recession as well as a global pandemic, it has neither the time nor capacity to deal with the further shock of a 'no deal' Brexit. The impact of tariffs on the sector and the hundreds of thousands of livelihoods it supports would be devastating, so we need negotiators on both sides to pull out all of the stops to ensure a comprehensive free trade deal is agreed and in place before the end of 2020."
Domestic market challenges
For KPMG, the glass is half full, even if there's still a risk of spillage. Andrew Burn, KPMG's head of Automotive, isn't focusing too closely upon the 20 per cent year-on-year drop in production. "If you look at it the other way, manufacturers are producing around 80 per cent of last year's volumes, so even though uncertainty continues, the direction of travel is positive.
"However, whilst it's great for car manufacturers who serve a global market, with around 80 per cent of vehicles manufactured in the UK for export, we cannot forget that at a domestic level there are a number of challenges," he adds. "Many manufacturers of components are highly operationally geared and therefore in many cases, small changes in volumes mean the impact is felt on the bottom line more directly than in other sectors. Also, given that the UK was the hardest hit economically, out of major economies, by the pandemic in the three months to June, a longer recovery time for many sectors is to be expected.
"Also, the lower production level for the UK market continues to suggest that fewer people are buying new cars, although the used car market is seeing strong demand at the moment with many valuing instant access over long lead times in the current environment."