New Firestone Performer Extra farm tyre offers '20% longer tyre life'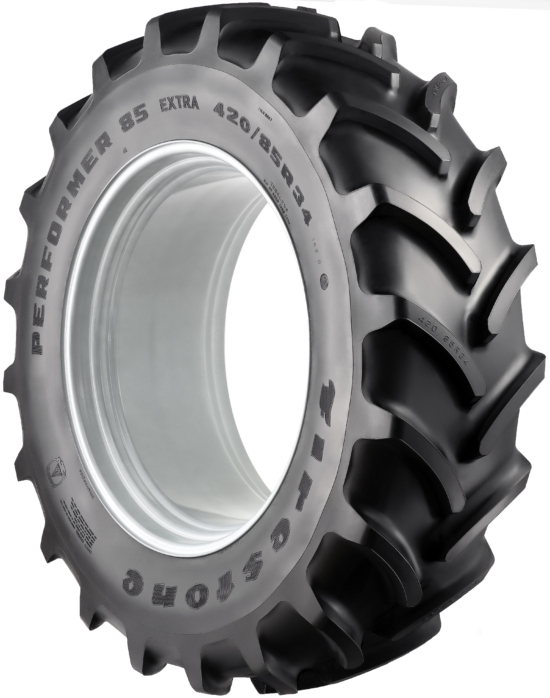 Firestone has launched the new Performer Extra farm tyre for the European market. Based on the Firestone Performer 85 and 70, the new tyre adds an enhanced wear resistance compound that extends the tyre's life by 20 per cent over its predecessors. The tyre achieved this result in the controlled lab accelerated ageing testing conducted at Bridgestone's R&D Centre. Its extended life helps to reduce the tyre's environmental footprint, as well as cutting down on long-term operational costs and improving business efficiency.
The Firestone Performer Extra has a dual-angel lug to improve traction. while the extra load option allows a higher loading capacity than many competitor products. Like its predecessors, the Firestone Performer Extra has been designed with reliability as a priority, the manufacturer says. The tyre has a self-cleaning tread for excellent traction and improved fuel efficiency, while the flexible casing of the tyre reduces soil compaction and improves road handling and comfort.
Firestone will release the Performer Extra progressively onto the European market in 43 different sizes, ranging from 20 to 42 inches, from July 2020. The tyre was developed in Bridgestone's European R&D centre in Italy and is produced in the Bridgestone plant in Puente San Miguel, Spain. As the Performer and Performer Extra tyre ranges maintain the same dimensions they are inter-compatible both on the same vehicle and on the same axle. Like the Firestone Performer 85 and 70, the Performer Extra can be fit to most tractors used for agriculture. It was first displayed in the UK during January's LAMMA show.
"Helping farmers has been at the heart of Firestone since this business was founded – Harvey Firestone himself was born on a farm," says Mark Sanders, head of sales agriculture, Bridgestone EMIA. "This is why, to this day, we have maintained our commitment to solving common farmer needs through strong and reliable products. The Firestone Performer Extra, the latest addition to our popular Performer range, offers all the benefits of its predecessors but now with a significantly longer tyre life. 20 per cent1 is a huge difference and will be a real cost-saver for the farmers that will choose to make their operations more efficient and sustainable with the Firestone Performer Extra."