Top Treads looks forward to sustainable retreading future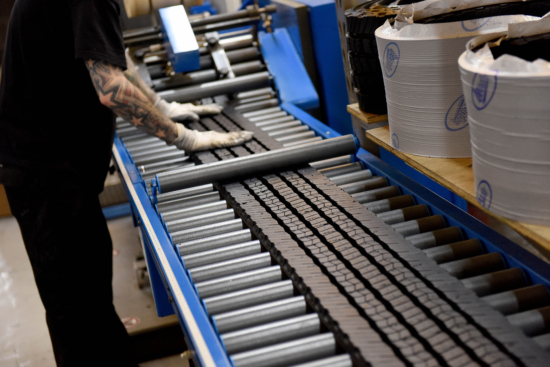 Bridgestone has invested £1 million in Bandag franchise network in recent period
One of Bridgestone's largest European Bandag franchisees, Top Treads, stayed open during the current pandemic in order "to support our customers, changing working practices" while also "implementing social distancing", according to Top Treads' owner and managing director Steve Evans. Moving forward, the firm's faith in its sustainable retread products is beginning to reap dividends in the demanding commercial tyre market.
Top Treads, which produces up to 30,000 cold-cure retread tyres per-year from factories in Yorkshire and The Wirral, kept calm heads when cheap Chinese commercial new tyres were flooding into the market and little thought given to the environmental consequences of the unusable casings thereafter. But, in their words, the world kept turning and a new generation of fleet managers began to place retreaded products at the heart of their tyre maintenance programmes.
Top Treads' owner and managing director Steve Evans said in May that fleet managers are now adopting a 'total cost of ownership' mindset when it comes to tyres and are also considering the environmental impact of their operations more than ever before, making retread the compelling choice once again.
He said: "Fleet managers are much more enlightened than they used to be, certainly than they were 10 years ago. Between 2013 and 2016, Chinese imports were coming into the market at a price that we just couldn't compete with.
"A younger generation (of fleet managers) are making decisions and they generally adopt a total cost of ownership model, which is where our range of retread products prove compelling.
"As a result, cheap Chinese imports are not the solution they once were. Moreover, their casings cannot be used for a second or third stage of life like premium casings can, so fleets have the added environmental burden of having to dispose of them. They are now seen as a nuisance.
"To be blunt, fleets who opted for cheap, now have a yard full of casings that did not perform, and that nobody wants."
Bridgestone's North Region Truck & Bus Product Manager Terry Salter recently said that Bridgestone's strategic decision to keep investing in retread technology during a lean period could now be fully vindicated. This equated to over £1 million in equipment being brought into the company's UK franchised network and factories, such as Top Treads.
Both Terry Salter and Steve Evans agree that commercial businesses are looking for sustainable solutions, with their corporate and social policies evolving as a result.
Evans added: "There is definitely an increasing awareness of the need for a more sustainable and circular economy where recycling is the norm. We are fully committed in this regard, and a sustainable future fits with our company ethos at Top Treads. Retread is economically good for the customer, it is environmentally good for society, so it makes economic and environmental sense.
"We have always been big supporters of Bridgestone and have enjoyed being a Bandag franchisee for 30 years, and the benefits that this gives us. Access to Bridgestone's commercial fleet customers is a significant factor. Bridgestone also provide us with the best casings, technical expertise, training support and marketing assistance, so being a Bandag franchisee helps us massively."