24 challenges in 24 hours for Falken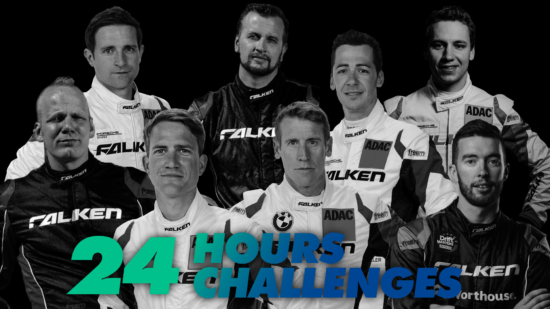 Falken Motorsport drivers get alternative endurance event with #24in24h as fans set challenges on social media
The ADAC TOTAL 24h of the Nürburgring has been rescheduled for September, leaving a cloud-shaped hole in Falken Motorport's schedule. The tyre brand's team is followed by an enthusiastic fan base, though, and Falken has found a way to engage them without the totemic event of its motorsport season.
Using social media, Falken's followers have helped devise 24 challenges for its drivers to do at home, while they cannot be taking on the Green Hell. Team drivers Peter Dumbreck, Klaus Bachler and Martin Ragginger are joined by Porsche factory drivers Dirk Werner and Sven Müller, as well as Falken's drifters James Deane, Rohan van Riel und Mark Vissers, to face the 24 challenges in 24 hours. Tasks range from drawing the Nordschleife blindfold through to dancing and even housework. The videos will be shown over the weekend of 23-24 May.
Social media interaction
"Whether it's watching the race, enjoying the drift shows or just spending time with friends, Falken has a large and loyal fan family that is always out in force at the Nürburgring," says Markus Bögner, COO and president at Falken Tyre Europe GmbH.
"With the race delayed, our drivers wanted to do something for the fans and give them a chance to get involved by nominating challenges via Falken's social media channels. We've received a brilliant mix of physical, skill and creative ideas for the drivers to complete and it will give them the chance to watch them doing things you've definitely never seen them do before."
Falken's 24in24h videos will be released across Twitter, Instagram and Facebook starting on 23rd May. 24in24h is the latest interaction developed by Falken during the lockdown as a part of its #flattenthecurve campaign to keep its fans and friends entertained. These include digital jigsaw puzzles, colouring pages and a model car garage diorama of all the 24h race cars.
Falken expanding involvement across social media has yielded more than 210,000 followers on Facebook and almost 24,000 followers on Instagram.