From exemplary to not recommended – Auto Bild Allrad tests SUV tyres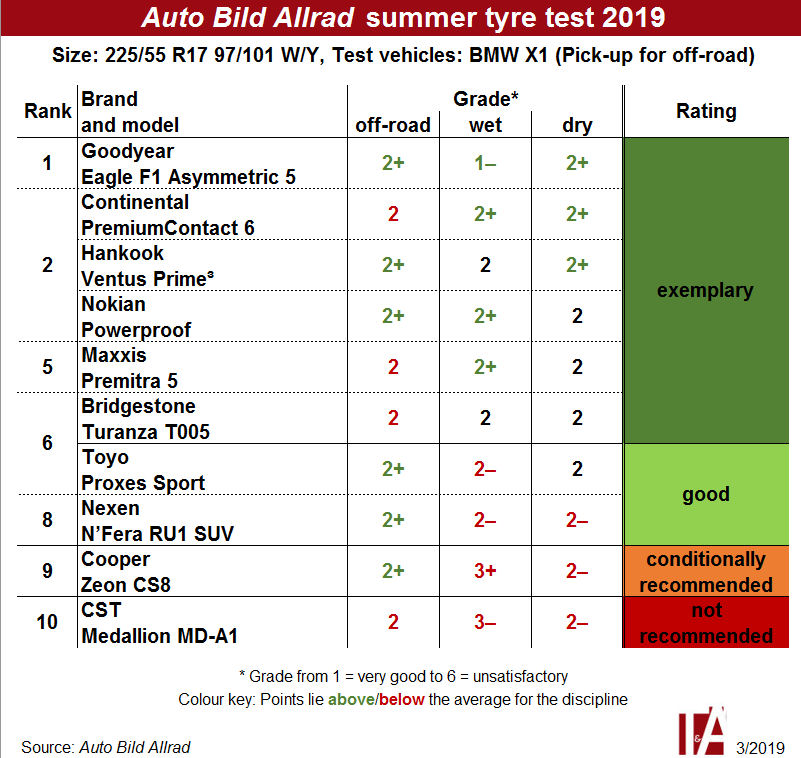 Look at recent tyre test results from Auto Bild and Gute Fahrt and you might assume there's no such thing as a bad tyre these days, but you'd be wrong. Auto Bild Allrad has evaluated ten SUV tyres, and while six were awarded the top 'exemplary' rating, one certainly wasn't recommended and another hesitantly so. The upshot is that it still pays to do your homework when buying replacement tyres.
Auto Bild Allrad, a sibling to the better-known motoring magazine Auto Bild, focuses on SUVs and other 4×4 vehicles. This year's summer test examined the tyre size 225/55 R17 97/101 W/Y, a dimension worn by compact SUVs. Testing involved two vehicles – a BMW X1 and, for off-road disciplines, a pick-up. All tyres were subjected to wet, dry and off-road test criteria.
Top honours went to the Goodyear Eagle F1 Asymmetric 5, which was credited with "sporty-dynamic handling, precise steering response and the shortest wet and dry braking distances."
The Goodyear candidate was one of six honoured with an 'exemplary' rating. Following it in shared second place were three tyres, the Continental PremiumContact 6, Hankook Ventus Prime³ and Nokian Powerproof. Minor niggles, including noise (Nokian) or traction on mud or stony ground (Continental) were the only complaints levelled against the trio. Next came the Maxxis Premitra 5 in fifth place. The testers liked what they found, noting that the tyre's main drawback was "modest traction on wet grass and sandy subsoil." The final berth in the exemplary section was occupied by the Bridgestone Turanza T005, and Auto Bild Allrad considered it a well-balanced tyre, albeit with "modest traction on grass."
Two tyres were rated 'good'. The Proxes Sport actually shared sixth place with the Bridgestone tyre, however it was denied the higher rating due to an "extended braking distance on wet surfaces." The Toyo tyre was also found to give just modest steering precision in the wet, but on the upside, it delivered "precise handling on gravel and high aquaplaning safety." And although the N'Fera RU1 SUV failed to dazzle in the wet braking test and gave high rolling resistance, Auto Bild Allrad found "good driving qualities on wet and dry surfaces" as well as "high traction on sand/shingle."
The Cooper Zeon CS8 had to make do with a 'conditionally recommended' rating. While it found favour with its good off-road characteristics, the Cooper tyre lost points for "limited lateral control and delayed steering response in the wet" and for a "significantly extended wet braking distance."
Last place was reserved for the CST Medallion MD-01, a tyre from the same manufacturer as the Maxxis Premitra 5. Yet instead of the latter's 'exemplary' rating, Auto Bild Allrad's testers declared the CST tyre 'not recommended'. Described by the publication as a "budget tyre from the Far East," it was denied a recommendation due to its "considerable" weaknesses in the wet, including understeering wet and dry handling as well as a "dangerously extended wet braking distance." The testers mentioned no strengths for the CST Medallion MD-01.