Global SUV boom continues…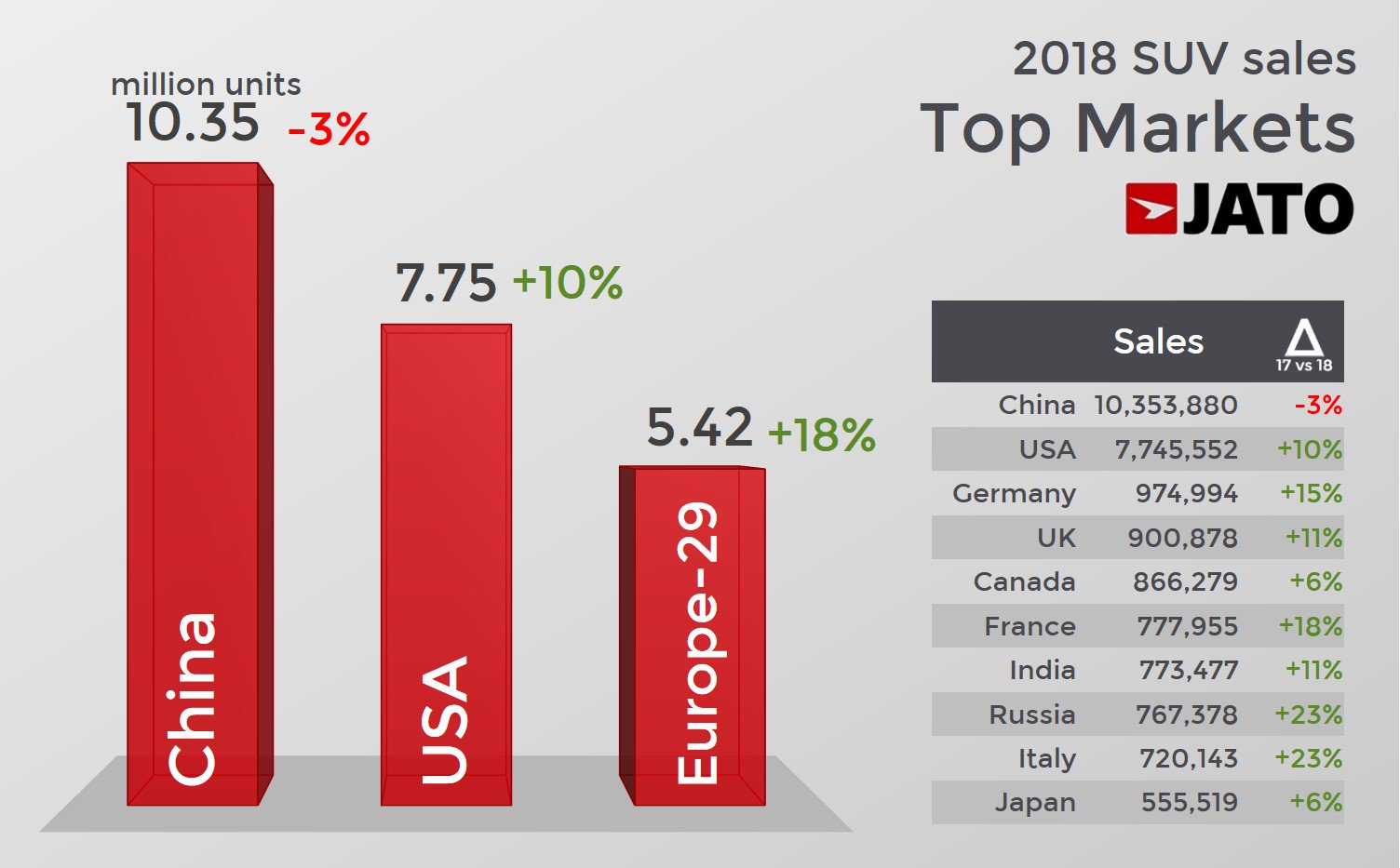 …but growth slowed during the course of 2018
The latest global SUV market data shows continued growth around the world. Market analyst Felipe Junoz from Jato Dynamics reports that the shift from traditional cars to SUVs began seven years ago and is still going strong. However, there are also signs that growth slowed during the course of 2018. And what's more the UK remains a world-leading market. In fact the UK is the fourth largest SUV market in the world (see chart 1).
With 29.77 million units sold, the SUV earned the top position among all segments. This made for another record year thanks to the increase posted in 2018. Volume grew by 6.8 per cent, or almost 1.9 million units, which is impressive considering the economic situation in the three largest vehicle markets: USA, China and Europe. SUVs also posted the highest market share of all time with 36.4 per cent, up by 2.5 percentage points when compared to 2017.
However, last year's increase was lower than the growth recorded in 2017 and definitely far from the solid positive changes seen in 2016 and 2015. While the boom was accelerating in 2015 and 2016, global SUV sales increased by 21 per cent and 22 per cent respectively. Although the growth rate fell to 12.8 per cent in 2017, this was still a double-digit increase. The growth fell again from 12.8 per cent in 2017 to 6.8 per cent in 2018, indicating that we're finally reaching some stability in the segment's growth.
Of course, this is a natural trend after many years of rapid increases. As more carmakers joined the segment, sales were boosted by new models and were further helped by a growing consumer awareness of these vehicles. But stalling sales in China – one of the main drivers of growth over the last 10 years – meant that the rapid growth began to change. However, most of the carmakers that were missing from the segment finally joined which helped to stabilise sales.
Compact SUVs continue to be the most popular
There isn't significant change when breaking this down by subsegment. Compact SUVs continue to be the most popular, accounting for 41 per cent of total SUV sales. Their volume increased by 7 per cent to 12.24 million units, with Hyundai-Kia leading the ranking. Midsize SUVs followed with 7.26 million units, up by 3 per cent and led by the Renault-Nissan. They also led in the small SUV segment, the third largest with 6.58 million units, up by 13 per cent, boosted by Hyundai-Kia and VW Group. Sales of big SUVs totalled 3.68 million units, up by 2 per cent and led by GM.
In fact, if it wasn't for the Chinese downturn, SUVs would have posted an even stronger increase. China accounted for almost 35 per cent of SUV global sales (in 54 markets) but sales fell by 2.9 per cent to 10.35 million units. The lack of incentives during the last few years is having a negative impact on the industry and puts more pressure on the market. This coincides with a decline in consumer spending capabilities. Since 2014, the citizen financial leverage ratio (debt/savings) has increased from 46 per cent to 63 per cent, meaning that consumers simply have less money to spend.
There were also some major changes in the Chinese SUV market. General Motors lost its place as the top-selling brand with the popular Baojun and Buick models, as sales fell by 9 per cent, demoting them to third place. The top position is now occupied by Geely. The new SUVs from Lynk&Co and the good results of some Geely models and Volvo XC60 boosted sales from 678,800 units in 2017 to 943,000 units last year. Other winners of the year include Hyundai-Kia and VW Group.
USA was the second biggest market and, unlike China, all carmakers posted sales increases. GM maintains the lead but lost market share, along with Ford, Toyota, Nissan and Honda. FCA, the second largest, gained share thanks to the new Jeep Compass and Wrangler. Hyundai-Kia, VW Group, Subaru, Mazda and BMW Group were among the other winners. The Toyota RAV4 was the best-selling SUV in the USA. Europe was the third largest SUV market with 5.4 million units, up by 18 per cent. However, Europe is still behind the USA and China in terms of market penetration.
Ranking by models introduces a new segment leader. Despite its age, the fourth generation of the Toyota RAV4 was able to climb one position and become the world's best-selling SUV in 2018. This boost was helped by higher demand in the USA and China, its largest markets. The Nissan X-Trail/Rogue, which led the ranking in 2016 and 2017, recorded a 6 per cent decline on its sales following strong drops in the USA and Europe. In contrast, its sibling, the Nissan Qashqai/Rogue Sport took the 6th ranking position, posting a 13% increase. Other big improvements were seen by Mazda CX-5, Kia Sportage, Chevrolet Equinox and Jeep Compass.
Heading for uncertain times
According to Jato Dynamic analyst Felipe Munoz, "We're heading in to uncertain times when it comes to trade and regulations. The immediate effect is on lower consumer confidence which is likely to impact vehicle sales in the world's largest markets. Nevertheless, SUVs are expected to resist this turbulence as they continue to evolve in order to attract more clients. Besides the arrival of new technologies and more electric models, carmakers are working on enlarging the current offer by adding other sub-segments. This includes the mainstream Coupe-SUV (like the Renault Arkana or Fiat Fastback) and city-SUVs. Alternatively, there will be those that sit below the small SUV, and which are expected to appeal to many consumers in Europe, India and Brazil."
And of course continuing prospects for the SUV market mean continued prospects for the SUV tyre market too.