Year-long happiness: Eight all-season tyres put to the test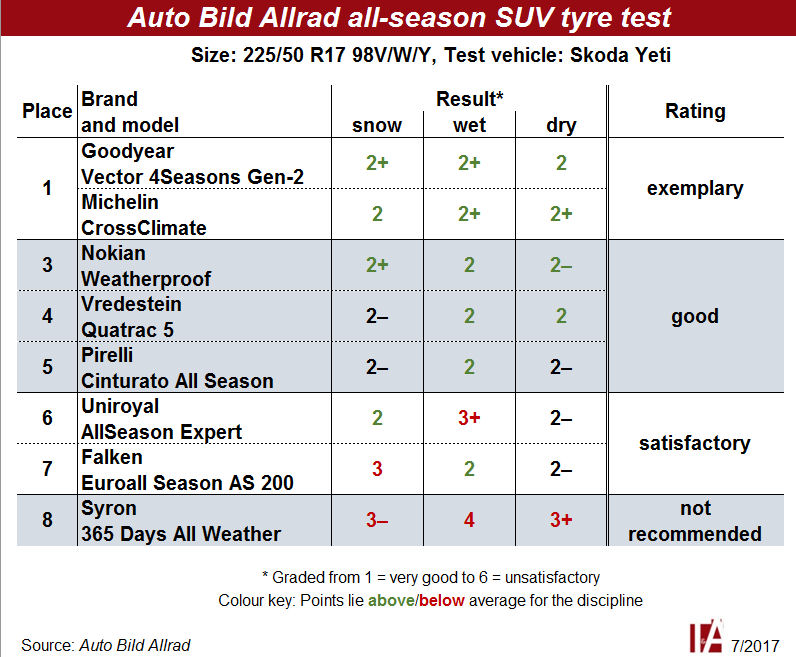 The concluding comments in the tyre test published in the latest issue of Auto Bild Allrad offer food for thought to anyone considering their tyre options for the coming winter. All-season tyres, posit the three-man team behind the German magazine's evaluation of eight SUV tyres, can be "a fully-fledged alternative to seasonal tyre changes – provided they are as good as our test winners." Tyre buyers shouldn't hesitate to place their trust in the best all-season rubber, they add, even if dedicated summer and winter tyres still can't be beat in specific performance areas.
The test winners that Auto Bild Allrad's Dierk Möller, Henning Klipp, Martin Braun refer to are the Goodyear Vector 4Seasons Gen-2 and Michelin CrossClimate. The pair, along with six other size 225/50 R17 tyres, were thrown into a range of test scenarios in dry, wet and snow conditions. Testing took place in New Zealand using a Skoda Yeti. With the same final score, the Goodyear and Michelin topped the performance table and in doing so gained a rating of 'exemplary'.
Although finishing on par, the Vector 4Seasons Gen-2 and CrossClimate demonstrated strengths in different areas – an occurrence that nicely illustrates the differing paths manufacturers take when developing an all-season tyre. While the testers found the Goodyear tyre to be "almost as good as a winter tyre on snow," the Michelin product delivered performance "as good as a summer tyre" on dry road surfaces.
Their respective performance in other conditions was no cause for shame, either, and the Yeti quickly came to a stop when fitted with both brands of tyre. The only drawbacks the testers named were aquaplaning safety (Vector 4Seasons Gen-2) and wet cornering grip (CrossClimate), and they noted that both the Goodyear and Michelin tyres come with a hefty price tag.
Third place in the test was occupied by the Nokian Weatherproof. As expected of a product from this Finnish winter segment pioneer, on snow the Weatherproof performed almost as good as a winter tyre. It also provided good grip in the wet, however its dry performance left room for improvement. The testers wrote that although the Weatherproof "showed itself to be completely the equal of a genuine true winter tyre in the snow disciplines," the Nokian tyre "paid the price on dry asphalt with less precise steering response and average braking performance." The Weatherproof was also marked down for rolling resistance, however gained a respectable 'good' rating.
It shares this rating with the Vredestein Quattrac 5 and Pirelli Cinturato All Season. The first of these was described as "a really good all-season tyre" with good wet and dry grip, a tyre with "just one real weakness" – aquaplaning performance. On the other hand, the fifth-placed Pirelli tyre did well in the aquaplaning test and was deemed a well-balanced tyre, yet the testers noted lateral control on dry surfaces wasn't all it could be, particularly for such a high-priced tyre.
Two tyres, the Uniroyal Allseason Expert and Falken Euroall Season AS 200, gained a 'satisfactory' rating. Praised for its snow and aquaplaning performance, comfort and affordability, the Uniroyal tyre made no friends with its braking distance and wet and dry lateral control. The Falken rubber fared better when H2O was present, with wet braking and aquaplaning safety two stated strengths, yet it was let down by its performance on snow as well as grip on wet curves and rolling resistance.
The last-placed of the eight tyres was given the dreaded 'not recommended' rating. The recipient of this dubious rank is the Syron 365 Days All Weather, a product manufactured by Nexen Tire. It costs only around half as much as its better-known rivals, the testers commented that the savings made at the time of purchase would be lost in added fuel costs throughout the tyre's life – the Syron 365 Days All Weather was shown to have the highest rolling resistance of the eight tested tyres. "On its own that may just have been acceptable, had there not been any (other) really dramatic weaknesses," added the Auto Bild Allrad test team. "The wet surface braking distance from 100km/h was a dangerous 12 metres longer than the twice as expensive Goodyear tyre. Furthermore, the Syron gives an uncomfortable and loud ride – more than four Decibels louder than the comfortably quiet Goodyear tyre. Everyone heard the difference in every car immediately."
Regardless of the conditions most driven in, be it summer, wet weather or snow, an all-season tyre designed with this focus in mind exists – tyre tests such as that performed by Auto Bild Allrad help consumers decide which is best for them. The sole caveat the magazine's testers give upon recommending all-season tyres as a summer/winter tyre alternative is that you get what you pay for; the publication writes that consumers should "guard against allegedly affordable offers from the Asian budget corner."