The good, the better and the very good – Gute Fahrt tests 225/40 R18 tyres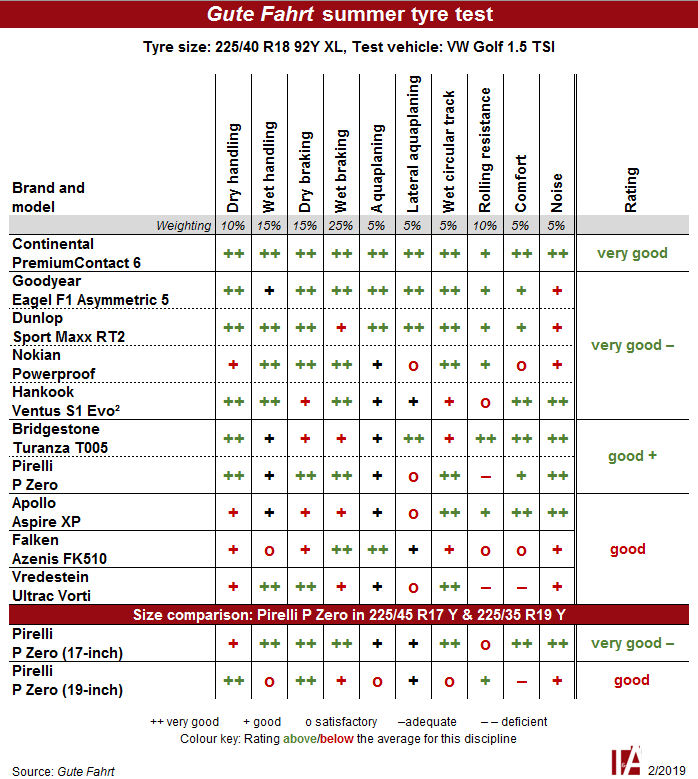 During its years of performing comparative tyre tests, German car magazine Gute Fahrt has been confronted with the good, the bad and the ugly. But this time round things were a little different – in its latest evaluation of summer car tyres, all candidates put in a performance worthy of a rating of 'good' or better. This is the first occasion that no tyre has gained a lowlier rating in a Gute Fahrt test.
Testing centred around the tyre size 225/40 R18 92Y XL, with ten brands of rubber competing for top honours fitted to a VW Golf 1.5 TSI. One of the tested tyres, the Pirelli P Zero, was additionally evaluated in sizes 225/45 R17 and 225/35 R19 (both tyres were Y speed rated).
First place was taken by the Continental PremiumContact 6, the tyre recently named winner of Autozeitung's 235/45 R18 test. The Continental tyre achieved a 'very good' result in nine of the ten disciplines the Gute Fahrt testers looked at, only departing from form in the rolling resistance category, where it was deemed 'good'. Noting that Continental makes "really good tyres," the testers opined that the "balanced at the highest level PremiumContact 6 can't be beaten." For its efforts, the Continental tyre was given a 'very good' rating overall.
Second and third places on the victors' podium were occupied by the Goodyear Eagle F1 Asymmetric 5 and Dunlop Sport Maxx RT2 respectively. The Goodyear model fulfilled most expectations, even if a slight tendency towards unsteer was detected when pushed to the limits. Its Dunlop sibling was described as harmonious with slightly understeering handling characteristics.
The two Goodyear Dunlop tyres were rated 'very good –', a distinction they shared with the Nokian Powerproof and, by the skin of its teeth, the Hankook Ventus S1 Evo². The Powerproof offered impressive performance in a number of key disciplines, but was also found to have a "sporting base hardness" when tested for comfort.
A 'good +' rating was awarded to the Bridgestone Turanza T005 and Pirelli P Zero. The latter was also tested in a 17-inch dimension, for which it was rated 'very good –' after being recognised as the "clear winner in comfort," and in a 19-inch size, for which it was rated 'good'. The larger diameter tyre didn't score as well as its 18-inch counterpart for comfort, straight line aquaplaning and wet grip in curves.
The rating 'good' was shared by the Apollo Aspire XP, Falken Azenis FK510 and Vredestein Ultrac Vorti. The Falken tyre lost points for wet grip and the Vredestein primarily for minor deficits in the lateral aquaplaning, comfort and rolling resistance disciplines.
"If you overlook the somewhat taught comfort you won't go wrong with the top tyres in our tyre test from Continental, Dunlop, Goodyear, Hankook and Nokian. They offer driving pleasure, safety and good looks with no regrets," summarised Gute Fahrt. And in reference to the three different dimensions of Pirelli P Zero it tested, the publication commented: "Whoever is looking for the best possible comfort should take a 17-inch (tyre) instead. This size is the ideal compact all-rounder, and there's nothing to complain about even when it comes to handling. On the other hand, whoever reaches for the expensive 19-inch (tyre) sacrifices a great deal of comfort for the sake of aesthetics and crisp, sporty dry handling, and in addition larger wheels are quite hydrophobic."