Win for Michelin, 6 'exemplary' tyres in Auto Bild test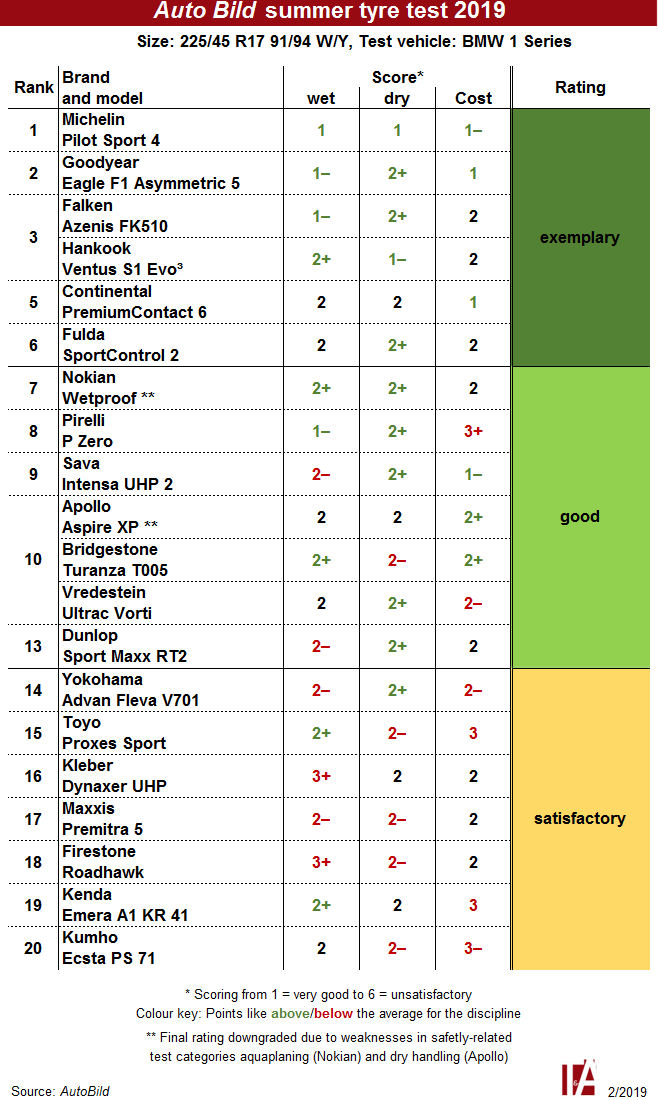 As expected, this year's Auto Bild size 225/45 R17 summer tyre test delivered no nasty surprises. With more than half of the original field of 53 already eliminated in a preliminary round of wet and dry braking tests, the remaining 20 candidates all gave a good account of themselves. Six of their number were even declared 'exemplary' tyres.
And the winner is…the Michelin Pilot Sport 4. It was joined on the podium by three tyres – the Goodyear Eagle F1 Asymmetric 5 as runner-up and, in joint third place, the Falken Azenis FK510 and Hankook Ventus S1 Evo³.
The Michelin tyre scored top marks in the wet and dry tests, but was bumped down a notch when price was factored into the equation – the Pilot Sport 4 isn't a low-price tyre. Furthermore, its rolling resistance was no better than average.
The second-placed Goodyear Eagle 1 Asymmetric 5 also comes with a high purchase price, but buyers get a long-lasting tyre for their money. During the test it achieved 54,200 kilometres, which sufficed for the Auto Bild testers to award it (jointly with the Continental PremiumContact 6) top marks in the cost category. The Goodyear tyre gave no cause for complaint in the wet or dry tests either, however it only offered an average level of comfort.
"Balanced driving characteristics on wet and dry surfaces, sporty-dynamic dry handling, good steering response on wet surfaces, affordable price" were the strengths the Falken Azenis FK510 was credited with. Mileage proved its greatest drawback.
For the Hankook, comfort proved an area of weakness in a tyre that was otherwise highly regarded. The testers' appraisal of the Ventus S1 Evo³ was well balanced, with "precise steering behaviour with good response on dry surfaces, optimal delay in the wet and moderate pricing."
Continental, darling of many a tyre test, finished this one in fifth place. The PremiumContact 6 was judged to offer balanced and safe driving behaviour in the wet along with short wet and dry braking/stopping distances and "fuel saving rolling resistance, high mileage and good economy." On the downside was just "a modest aquaplaning safety margin."
The last of the six tyres to gain an 'exemplary' rating was the Fulda SportControl 2. The tyre was kept from finishing higher up the table by its just "average mileage" – otherwise the Auto Bild testers reported no notable weaknesses.
The top six were followed by seven tyres that were given a rating of 'good'. These were the Nokian Wetproof, Pirelli P Zero, Sava Intensa UHP 2 in seventh, eight and ninth places. Tenth was shared by three tyres – the Apollo Aspire XP, Bridgestone Turanza T005 and Vredestein Ultrac Vorti. The Dunlop Sport Maxx RT2 followed in 13th place.
There are various reasons why these seven didn't achieve better results. According to Auto Bild, shortcomings included "limited aquaplaning safety reserves" (Nokian), modest mileage and limited economy (Pirelli), a "slightly limited level of grip on wet surfaces" (Sava), understeer in dry handing (Apollo, Bridgestone), sacrifices in comfort and ride noise (Bridgestone), a "markedly elevated rolling resistance" (Vredestein) and "understeer in wet handling" (Dunlop). Had these deficits not been outweighed by the tyres' merits, they'd have missed out on their 'good' rating and been declared 'satisfactory', as the next seven tyres were.
The Yokohama Advan Fleva V701 was ranked 14th, held back from a better result by "moderate grip and steering precision in the wet" along with below-average mileage. It was a similar story for the Toyo Proxes Sport, although it lacked grip in the dry and also exhibited elevated rolling resistance. The Auto Bild testers reported "just satisfactory wet (weather) qualities, imprecise and understeering wet and dry handling, minimal aquaplaning characteristics," as weaknesses displayed by the Kleber Dynaxer UHP.
A handful of strengths, such as the Maxxis Premitra 5's low purchase price and good rolling resistance and the Firestone Roadhawk's short dry braking distance were countered by even more weaknesses. These included: "Slight understeering driving characteristics on wet and dry roads, delayed steering response, moderate mileage" for the Maxxis tyre and "understeering handling, limited steering precision and response, limited aquaplaning safety and comfort" for the Firestone.
Second to last place was occupied by the Kenda Emera A1 KR 41. The Kenda tyre performed well in the wet disciplines, including aquaplaning, prompting the Auto Bild testers to declare "a sovereign performance that even overtook the products of industry giants such as Continental and Dunlop." The Emera A1 also delivered a short stopping distance in the dry. But these strengths were paired with weaknesses in dry handling (a slight understeer was observed here) and mileage; the latter, at 28,100 kilometres, was little over half that achieved by the Goodyear Eagle 1 Asymmetric 5.
The uncoveted wooden spoon belonged to the Kumho Ecsta PS 71. It's worth remembering that the Kumho product actually achieved 20th place in a test of 53 tyres, and its rating of 'satisfactory' by no means reflects a poor result – the Ecsta PS 71 was credited with "good wet and aquaplaning characteristics" as well as "decent dry handling." Its mileage was, however, unimpressive – just 26,500 kilometres. The tyre also gave high rolling resistance.