SUV tyre with off-road capability: Goodyear Wrangler All-Terrain Adventure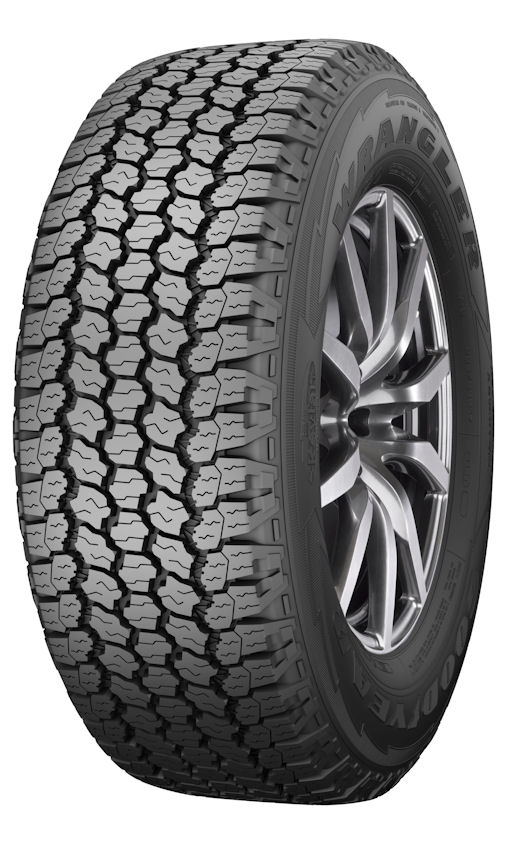 The latest tyre to join the Goodyear Wrangler family has gone on sale in European markets. The Wrangler All-Terrain Adventure is designed to meet the demands of SUV drivers looking for a tyre with both on-road and off-road capabilities; Goodyear states that the new range provides "more robust off-road capability than the regular SUV tyre." The Wrangler All-Terrain Adventure is produced in 27 sizes, with fitments available for vehicles such as the Land Rover Defender, Jeep Wrangler, Mercedes G-Class, Toyota Hilux, Toyota Land Cruiser and the Volkswagen Amarok.
The casing of the Wrangler All-Terrain Adventure is built with a Kevlar fibre overlay. Goodyear says the presence of Kevlar re-enforces the tread, offering the strength needed to prevent punctures and cuts for a confident off-road driving experience. This feature is reinforced by Goodyear's Durawall Technology, which improves resistance against punctures and cuts in the sidewall area.
The tread itself features open shoulder blocks designed to evacuate mud from the tread, thereby giving or improved off-road traction. Biting edges on the Wrangler All-Terrain Adventure's tread also create more traction between the tyre and road surface.
Goodyear reports that its engineers optimised the tyre's tread design for an even pressure distribution across the footprint. This has, adds the tyre maker, resulted in "excellent mileage and great on-road performance." Results of testing undertaken by DEKRA in December 2016 by order of Goodyear show that the Wrangler All-Terrain Adventure delivers, on average, 49 per cent better front axle mileage performance and 25 per cent better rear axle performance mileage than other tested tyres (Bridgestone Dueler A/T, Dunlop GrandTrek AT3, General Grabber A/T).
"Our long heritage in the 4×4 segment and our proven track record in developing award-winning 4×4 and SUV tyres enabled us to create the Goodyear Wrangler All-Terrain Adventure, a tyre that allows drivers to stay in control of the journey and go on- or off-road whenever they want," shares Martijn De Jonge, brand director For Goodyear's Consumer PBU EMEA.               sg