Tag: Wrangler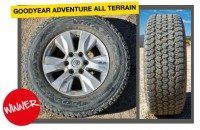 Although a new arrival in the market, Goodyear's latest off-road tyre has gained a first tyre test victory with its coronation as king of Drive Out magazine's all-terrain tyre test. The South African publication's June edition compared seven products, and concluded that the Wrangler All-Terrain Adventure was "considerably better" than its predecessor (the Goodyear AT/SA) and a "worthy winner" thanks to its impressive performance both off and on the road.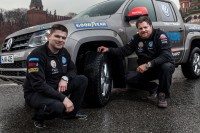 To market the launch of the new Wrangler All-Terrain Adventure, Goodyear is supporting Rainer Zietlow in his attempt to drive 5,000 miles from Dakar to Moscow in a world record time of less than four days. The German adventurer and his co-drivers began the world record attempt on Saturday, setting out from the Senegalese capital in a Wrangler-shod Volkswagen Amarok.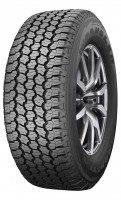 The latest tyre to join the Goodyear Wrangler family has gone on sale in European markets. The Wrangler All-Terrain Adventure is designed to meet the demands of SUV drivers looking for a tyre with both on-road and off-road capabilities; Goodyear states that the new range provides "more robust off-road capability than the regular SUV tyre." The Wrangler All-Terrain Adventure is produced in 27 sizes for 15 to 19-inch rim diameters, with fitments available for vehicles such as the Land Rover Defender, Jeep Wrangler, Mercedes G-Class, Toyota Hilux, Toyota Land Cruiser and the Volkswagen Amarok.