Monthly new car registrations reach all-time high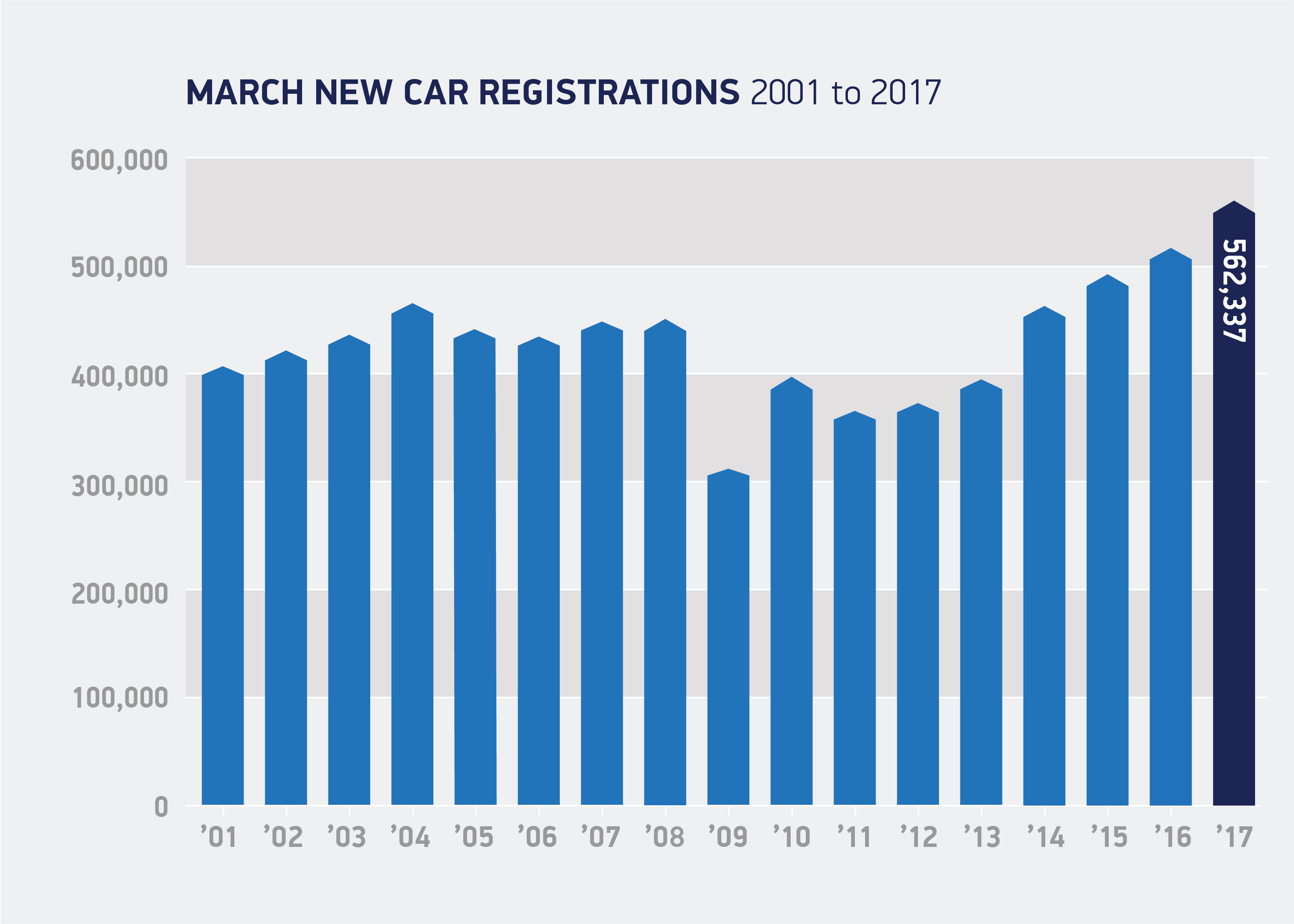 The UK new car market grew by 8.4 per cent in March. A total of 562,337 new cars were registered during the month, an amount that, according to the Society of Motor Manufacturers and Traders (SMMT), is the highest monthly figure since records began. Registrations reached new heights as buyers seized the chance to buy cars before the new vehicle excise duty (VED) rates came into force. Under the new system implemented on 1 April, all new cars (except for those with zero emissions) are subject to an annual flat rate charge.
Registrations in March amounted to more than double the number in the first two months of the year combined –257,679 new cars were registered in January in February. A total of 820,016 new cars were driven off forecourts in the first quarter of 2017, up 6.2 per cent on the same period in 2016 and setting a new first quarter record.
"These record figures are undoubtedly boosted by consumers and businesses reacting to new VED changes, pulling forward purchases into March, especially those ultra-low emission vehicles that will no longer benefit from a zero-rate fee," comments SMMT chief executive, Mike Hawes. "This bumper performance probably means we will see a slowdown in April, exacerbated by the fact there are fewer selling days this year given Easter timing. Looking ahead to the rest of the year, we still expect the market to cool only slightly given broader political uncertainties as there are still attractive deals on offer."
Following the recent trend, consumers are increasingly looking to invest in the latest low-emission technology, with March seeing a 31.0 per cent surge in registrations of alternatively fuelled vehicles. Petrol cars experienced a notable uplift too, growing 13.2 per cent, while demand for diesels also increased compared to the previous year, with nearly a quarter of a million buyers choosing them – the most ever in a single month.
Fleets and businesses were the big contributors to market growth in March, with registrations up 12.6 per cent and 11.9 per cent respectively, though demand from private buyers also grew, with registrations climbing 4.4 per cent to reverse the decline in demand seen during the previous month.    sg