Linglong Tire now a Wolfsburg 'Club of Champions' sponsor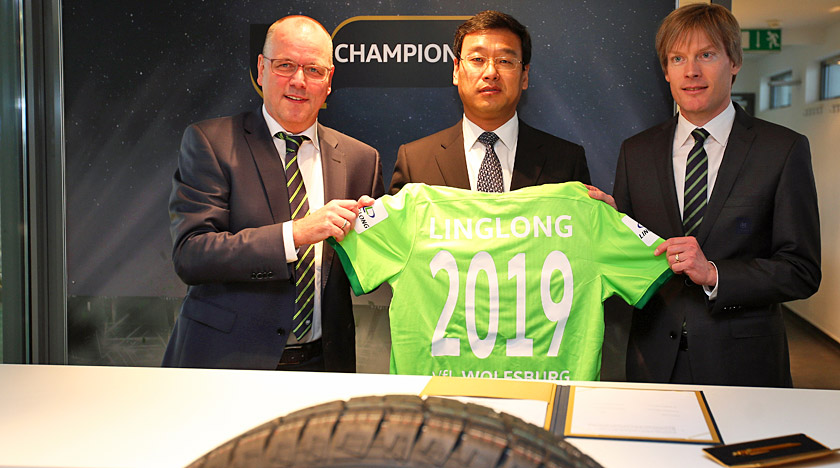 As of 1 January, Shandong Linglong Tire has been elevated to the status of Club of Champions partner with German football club VfL Wolfsburg. The tyre maker had served as a VfL-TopPartner since the start of 2015, and Wang Feng, founder and chief executive officer of Linglong Tire, signed the new, extended deal at the Volkswagen Arena in Wolfsburg on 14 December together with club managers Thomas Röttgermann and Dr Tim Schumacher. The company is one of three Club of Champions partners, holding this status alongside Nike and logistics specialist Grupo Sesé.
Club of Champions partner represents the highest sponsorship category at VfL Wolfsburg, and in addition to the current privileges as a TopPartner, Linglong Tire will enjoy an expanded service package. The new package includes an extended logo presence on advertising hoardings and other billboard space, as well as joint projects within the framework of international activities and journeys undertaken by VfL Wolfsburg. VfL and Linglong Tire plan to open a football school together in China in order to support the development of football within the country.
The Linglong Tire boss declared the new cooperative agreement to be "an important step at the right moment." He added: "It is a great honour to be a part of the Club of Champions family. We are well aware that the club is not enjoying the greatest period right now, but at such moments, it's all the more important to display unified determination. A friend in need is a friend indeed."
VfL manager Thomas Röttgermann expressed delight with the expansion of Linglong's sponsorship: "A strategic partnership entails more than just presenting a logo. Linglong Tire is a partner that is accompanying us along our way and that shares our goals. They have become a part of our VfL family. As it is in any family, you mutually assist one another and don't just fulfil contractual obligations. We are very grateful to have a partner in Linglong Tire that is so strongly connected to VfL Wolfsburg."