Giti celebrates half-millionth GT Radial FE1 sale with 'Golden Tyre' for UK dealer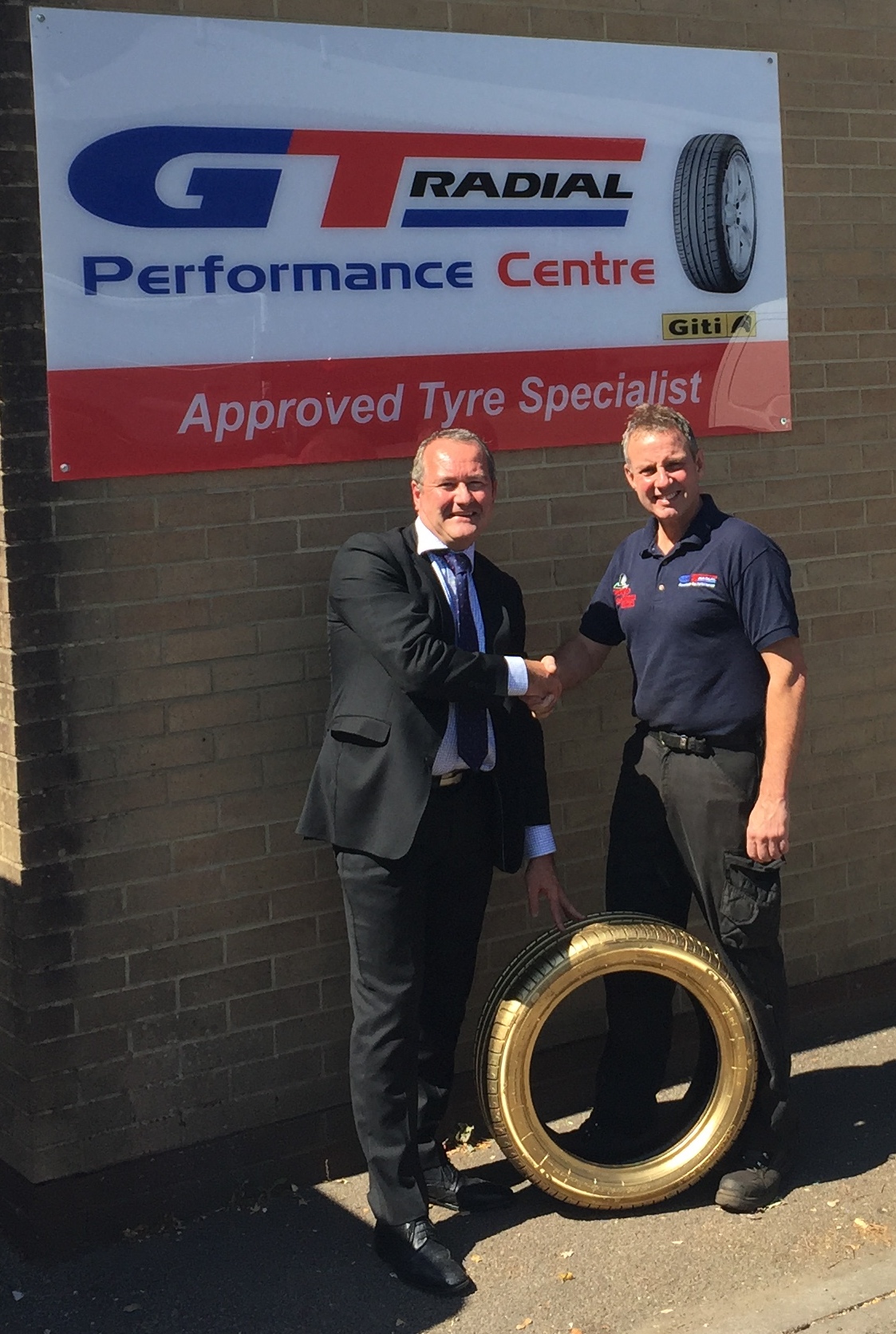 Giti Tire has celebrated the 500,000th sale of its GT Radial FE1 with a 'Golden Tyre' presented to GT Radial Performance Centre (GTPC), Perry's Tyres & Exhausts Service of Cinderford, Gloucestershire. The FE1, launched in 2014, is the fastest selling European pattern in Giti Tire's history. As of September 2016, more than 580,000 units have been sold in the 21 months it has been available.
The tyre was launched at Reifen 2014 in Essen, Germany, and went on sale in Europe in January 2015, was one of the first to be designed by the company's R&D Centre in Hannover, Germany.
Brian McDermott, sales and marketing director – Europe for Passenger Car and Light Truck (PCR) for Giti Tire, said: "At its launch we predicted that the FE1 would become one of the best sellers in our GT Radial European portfolio, and so it has proven.
"The quantity of sales throughout the different markets in Europe has been excellent, with additional demand in Italy, Portugal, Spain and the UK where the temperate year-round climates gives us year-round orders. We look forward to maintaining this excellent momentum into 2017."
An all-round premium passenger car tyre, the GT Radial FE1 is aimed at performance C and D segment vehicles with a comfort element, including such bestsellers as the VW Golf, Peugeot 308 and Kia Cee'd. It is available in 27 sizes, from 175/65/R15 through to 225/55/R17 with speed index from H to W.
GT Radial is distributed throughout the UK by Micheldever Tyre Services, who have supply rights for passenger car, 4×4 and light truck tyres.