Winter growth for GT Radial following all-season product introduction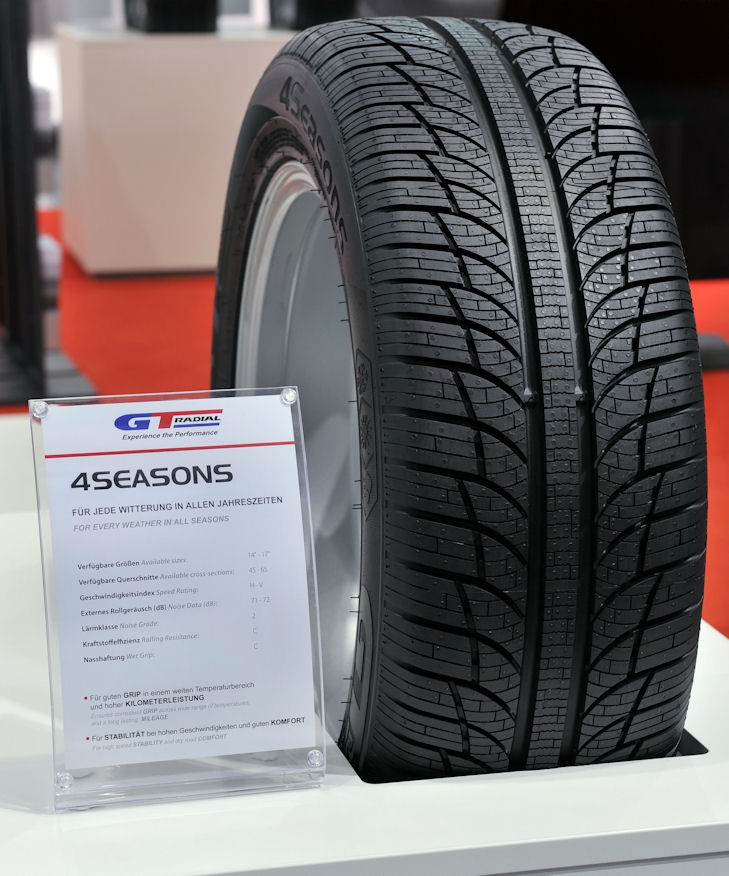 A new all-season tyre for the van and light truck has been added to the range for the 2019-20 winter season
Giti Tire has developed its GT Radial all-season product range, available in the UK from exclusive distributor Micheldever, off the back of an encouraging run of sales for its initial product for this growth market. Tyres & Accessories spoke to Brian McDermott, country manager UK for Giti Tire, to get the latest on how the manufacturer is shaping its range for the segment, which appears to have gained more of a footing in the UK than specialist winter tyres have previously managed.
The manufacturer introduced the GT Radial 4seasons in 22 sizes last year, hitting the dealers' shelves in September 2018, but McDermott tells Tyres & Accessories that the sales performance of the new product has been very positive. "They already outstripped our winter sales by nearly two to one" during the winter months, he says. The first delivery into UK distributor Micheldever was "pretty much sold out" by November. This illustrates the popularity of all-season products, and the way they have penetrated the market more than winter tyres ever have after recent performance gains. Here is a mid-range brand, selling out of its first shipment of a new all-season product to the UK before any particularly adverse weather conditions had hit. McDermott adds that a second big order was fulfilled ready for January.
"What we're seeing with all-season tyres is that, yes, there is a peak in September-October, but we're still selling them all the way through winter, and through spring too," McDermott tells T&A. He contrasts this with his experience of winter tyre sales, which have often "tailed off by the end of the year." Even with extended poor weather in early spring, Giti Tire has found winter tyres a difficult product to push after the New Year. All-season, by contrast, "has continued to be strong into 2019." In the first six months of 2019, the GT Radial 4seasons continued to show sales growth.
McDermott also tells T&A that, "given the way the UK market is going, all-season sales have taken more sales from winter tyres than from summer." There are, of course, exceptions to this movement, as high-altitude regions of the UK continue to offer opportunities for full winter tyres, and a more seasonally-based market, though when winter weather is apparent elsewhere, the attraction of all-season tyres is proving greater than that of specialist winter tyres.
GT Radial Maxmiler AllSeason
While this winter's car tyre portfolio will continue to feature the 22 sizes of the GT Radial 4seasons, GT Radial has added the new Maxmiler AllSeason van tyre in 13 sizes. The tyre carries the Three-Peak Mountain Snowflake, and comes in dimensions for 15C-16C rims, section widths from 195-235 and series sizes from 65-75. Load indices range from 104-115.
Special features include an all-season compound which adapts to hot and cold conditions, reinforced steel belts to maintain structure under heavy operating conditions, stiff shoulder blocks to increase mileage and wear and a non-directional tread pattern to minimise aquaplaning and braking distances.
The GT Radial Maxmiler AllSeason was engineered by Giti Tire's European Research & Development Centre in Hannover, Germany and records B-C in wet grip and C-E in rolling resistance in EU tyre labelling results. McDermott said: "The GT Radial Maxmiler name has, over the last few decades, become synonymous with trust, reliability, safety, durability and mileage, especially in heavy duty applications. The AllSeason has been developed to deliver all these attributes in one casing, providing full year-round usage which allow commercial operations to continue without interruption, regardless of weather conditions.
"With our latest tyre the Maxmiler portfolio will continue to be a leading point of reference in the van and light truck markets."
Other products in the light truck range include the GT Radial Maxmiler Pro and its winter tyre, the GT Radial Maxmiler WT2Cargo, as well as a new studdable tyre for winter conditions on the continent (see textbox). All tyres were engineered by Giti Tire's European Research & Development Centre in Hannover, Germany.
"We see good potential for the Maxmiler AllSeason," McDermott tells T&A, "particularly for dot com and supermarket delivery fleets." He reasons that the varied conditions such fleets must be able to handle to deliver all-important logistics efficiencies in all weather conditions mean there is a significant opportunity for competitively priced all-season tyres.
As previously mentioned, Giti's UK operation continues to take the winter range, McDermott adds, and even alongside the gains made by new all-season products, winter tyre sales were "increased by about 20 per cent last year. Not only did we introduce an all-season product, which outstripped our winter sales, we have increased our winter sales too." In total, this means "excellent growth" in tyres suitable for cold weather. While there is no new winter tyre for this season, McDermott says a new winter tyre is planned for the 2020-21 winter season.