Tyre Reviews conducts first long-term tyre test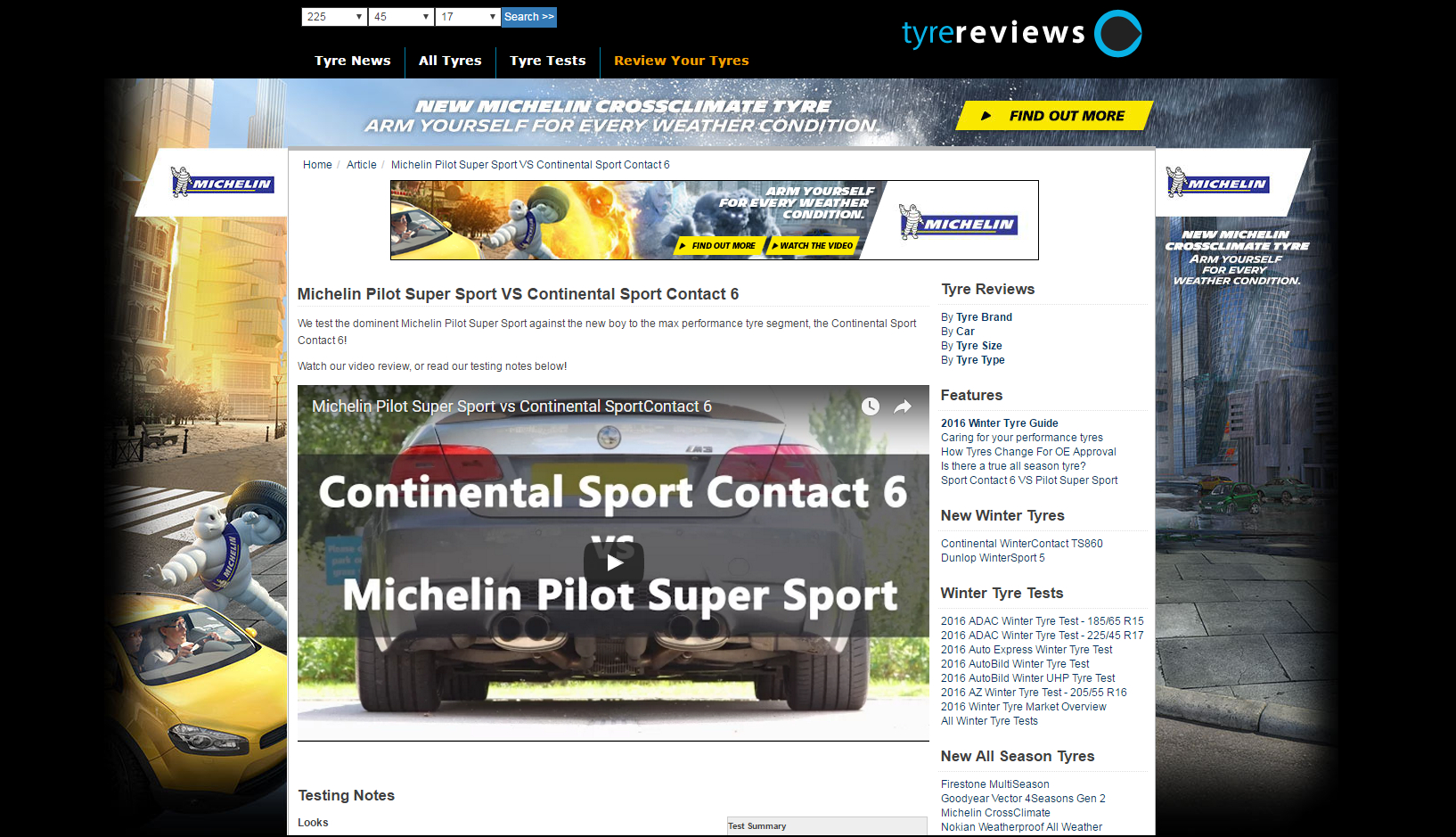 Tyres & Accessories talks with site's founder about motorists' tendency to research online and marketing opportunities
TyreReviews.co.uk has built an influential position within the growing online tyre business sector over the last half-decade. The site's core focus of user-generated tyre reviews gives visitors the opportunity to present feedback on their experiences with more than 2,500 products; this has resulted in what Tyre Reviews quantifies as "3 billion miles" of motorist feedback. This mileage has helped it to reach around 2.8 million monthly page views (based on March 2016), and as a result the site now claims to influence, via online research, "more than a sixth" of tyre sales in the UK every month. In 2016, the site's owner, Jonathan Benson, began to publish video tyre reviews himself in addition to the site blog, the most recent of which could be a world first (see video below/on Tyrepress.com). Given the site's claim to influence such a large proportion of UK tyre sales, Tyres & Accessories also asked Benson for his views on how tyre manufacturers and distributors can increase their own online engagement to capture more of this currently growing market.
Tyre Reviews' latest video is a head-to-head ultra-high performance tyre test pitting the more established Michelin Pilot Super Sport – which Benson calls "the internet's favourite tyre" – against Continental's recently launched SportContact 6. Using a BMW E92 M3 running on tyre sizes 255/35R19 and 275/35R19, Benson runs through a nuanced and considered critique of each product over 1,500 miles, providing an interesting conclusion and looking forward to future products in this category. In many ways the video demonstrates the way in which the site is increasingly bridging the gap between professional tyre reviews published by various automotive magazines and the wide range of consumer feedback presented by the user-generated reviews on the site itself.
Tyres & Accessories asked how Benson would compare the peer reviews with those undertaken by professional reviewers. "Professional reviews are the holy grail of tyre information," he replies, "however these are produced in limited numbers, covering limited patterns and sizes, on a very small subsection of vehicles. Tyre Reviews' peer review section covers 30,000 reviews on over 2,000 tyre patterns, 1,100 tyre sizes across 3,100 vehicles. This gives the tyre buyer an excellent secondary source of information to use alongside magazine tests."
It is perhaps natural for companies to be concerned about the ability of any given motorist to present their views on a product, since peer reviews on the internet tend towards extremes. However, Benson argues that "tyre companies shouldn't shy away from public forums where users have a voice, as in the end, these are the users who become consumers and buyers.
"You have to compare it to Facebook and Twitter where users still have the ability to say what they want about a brand, where a brand advert may also be visible due to targeting. It puts the emphasis on the tyre manufacturer today to produce a good product first and foremost, but then to be active and engaged online where these discussions are happening."
Tyre Reviews user-base appears to tend towards those more predisposed to purchasing premium products, given the higher numbers of reviews published on more prominent brands, though the site gives the opportunity to drivers to rate tyres from the entire market. Benson maintains a moderator's approach to commentary in order to vet what he would view as unjustified comments: "All reviews are vetted before being published on the site and any unfair or clearly biased reviews are deleted."
Capturing online researchers
Given the popularity and influence of the site, Benson is clearly keen to market Tyre Reviews as an advertising opportunity to the industry, and he believes that there is room for this sort of activity to grow. "Tyre companies seem to be very slow in embracing the direct marketing opportunities available online, but things are slowly improving. Michelin in particular are very good at engaging online tyre information sources, and have now started working with YouTube influencers to further extend the size and depth of audience they're reaching."
One arena in which tyre marketing has grown quickly in visibility recently is in sport sponsorship, especially in English football's Premier League. T&A asked how Benson would compare the value of advertising on consumer facing sites like TR with this popular method of marketing.
"Comparing the value of online advertising to football sponsorship is difficult. Football sponsorship is excellent at raising your brand image and getting users at the top of the funnel, but direct return on investment is very difficult to qualify. Online marketing is an important part of the 360 degree campaign, and is a unique way of directly promoting new products and patterns to people engaged in the tyre research process. This results in a much more qualifiable marketing spend." On Tyre Reviews in particular, he adds that "all user experience testing/analytics point to positive interaction with display adverts on site."
Most major tyre manufacturers now recognise the increasing number of motorists researching tyres online pre-purchase. Are tyre companies doing enough to communicate directly with them during this phase? Benson argues that "certain forward thinking tyre companies are starting to understand the huge potential for directly influencing customers in the research phase, but many aren't. Research predicts that by 2020 50 per cent of tyre sales will be made online, and a huge number will still be 'ROBO' (researched online, bought offline.) This means the influence of online research and marketing will key to a successful tyre."