Goodyear highlights effects of truck tyre choice on CO2 emissions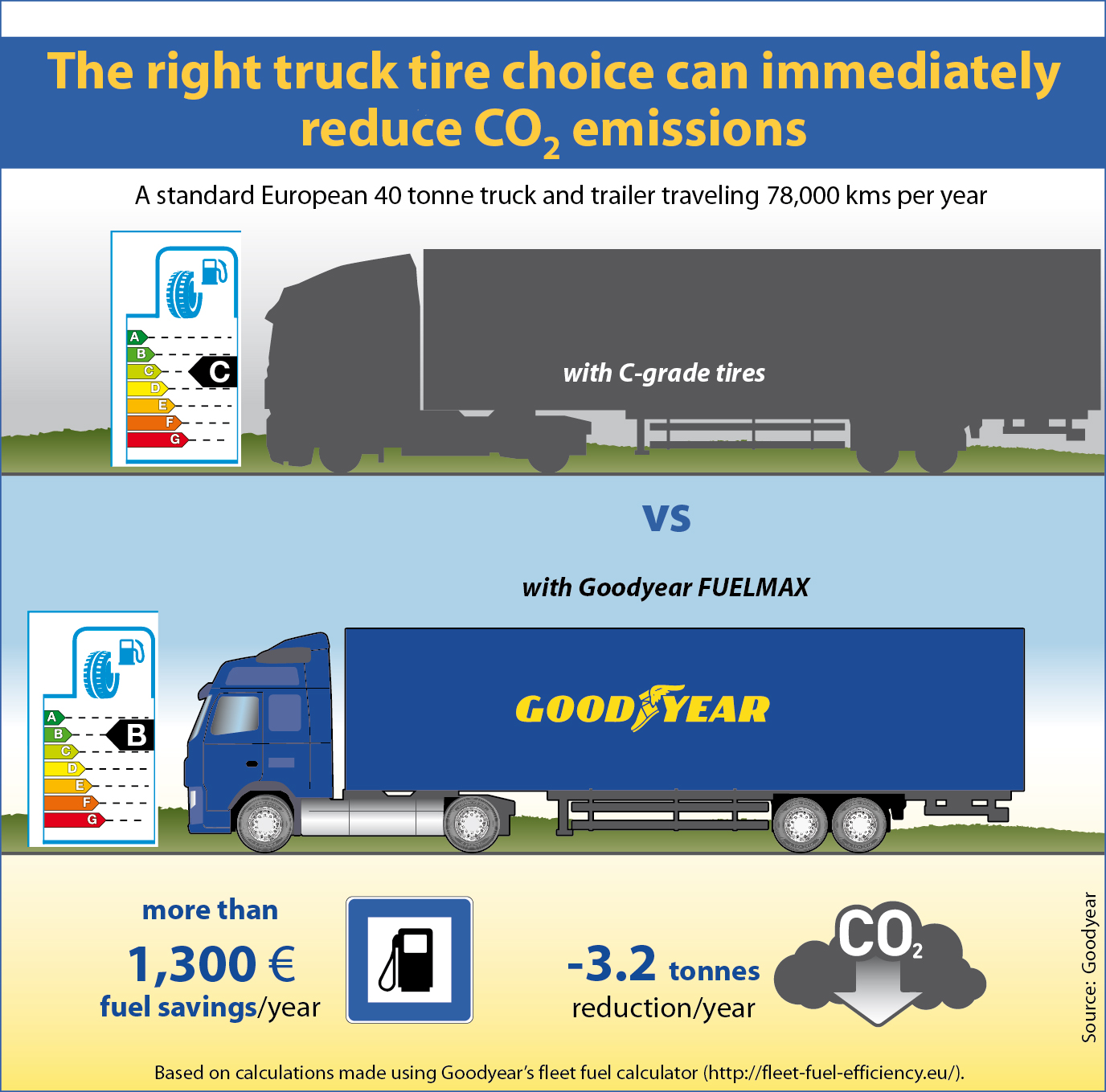 Goodyear has added its voice to the debate on the integrated efforts to reduce carbon dioxide (CO2) emissions in the transport industry. The tyre manufacturer points out the effect that recent truck tyre developments have had on significantly reducing CO2 emissions made by commercial vehicles. It also highlights the effectiveness of the EU tyre label in achieving CO2 reduction across the transport industry.
The wider use of rolling resistance optimized truck tyres such as Fuelmax, Goodyear´s most fuel efficient truck tyre range, can significantly reduce emissions of CO2 as well as cut fuel consumption. Calculations show that by changing from C-grade tyres in the EU fuel efficiency tyre label category to B-grade Fuelmax tyres on a standard European 40 tonne truck and trailer traveling 78,000km per year, a reduction in CO2 emissions of approximately 3.2 tonnes per year can be achieved. Bearing in mind that there are millions of trucks and trailers operating in Europe, the opportunity for reducing emissions by using more fuel efficient truck tyres is enormous.
"Carbon dioxide emissions are directly related to fuel consumption," said Michel Rzonzef vice president commercial business Goodyear Europe Middle, East and Africa. "One of the main areas of focus in our development work is the reduction of rolling resistance. This mean lower fuel costs for our customers and less emissions for the environment. Further to this, thanks to the introduction of the EU tyre label in 2012, the efficiency of tyres in this respect is in plain view.
"So choosing the truck tyres with the best fuel efficiency grade is a simple yet important task. It also has the added benefit that it reduces the total cost of ownership for fleet operators. By encouraging truck operators simply to change their tyres from a C to a B-grade in fuel efficiency, carbon dioxide emissions can be reduced by approximately 3.2 tonnes per vehicle per year. In addition, annual savings of more than €1,300 per vehicle can be achieved."
A recently presented study by ACEA (European Automobile Manufacturers' Association) analysed work carried out by TML (Transport & Mobility Leuven) and reported that an integrated approach including all actors of the road transport sector has the potential to double the annual CO2 reduction rate from trucks, to up to 3.5 per cent compared focusing only on new vehicles. One key element in achieving this, which is easy to implement, is to fit fuel efficient truck tyres on existing trucks in Europe.