Bridgestone launches Retorque app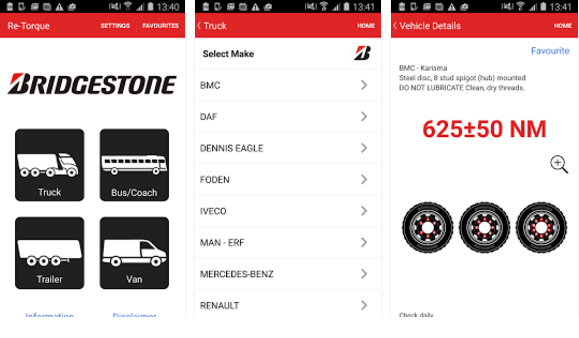 Bridgestone has launched what it calls "the commercial motor industry's first ever re-torque safety app for all commercial vehicle operators". The free Bridgestone Retorque app has been developed after research with all bus, truck and trailer original equipment manufacturers and will therefore offer the correct torque settings on all vehicles, free of charge, at the swipe of a mobile phone or tablet. The latest version (1.1) was updated to the Google Play store on 27 January.
The Retorque app will be of use to anyone who removes and replaces truck wheels and Bridgestone plan to develop it further to include van data in the future. The safety implications from a detaching wheel from a truck, bus or trailer can be fatal, with research from road safety charity Brake highlighting the significance of the issue.
It's estimated that several hundred wheel detachments occur each year in the UK, mostly involving large commercial vehicles such as trucks and buses. According to Brake, one in six (16%) wheel loss incidents causes injury and one in 24 (4%) causes death.
If a wheel becomes detached while the vehicle is moving it can accelerate up to 93mph and would hit an oncoming vehicle, pedestrian or cyclist with incredible force. It can also cause the driver who has lost the wheel to lose control and crash.
Instead of leafing through pages of a manual for information, Bridgestone has developed its app – available from Google and Apple stores – to make the process as simple as possible and freely available for everyone, including fellow tyre manufacturers.
Bridgestone's product and marketing manager Andy Mathias said: "Since 2005, we have been collecting re-torque data from all original equipment manufacturers which we have historically supplied to our Bridgestone Partners in a manual which was always in high demand. We are now delighted to be able to offer a user-friendly, simple e-solution.
"Bridgestone recognised the need for a safety solution like this a long time ago and as we move into a digital age, we are pleased to be able to offer this to the industry.
"We decided to make it free of charge because the security and safety of commercial fleets is more important than creating revenue. So it can be used by absolutely everyone, including our competitors and we would encourage people to download it when they can."
Matthias said that the industry had been in need of a solution like Bridgestone's re-torque app for a number of years, with up to 12 people being killed on roads each year through detaching wheels.