Pirelli returns alongside all major UK players at CV Show 2015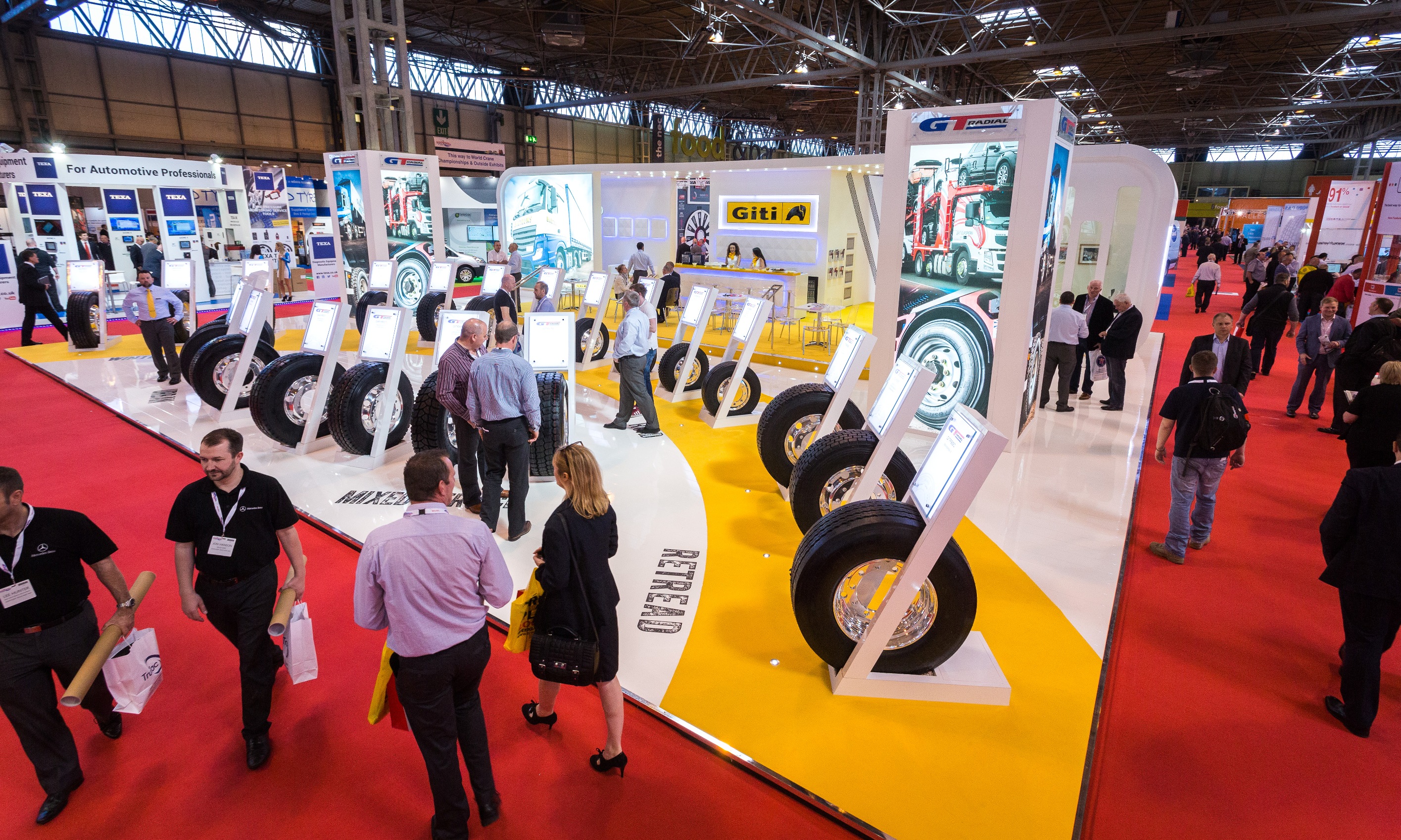 The strong representation of the tyre and wheel business at April's Commercial Vehicle Show 2015 proved that the show is considered an increasingly important platform for those within the business. Indeed, Giti Tire's notably larger stand, effectively re-launching its corporate identity, and the presence of Pirelli after a decade of non-attendance – alongside strong commitments from all the leading UK CV brands; major CV tyre wholesalers, Kirkby Tyres, RH Claydon and Kings Road Tyres; fleet servicing companies; and garage machinery providers.
Hankook's CV Show stand contained its CV tyre portfolio, with the recent adapted products for Euro V and VI vehicles taking centre stage. The SmartFlex AH31 and the TL02 trailer tyre were the key products in this respect, while the manufacturer also emphasised its Alphatread, retread range, which was extended with the addition of the popular 315/70R22.5 size, made available in January 2015. Hankook also hosted a football competition on its large Hall 5 stand, run in conjunction with its sponsorship of the UEFA Europa League.
Hankook said its continued investment in research and development has led to the increased load index of the SmartFlex AH31, a range of medium to long haul truck tyres for all season purposes, in size 295/80R22.5.  The new size, with the load index of 154M which is suitable for vehicles plated with a front axle weight capacity of 7500kg will be available in the second quarter of 2015. Hankook's TL02 trailer tyre in size 295/60R22.5 has also witnessed new and unique developments as it has been adapted for use in the car transporter industry with a load index of 152J=7,100kg.
Jong Jin Park, managing director of Hankook Tyre UK said "The recognised high-quality of our products has not gone unnoticed, as some of the world's largest truck manufacturers including MAN and Mercedes-Benz have recently announced original equipment fitments.  As of this year Hankook will be supplying its e-cube MAX, SmartFlex and SmartWork truck tyres for various MAN models.  Our exceptionally popular Vantra LT van tyre can also be seen fitted as original equipment to the Mercedes-Benz V-Class and the successful AH11 (steer axle) and DH05+ (drive axle) tyres can also be seen on the Mercedes-Benz Atego Euro VI models."
Bridgestone exhibited from a large stand at this year's CV Show, saying that the annual event reaped "a number of quantifiable rewards with many new relationships forged", including a contract extension with Axis Fleet Management. Bridgestone also commented that visitor numbers had risen on 2014 figures, suggesting that its Bridgestone Partner network, which promises greater support to dealers and increased reductions in fleet operating costs, was an attractive proposition. The show represented the European launch of Bridgestone Partner, which will consist of over 350 truck tyre specialists across the UK and Ireland implementing Bridgestone's 'Total Tyre Care' approach.
Bridgestone and CAM International shared details of a new digital tablet based work management system, designed to reduce back-office issues, save time, improve data and provide a complete breakdown of the life of each and every tyre fitted. The system will fit within Bridgestone's Total Tyre Care package, helping businesses keep tighter control over tyre-related costs.
Bridgestone's commercial sales director Greg Ward said: "The CV Show always represents a huge opportunity for us… We've signed a hugely significant fleet deal during the show, have reacquainted with some close existing contacts and forged some new ones too. With all this in mind, we are delighted with our presence at the CV Show and are excited about the future."
Bridgestone said its tailored tyre support package as an underlying reason for its latest commercial fleet deal with Axis Fleet Management. Bridgestone will provide the contract hire business with its range of premium products and holistic support package for every single vehicle. The tyre manufacturer previously had a 70 per cent share of Axis' business. Its fleet of more than 3,000 MAN and DAF vehicles – comprising around 1,500 trailers and 1,500 trucks – will receive Bridgestone's "cradle to grave" service.
Following its week at the Birmingham NEC for this year's Commercial Vehicle Show, Giti Tire said that it "registered record visitor numbers" to its new look stand. The manufacturer was displaying its new GT Radial GDR638 drive axle tyre, among others, from a large stand incorporating its corporate colours alongside its flagship GT Radial branding for the first time. The manufacturer said the use of its Giti branding was part of a plan to raise its profile worldwide in support of global infrastructure projects, such as the new $560m manufacturing and distribution plant in Chester County, South Carolina.
Tony McHugh, TBR sales and marketing director UK at Giti Tire, said: "Visitors were very interested in the new look, and when you explain that Giti is one of the top 10 largest tyre companies in the world, and fourth in radial truck tyre production, they immediately understand the status it brings to the GT Radial brand."
Pirelli's appearance at the show is the first time in more than a decade that the tyre maker has attended. Pirelli's entire 01 Series product range were on display, including the FR:01 II and TR:01 II. Both tyres are designed for varied conditions, with improved wear, performance in wet and dry conditions and at low temperatures. The manufacturer also displayed the ST:01 Base for trailers and semi-trailers; the ST:01 Neverending, designed for better efficiency and safety; and the ST:01 M&S for better grip in adverse conditions. Visitors could also view the Novateck TR:01 and ST:01, which form part of the integrated services that Pirelli offers to support haulage operators. The Novateck Tyre Retreading System has been introduced over the past few years through a network of certified retreaders. Pirelli also demonstrated its web-based Fleet Management, and its Cyber Fleet, which enables automatic monitoring of tyre pressures and temperatures.
Not only was the Pirelli exhibit the first time that the firm has invested in a stand at the CV Show in a decade, but it was also a large one. With both a return to the show and a big stand, the implication is clear: despite having relatively low levels of market share in the UK truck tyre sector, the firm is aiming to make a clear statement regarding its ongoing position in the UK and beyond.
Michelin Solutions used the Commercial Vehicle Show 2015 to launch what it calls "a new pan-European value-creation offer for road transport fleets". In other words, this means the firm is offering price per kilometre (PPK) tyre management contracts with a contractual fuel saving commitment, for the first time. Michelin Solutions calls this, "Effitires with fuel commitment". Designed to make both hauliers' and own-account operators' fleets more efficient, the new contracts combine outsourced tyre procurement and expert tyre management with a commitment to saving fuel – a feature generated following a custom audit of the fleet conducted by Michelin Solutions to evaluate its operational condition and the nature of the fleet's work.
To be eligible for this new offer the customer must have equipped at least 70 per cent of its fleet with a telematics system and commit to fitting vehicles covered under the contract with energy-efficient Michelin tyres. In the event of the contractual savings not being attained, Michelin Solutions will reimburse the operator for the unrealised savings on a pro rata basis. An Effitires contract also includes 24-hour roadside assistance for tyre-related breakdowns, with a promise to arrive on the scene within two hours of receiving a call-out.
Outside the largest manufacturers, UK wholesalers were out in force to support CV products from the lower priced tiers of the market. Kirkby Tyres had a particularly strong presence, supporting two dedicated stands to its Double Coin and Sailun product ranges. Both stands exhibited key products in the ranges of the growing Chinese manufacturers. RH Claydon increased its presence at the show with a larger stand displaying Annaite, Basoon and Windpower especially. Similarly, KRT was present in support of Aeolus tyres, a key brand of new Pirelli owner, ChemChina.
The most notable stand in the CV service equipment sector was probably Hunter distributor, Pro-Align's. Supporting its new commercial division, specialist Brett Hickey demonstrated the ease with which the new Hunter commercial vehicle alignment system can be operated to Tyres & Accessories: a full three-axle alignment can be completed in around four minutes.
The process is also made quicker with the new Hunter EasiPush. The nifty machine was developed to help workshops move commercial vehicles a short distance forward to carry out the rolling compensation check in the wheel alignment process. It is now available as a stand-alone tool, and Hickey noted its versatility. Powered by a rechargeable battery unit, operators using EasiPush simply place the unit's roller assembly against a vehicle's wheel and turn the handle to commence operation. Using the assembly's high friction surface, the high torque motors then rotate the vehicle's wheels, moving it along in a safe, controlled manner.