Pro-Align to return to CV Show in 2016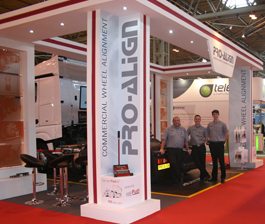 Wheel servicing equipment specialist Pro-Align has confirmed its return to the CV Show in 2016, having launched its commercial vehicle wheel alignment system in its debut appearance last year. The garage equipment distributor will showcase its expanding range of commercial vehicle servicing products designed to improve the efficiency, profitability and revenue generation opportunities of workshops.
"The CV Show was a great platform for the launch of our commercial vehicle wheel alignment system earlier this year, and we are looking forward to returning in 2016," comments Paul Beaurain, managing director, Pro-Align. "We've been working hard with our equipment manufacturer, Hunter, over the last 12 months to add even more innovative products to our range that can help transform and improve the way commercial vehicle workshops operate and I'm confident that these new systems will once again prove to be a popular talking point and highlight of the show."
In 2015, Pro-Align's CV alignment system caught the attention of engineers and CV operators as the first and only wheel alignment system to simultaneously measure three axles live, the company states. Compared to the 30 minutes required to obtain results with other wheel alignment systems, the new Hunter system is able to provide a full alignment diagnosis in four minutes, yielding obvious efficiency benefits.
Visitors to the show will be able to see Pro-Align's growing range of CV specific equipment on stand number 4D11.