Third PneuTrac size unveiled at SIMA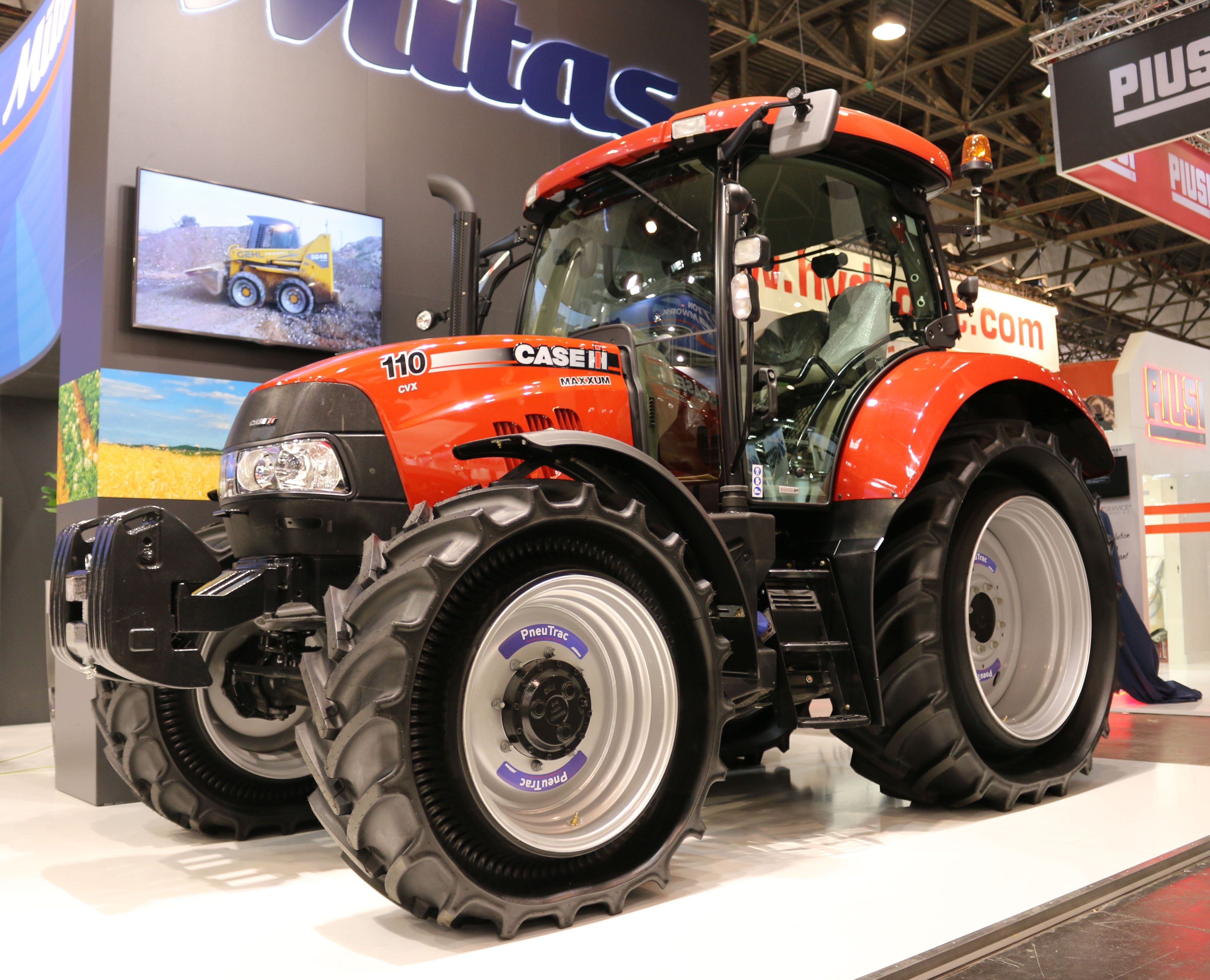 Following on from the development of 18 and 38-inch versions of its PneuTrac, Mitas has now produced a 28-version of the tyre/track hybrid tyre technology it is working on. This week the new size is on display at the SIMA agri business fair in Paris. The tyre maker has mounted the 480/65 R28 PneuTrac on the front axle of a Case IH Maxxum tractor, paired with a size 600/65 R38 PneuTrac; this can be viewed in Hall 3, on stand E016. The previously-released PneuTrac 280/70 R18 and 600/65 R38 are currently undergoing intensive dynamic tests.
"By mounting PneuTrac on the tractor, we are also unfolding the future of this concept," said Andrew Mabin, Mitas' marketing and sales director. "The test results of 18-inch PneuTrac are now similar to those of the standard tyre. We are doing our best to make the concept commercially available at the soonest possible time, but it is still early to announce the exact date."
According to Mitas, PneuTrac brings together the best of both worlds in traditional pneumatic tyres and rubber tracks. In addition to intensively testing the PneuTrac concept on 18 and 38-inch rims, the company says static tests on the new 28-inch rim PneuTrac. Thanks to the new 28-inch size and with the use of the 38-inch rim, Mitas is able to fit PneuTrac to both the front and rear axles of tractor. This will enable Mitas to begin field tests in the near future and, it says, prove the advantages of this concept.
"PneuTrac has great potential. The new size of Mitas PneuTrac is another significant step in the development of this concept," said Pavel Kott, Mitas' agriculture tyre product manager.
Mitas is developing its PneuTrac concept with its partner, Galileo Wheel Ltd. Claimed advantages of the technology include provides better traction efficiency with lower slippage, resulting in lower operational costs, higher crop yields and less damage to soil compared with standard tyres. The footprint of Mitas PneuTrac is said to be 53 per cent larger than that of a standard tyre, while lateral stability is reportedly 167 per cent higher. PneuTrac is mountable on standard rims.