Tyron Runflat unveils 'Friction Shield'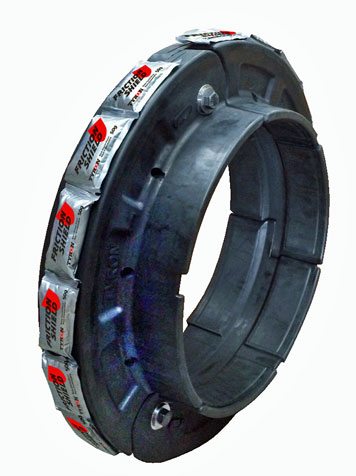 Leicestershire-based Tyron Runflat Limited has presented its latest run-flat system at the IDEX 2015 defence exhibition and conference in Abu Dhabi. Known as Friction Shield, the system is intended for use on armoured vehicles and consists of sealed, multi-piece run-flat inserts that contain a self-sealing lubricant. The inserts burst when a tyre deflates; Tyron Runflat says the use of separate sachets that burst upon tyre deflation ensures the right amount of lubricant is delivered and enables the vehicle to continue travelling for extended periods.
"For any run-flat, adding lubrication inside the tyre is a critical part of the effectiveness of the product. Up to now it has been a messy affair and has frequently been forgotten resulting in the tyres overheating after a very short distance. The Tyron Friction Shield solves these problems in one," said Richard Glazebrook, chief executive of Tyron Runflat Ltd. "We have done some pre-marketing of Friction Shield to our major customers and end users and all have been impressed with the benefits that it offers them."
Tyron says that when using its multi-piece rubber run flat insert with Friction Shield, tyres can be changed without the use of any special tools.